Sorry, this item is not available anymore for purchase online. Please see our recommended replacement product.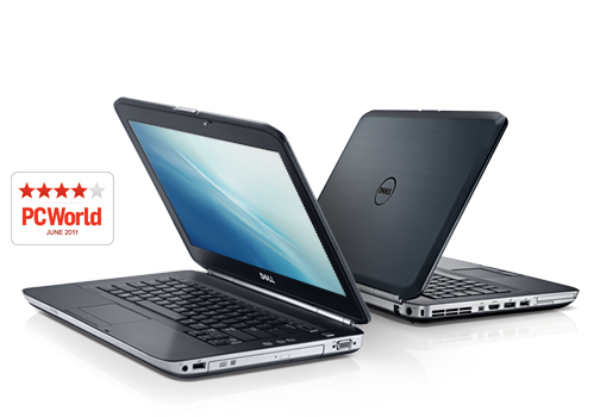 Features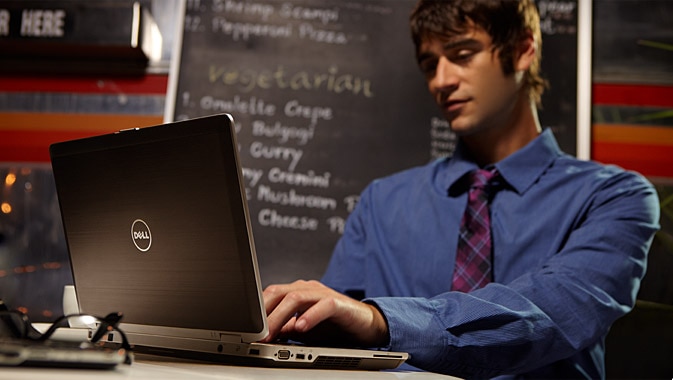 Redesigned for work in your world
The redesigned Latitude™ E5420 is ideal for professionals looking for a budget-friendly blend of mobility and at-your-desk computing.
Ready for whatever your work might dish out, this highly durable laptop is stylishly armored top to bottom with a hard-wearing Tri-Metal™ design, including an anodized brushed aluminum display back, reinforced steel hinges, a magnesium alloy internal frame and zinc alloy latches. The Latitude E5420 is also equipped with a protective LCD seal, 360-degree bumper for added screen protection and a spill-resistant keyboard that can outlast the bumps and spills of everyday work.
You can enjoy outstanding productivity with the optional backlit
*
keyboard, ideal for in-flight use or in low-light settings, and a wide array of long-life battery options to help keep productivity in full swing.
Lastly, as a member of the Latitude E-Family, the E5420 provides go-anywhere productivity, confident security and efficient manageability in a built-to-last, durable design — all that you've come to expect from the Latitude "E."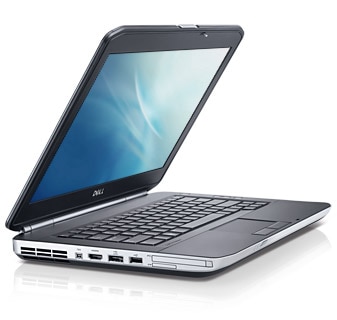 Design that's built to last
Doing business today means working anytime, anywhere. You need a laptop to keep up with your work style. Latitude™ E-Family laptops combine world-class design with durability to perform, wherever business takes you.
Look sharp while working hard, thanks to the Dell Tri-Metal™ design with an anodized brushed aluminum LCD finish.
Worry less about making a mess with the spill-resistant keyboard and LCD protective seal that helps to form a barrier around your LCD panel when closed.
Appreciate the fine details, from strong steel hinges and zinc alloy display latch to the durable powder-coated underside that helps guard against nicks and scratches.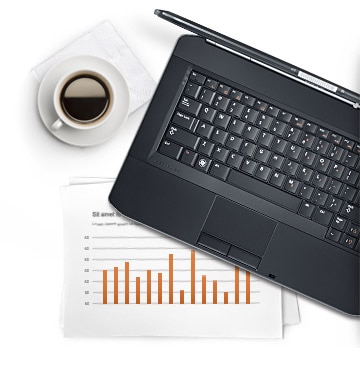 Go-anywhere productivity
Get long-lasting power and performance to make your job easier, whether you are in the office or on the road. Latitude™ E-Family laptops are built with your business in mind, offering great features to help increase productivity.
Stay productive with a variety of battery life options, including a 4-cell, 6-cell, 9-cell and 9-cell (97Wh) 3-year limited hardware warranty* Lithium Ion battery options.
Multitask at the speed of business with Intel® Core™ processor options, high-bandwidth DDR3 memory.
Communicate effectively worldwide with built-in webcam, array microphones that help provide better sound quality and a high-performing antenna for ideal mobile broadband connections.
Work in your comfort zone with 180-degree LCD movement.
Type anywhere with the only commercial laptop to offer a backlit keyboard* option.


Confident security
Know your data is secure with Dell's Data Protection Encryption, and protect your data from unexpected mishaps with Dell Fast Response Free-Fall Sensor and StrikeZone™.


Confident security
Control who has access to your data with Dell Data Protection Access, contactless smart card and fingerprint reader login access options.


Confident security
Help prevent system viruses and contain data leaks with port control options.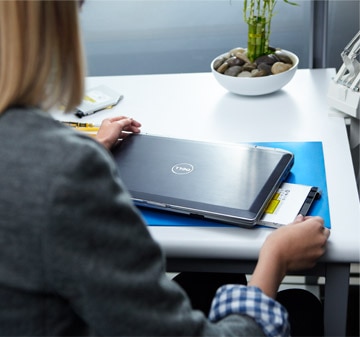 Management made easy
Manage and maintain your fleet of Latitude™ E-Family laptops with ease from planning and deploying to ongoing maintenance and support.
Confidently plan future product roll-outs with Dell Latitude's long life cycles, transitions and ImageWatch™ advance look at software and hardware changes.
Upgrade or service key components conveniently via one single access door.
Save time and money with Dell KACE™ easy to use systems management appliances.
Know you have a partner with Dell for maintaining and supporting your systems with a wide range of customizable and globally focused service and support options.
Creating a quick transition from mobile freedom away from the office to full desktop productivity at your office desk, Dell™ E-Family docks, stand and accessories enable seamless mobile-to-desktop expansion.


Seamless Desktop Transitions: E-Port and E-Port Plus
Transition seamlessly to a desktop environment with the new E-Port and E-Port Plus docking solutions featuring true hot docking and undocking capabilities. Both docking solutions provide an expansive compliment of USB, powered eSATA and graphics ports. Connect to networks, keyboards, monitors, and other peripherals quickly and easily instead of attaching cables every time.

Effortless Desktop Flexibility: E-Family Stands Test

The new E-Flat Panel Stand offers wider horizontal swivel angles and an automatic weight-regulated height adjustment mechanism that makes adjusting the height of your panel as easy as a gentle push. E-Flat Panel Stand is customized to accept both E-Port and E-Port Plus, supports LCD panels up to 60.9 cm (24).
Recent generation Dell flat-panel monitors can be easily mounted on this elegant stand through Dell quick disconnect mount. Third party and older generation Dell flat panel monitors can be mounted through an optional E-VESA® mount adapter.




Designed for improved accessibility, the E-Monitor Stand features a front-access power on/off button and also comes with a front eject button. This stand is designed to hold up to a (75 lb or 35 kg) cathode ray tube (CRT) monitor or an LCD flat-panel monitor.
The E-Legacy Extender can be snapped onto your E-Family notebooks through the docking connector and adds little weight to your system (0.45 lb or 0.21 kg). It is ideal for those who still rely on legacy ports (serial port, parallel port, or PS/2 port) regularly.


Deployment services
Our end-to-end deployment services are designed to simplify and accelerate the customization and utilization of your new systems. Dell Deployment Services include everything from order consolidation to coordination of deployment resources.

Managed deployment
Dell Managed Deployment Services are for customers who need a complete, end-to-end deployment solution. Managed deployments are useful within complex logistical environments that require a single point of contact.

Custom factory integration
Dell offers custom factory integration services to help accelerate your system deployments. We can perform a range of services, such as custom configuration, consolidation and integration in our factory so that you can deploy your systems right out of the box.

ImageDirect
ImageDirect is a web-based, hosted image management service that enables customers to easily create, manage and load custom images for Dell commercial client systems.

Intel® AMT and Intel vPro™ support — Not supported on Latitude 2100. For Intel AMT and Intel vPro customers, new deployment service options such as unique password prepopulation, pre-configured management settings and no-touch deployment can help ease deployment concerns while saving time and money.

Advanced configuration services — Not available on Latitude 2100. With advanced configuration services (ACS), you can save time and resources by selecting various settings during the purchase process. You can choose to partition your hard drive, select boot order, change BIOS settings and modify various standard software configuration settings.

Asset Recovery Services
Asset Recovery Services offers safe and environmentally appropriate disposal solutions for outdated or end-of-life IT assets. This service includes transportation, flexible logistics, equipment processing, detailed data security and environmental reports at an affordable price.
Drivers, Manuals & Support


Dell Support
From drivers and manuals to diagnostic tools and replacement parts, Dell Product Support has you covered!
Compare Products
()
Add the products you would like to compare, and quickly determine which is best for your needs.
Add the products you would like to compare, and quickly determine which is best for your needs.