Sorry, this item is not available anymore for purchase online. Please see our recommended replacement product.
Features

Dependable Design
Lasting Durability: All Latitude E-Family laptops-from everyday ultraportables to the ruggedized ATG and XFR-undergo rigorous durability testing, as well as accelerated life testing that simulates real-world usage. The result: business laptops that are designed to go the distance.

Dependable Design
Strength & Sophistication: A sturdy Dell Tri-Metal™ casing, along with reinforced hinges and rugged system latches, offers durability against the rigors of everyday use. Add style and sophistication with your choice of three striking colors (available on select models).

Dependable Design
Slim, Reinforced Displays: Advanced LED technology enables Latitude E-Family laptops to have thinner widescreen displays while remaining exceptionally durable under everyday use.

Dependable Design
Critical Data Protection: A fast-response free-fall-sensor on the motherboard, along with a Dell StrikeZone™ shock absorber, can protect your data against system drops-even if the laptop is turned off. Optional solid-state drives allow for fast, reliable data storage.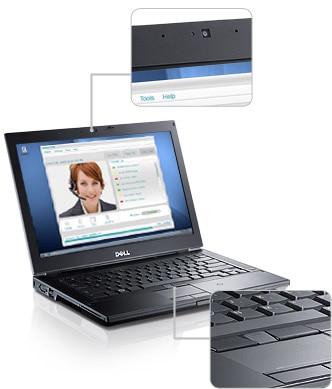 Intelligent Productivity
Whether used in the office or around the globe, Latitude™ E-Family laptops can simplify productivity for mobile collaboration.
Easy Global Collaboration — The latest wireless options let you connect with colleagues from virtually anywhere. A light-sensitive Webcam and noise-reducing, speech-enhancing microphone can be paired with speakers for an optimal video conference experience.
Smart Controls — An intuitive, gesture-enabled touchpad and vibrant backlit keyboard option let you work smartly-and comfortably-in virtually any situation. 
Power to Do More — With Intel® Core™ i5 and up to quad-core Intel® Core™ i7 with Intel® Turbo Boost technology processor options, along with next-generation discrete graphics options, you can have a performance boost to stay on top of business.
Always ON™ Capability — Use Latitude ON technology to access your email, calendar and contacts without booting up, and enjoy the added benefit of idle battery life that can extend for days, not just hours, on select platforms.*


Family-Level Compatibility: The Latitude E-Family is designed for compatibility-so, whether you're working from home or from headquarters, you can effortlessly dock, swap out batteries or share AC adapters with other E-Family users.


Globally Standard Platforms: IT can globally standardize select E-Family laptop configurations for an extended, guaranteed time, making it easy to manage systems, resolve issues and order replacement parts.


Long-Life Stability: A 15-month targeted lifecycle, managed product transitions, and targeted 5-year docking and peripheral commonality make it easy to maintain a consistent work environment while planning for future deployments. Additional service and support options can further extend the product lifecycle.


Advanced Security & Systems Management: All Latitude E-Family laptops include features designed to simplify data protection, asset monitoring and remote management while allowing for immediate IT response to business threats.
Global Service and Support
Latitude E-Family laptops feature a range of customizable, globally focused service and support options.
Advanced Security and Systems Management: Three-Year International Service (with purchase of Next Business Day Onsite Service after Remote Diagnosis): Available in selected regions.
Dell ProSupport for IT: Get tech-to-tech support for IT professionals and the ability to fast-track dispatch parts and labor, bypassing basic troubleshooting (certification required).
Easy Transition and Deployment: Dell Migration Services, with automated processes, can help reduce the manual labor associated with configuration and deployment.
Creating a quick transition from mobile freedom away from the office to full desktop productivity at your office desk, Dell™ E-Family docks, stand and accessories enable seamless mobile-to-desktop expansion.


Seamless Desktop Transitions: E-Port and E-Port Plus
Transition seamlessly to a desktop environment with the new E-Port and E-Port Plus docking solutions featuring true hot docking and undocking capabilities. Both docking solutions provide an expansive compliment of USB, powered eSATA and graphics ports. Connect to networks, keyboards, monitors, and other peripherals quickly and easily instead of attaching cables every time.

Effortless Desktop Flexibility: E-Family Stands Test

The new E-Flat Panel Stand offers wider horizontal swivel angles and an automatic weight-regulated height adjustment mechanism that makes adjusting the height of your panel as easy as a gentle push. E-Flat Panel Stand is customized to accept both E-Port and E-Port Plus, supports LCD panels up to 60.9 cm (24).
Recent generation Dell flat-panel monitors can be easily mounted on this elegant stand through Dell quick disconnect mount. Third party and older generation Dell flat panel monitors can be mounted through an optional E-VESA® mount adapter.




Designed for improved accessibility, the E-Monitor Stand features a front-access power on/off button and also comes with a front eject button. This stand is designed to hold up to a (75 lb or 35 kg) cathode ray tube (CRT) monitor or an LCD flat-panel monitor.
The E-Legacy Extender can be snapped onto your E-Family notebooks through the docking connector and adds little weight to your system (0.45 lb or 0.21 kg). It is ideal for those who still rely on legacy ports (serial port, parallel port, or PS/2 port) regularly.


Dell ProSupport


Designed to address the technology challenges you face today, Dell ProSupport™ starts with the Dell ProSupport for IT service model designed for IT professionals like you. Dell ProSupport for IT provides:
24x7 direct access to Dell Expert Centers

Fast-track dispatch for Dell-certified technicians

Escalation management through Dell Global Command Centers
Next, Dell ProSupport Options align to the way you use technology – rapidly responding to your needs, protecting your investment, your productivity and your sensitive data, and providing enhanced proactive support services to help reduce the risk and complexity of managing your infrastructure.
SPEED OF RESPONSE

PROTECTION

PREMIUM PROACTIVE

International On-site Service

provides service and support for your Dell laptop while you are traveling.

Specialized On-site Options enables you to augment your daily IT management or tap into specific technical expertise for critical projects when needed. Recommended options for laptops include:


On-site Parts Management to help minimize downtime by having parts at your fingertips
On-site Personnel to augment your IT staff
On-site Diagnosis for accelerated troubleshooting

Asset Management and Protection


Accidental Damage Protection*

repairs or replaces accidentally damaged systems.

Laptop Tracking and Recovery tracks lost or stolen systems.
Extended Battery Service covers an optional replacement battery during a system's three-year limited warranty* period.


Data Management and Protection


Keep Your Hard Drive* helps you retain control of sensitive data.
Hard Drive Data Recovery provides unlimited attempts to recover data from a failed hard drive.
Remote Data Deletion can remotely delete data if your system goes missing due to loss or theft.
Certified Data Destruction wipes your hard drive clean and destroys data.

Enterprise-Wide Contract provides enhanced proactive capabilities through:


Designated Service Delivery Manager

Performance benchmarking and custom reporting

Planning and assessments
Don't have an IT staff?
Dell ProSupport for End-Users is designed for organizations with limited or no dedicated IT staff. End-users receive 24x7 direct break-fix hardware support plus "how-to" support on popular software applications such as Norton™ AntiVirus, Microsoft® Office, Microsoft Small Business Server, Intuit® QuickBooks, Adobe® Photoshop® and Adobe Acrobat®.


Deployment Services
Our end-to-end deployment services are designed to simplify and accelerate the customization and utilization of your new systems. Dell Deployment Services include everything from order consolidation to coordination of deployment resources.

Managed Deployment
Dell Managed Deployment Services are for customers who need a complete, end-to-end deployment solution. Managed deployments are useful within complex logistical environments which require a single point of contact.

Custom Factory Integration
Dell offers custom factory integration services to help accelerate your system deployments. We can perform a range of services such as custom configuration, consolidation, and integration in our factory so that you can deploy your systems right out of the box.

ImageDirect
ImageDirect is a web-based, hosted image management service that enables customers to easily create, manage, and load custom images for Dell commercial client systems.

Intel® AMT and Intel® vPro™ Support -
For Intel® AMT and Intel® vPro™ customers, new deployment service options such as unique password pre-population; pre-configured management settings; and no-touch deployment can help ease deployment concerns while saving time and money.

Advanced Configuration Services -
With Advanced Configuration Services (ACS), you can save time and resources by selecting various settings during the purchase process. You can choose to partition your hard drive; select boot order; change BIOS settings; and modify various standard software configuration settings.



Asset Recovery Services
Asset Recovery Services offers safe and environmentally-appropriate disposal solutions for outdated or end-of-life IT assets. This service includes transportation, flexible logistics, equipment processing, detailed data security and environmental reports at an affordable price.
Drivers, Manuals & Support


Dell Support
From drivers and manuals to diagnostic tools and replacement parts, Dell Product Support has you covered!
Compare Products
()
Add the products you would like to compare, and quickly determine which is best for your needs.
Add the products you would like to compare, and quickly determine which is best for your needs.