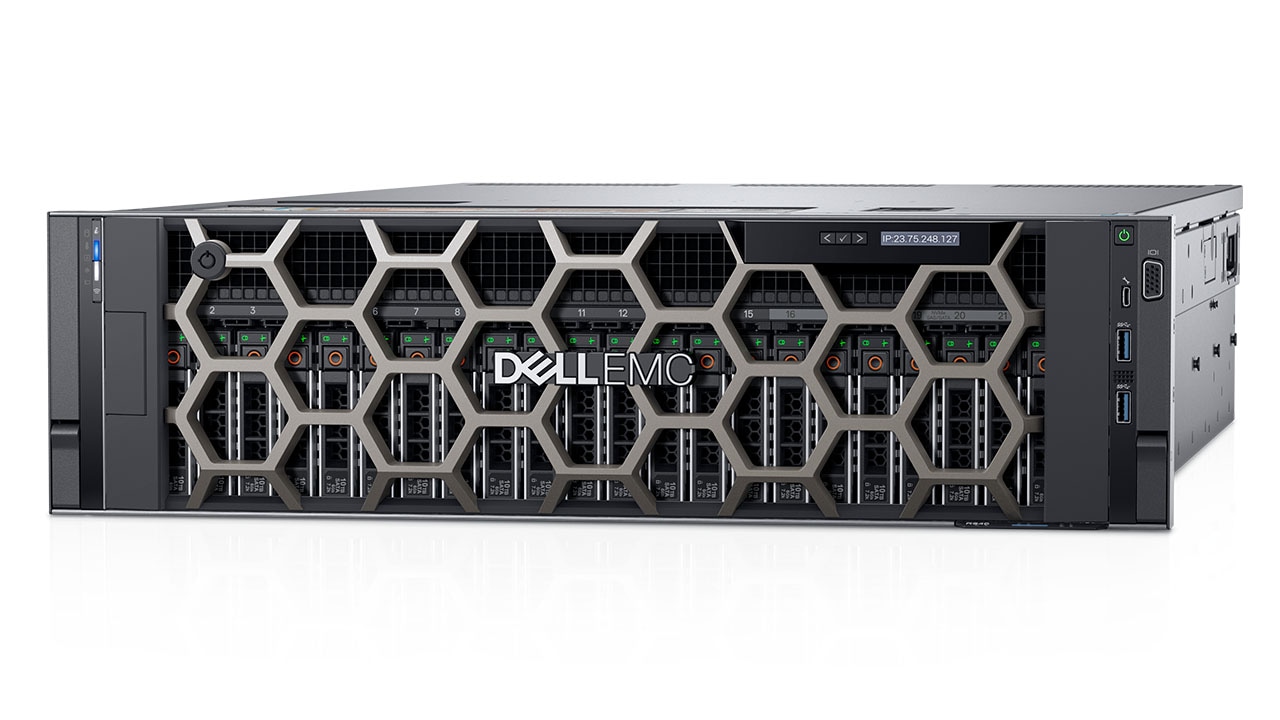 PowerEdge R940 Rack Server
Demand uncompromising performance
Power your mission-critical applications and make real-time decisions with the 4-socket R940 in just 3U with up to 12 NVMe drives.
Quarterly Business Sale: 42% off with code SERVER42
PowerEdge R940 Rack Server
Additional Deployment Services
Keep Your Hard Drive for Enterprise Services
Keep Your Component for Enterprise Services
Data Sanitization or Destruction for Ent Service
Dell Services: On-site Diagnosis Service
Dell SDS Residency Services
Configuration Services Asset Report
Dell Services: HPC Support Services
Also included in this system
The following options and default selections are included with your order.
PowerEdge R940 MLK Motherboard
PowerEdge R940 Shipping
PowerEdge R940 Shipping Material
Quarterly Business Sale: 42% off with code SERVER42
Estimated Value
$13,021.00
Support prices are dependent on hardware and OS costs.
Order Code pe_r940_12229_vi_vp
Features

Maximize application performance and eliminate I/O bottlenecks
Empower your organization to make the best decisions fast using real-time data and analytics. The PowerEdge R940 supports 50% more NVMe drives than the R930, up to 48 DIMMs (24 of which can be Intel® Optane™ DC persistent memory DCPMMs) and up to 15.36TB of memory
*
. Make I/O bottlenecks a thing of the past and keep processor utilization at its peak.
Ideal workloads:
In-memory and large, complex databases
Unix to Linux migration
ERP, CRM
Dense virtualization

Transform IT with Dell EMC PowerEdge
The R940 is the foundation to transform your data center with modern applications for real-time data and analytics. Its massive resource footprint optimizes application performance and scales to meet your organization's demands.
Maximize storage performance with up to 12 NVMe drives and ensure application performance scales easily.
Scale compute resources with 2nd Generation Intel® Xeon® Scalable processors and tailor performance based on your unique workload requirements. 
Drive data-intensive workloads like SQL and SAP HANA databases with Intel Optane DC persistent memory.
Expand with up to 13 PCIe Gen 3 slots.

Automate productivity with intelligent, embedded management
Dell EMC automation and intelligent management mean you spend less time on routine maintenance so you can focus on bigger priorities.
Help maximize uptime and reduce the IT effort to resolve issues by up to 72%* with ProSupport Plus and SupportAssist.
Leverage existing management consoles with easy integrations for VMware® vSphere®, Microsoft® System Center and Nagios®.
Improve productivity with agent-free Dell iDRAC9 for automated, efficient management.
Simplify deployment with OpenManage next-generation console and server profiles to fully configure and prep servers in rapid, scalable fashion.

Fortify your data center with comprehensive protection
Dell EMC provides a comprehensive, cyber-resilient architecture with security embedded into every server to protect your data.
Protect server configuration and firmware from malicious changes with new Configuration Lock-down.
Use system erase of local storage to help ensure data privacy when you repurpose or retire servers.
Automate updates that check file dependencies and proper update sequence, before deploying them independently from the OS/hypervisor.
Take control of your firmware consoles with embedded authentication that is designed to allow only properly designed updates to run.
Dell EMC offers complete end-to-end services
Optimizing the IT lifecycle is vital. We have expert services
*
for all lifecycle phases that save you time and resources, reduce effort, and improve your IT experience.

ProSupport Enterprise Suite
Gain the freedom to focus on your business transformation with the support expertise and insights Dell EMC is known for across the globe. Choose the right support based on the criticality of specific systems with available automated predictive analysis, collaborative third-party assistance and service account management.

ProDeploy
ProDeploy Enterprise Suite helps you get more out of technology starting on day one. Trust our experts to lead deployments from basic hardware installations through planning, configuration and complex integrations. Our complete suite of deployment services and professional certifications helps you achieve business outcomes today and tomorrow.

Training & Certification
Education Services offers an expansive suite of training services with multiple delivery methods, including instructor-led, self-paced online and virtual instructor-led training. With comprehensive and flexible training programs, we make it easy to ensure your staff has the skills they need to successfully manage and utilize your new technology to its full potential.

Consulting
Consulting services give expert guidance to help you grow, optimize and transform your IT environment at your own pace and budget. We employ a broad range of certified consultants and engineers, backed by program management teams, who can deliver deep technical expertise. We give you the confidence that your project will be done right and on time.
Drivers, Manuals & Support

Dell Support
From drivers and manuals to diagnostic tools and replacement parts, Dell Product Support has you covered!