View all configurations
Tough and portable
Customers seeking a rugged, removable disk backup for servers or desktops with a simple USB port connection.
Instant Savings: 25% Off
Instant Savings: 25% Off
Order Code brctf10y
Features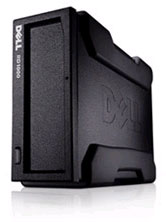 Removable disk drive versus other storage
The benefits of using a high-capacity, removable disk drive and accompanying cartridge like Dell PowerVault RD1000 are evident when compared to alternative backup media. Rugged, removable disk media offers increased portability and durability over standard USB-based hard drive storage. The PowerVault RD1000 cartridges are built to withstand a fall from nearly one meter so they are very durable, and the removable disk cartridges are small and lightweight and can be stored off-site for better disaster recovery protection. PowerVault RD1000 provides easy expandability — when you reach capacity with one removable disk cartridge, just insert in a new one. There's no need to buy additional hardware. PowerVault RD1000 includes backup software that provides data protection for faster data restores and reduced downtime.
PowerVault RD1000 features a protective disk drive cartridge that is available in 1TB
*
, and 2TB capacities. The RD removable disk cartridges are all interchangeable and preformatted. Archiving a collection of PowerVault RD1000 disk cartridges takes considerably less room than a similar amount of DVDs or CDs — it would take over 200 standard DVDs to hold the volume of a single 1TB removable disk cartridge — all while saving shelf space.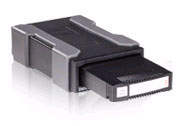 Hard drive speed and reliability
The PowerVault™ RD1000 removable disk cartridge contains a Serial ATA (SATA) hard drive, the same technology that Dell uses across the PowerVault disk storage line, PowerEdge™ server line and Dell Precision™ workstations external drive. SATA hard drive technology is a reliable industry standard for storage and an ideal long-term and durable media. Files transfer to PowerVault RD1000 at about the same time it would take to save to your regular PC drive, up to 80MB/sec.

Cartridge Drop Test:

RD1000 cartridges have been qualified to withstand a drop of one meter to a tile over concrete floor. In most cases the RD1000 cartridges can withstand drops of up to 1.5 meters.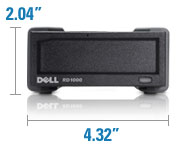 Tough and compact form
The PowerVault RD1000 functions lying flat or on its edge. Its compact profile takes up very little space on a desk or close to your server, allowing a backup solution that doesn't require rethinking your office arrangement. The removable disk cartridge is designed for durability and easily fits into a briefcase, backpack or even a coat pocket. The PowerVault RD1000's simple plug-and-play USB connection allows you to back up more than one system, or move it from home to office as you need. Each removable disk drive cartridge weighs about as much as a cell phone and is only slightly larger.

Dell EMC offers complete end-to-end services
Optimizing the IT lifecycle is vital. Dell EMC has expert services
*
for all lifecycle phases that save you time and resources, reduce effort, and improve your IT experience.

ProSupport Enterprise Suite
Gain the freedom to focus on your business transformation with the support expertise and insights Dell EMC is known for across the globe. Choose the right support based on the criticality of specific systems with available automated predictive analysis, collaborative third-party assistance and service account management.

ProDeploy
ProDeploy Enterprise Suite helps you get more out of technology starting on day one. Trust Dell EMC experts to lead deployments from basic hardware installations through planning, configuration and complex integrations. Our complete suite of deployment services and professional certifications helps you achieve business outcomes today and tomorrow.

Training
Education Services offers an expansive suite of training services with multiple delivery methods, including instructor-led, self-paced online and virtual instructor-led training. With comprehensive and flexible training programs, we make it easy to ensure your staff has the skills they need to successfully manage and utilize your new technology to its full potential.

Consulting
Consulting services give expert guidance to help you grow, optimize and transform your IT environment at your own pace and budget. We employ a broad range of certified consultants and engineers, backed by program management teams, who can deliver deep technical expertise. We give you the confidence that your project will be done right and on time.
Drivers, Manuals & Support

Dell Support
From drivers and manuals to diagnostic tools and replacement parts, Dell Product Support has you covered!