40-porttinen 8 Gb:n kuitukanavakytkin
Asiakkaat, joiden käytössä on PowerVault- ja Dell Compellent -järjestelmään perustuva SAN-järjestelmä, jonka toiminta halutaan varmistaa myös tulevissa 8 Gb/s:n infrastruktuureissa ja nopeissa ISL-yhteyksissä.
Tätä tuotetta ei enää voi ostaa verkosta. Palaa etusivulle ja hae asiaan liittyviä kohteita.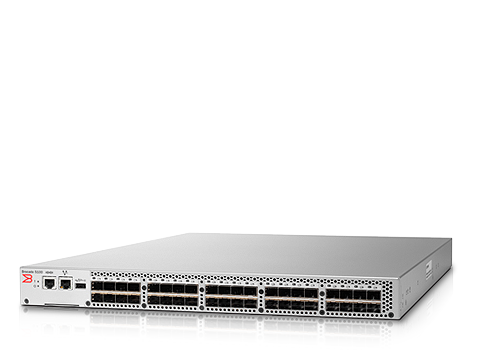 Brocade 5100 SAN kytkin
Brocade
Kuitukanavaportit
40 porttia, yleinen (E, F, M, EX ja FL)
Skaalautuvuus
Täysi arkkitehtuuri, jossa on jopa 239 kytkintä
Sertifioitu enimmäismäärä
6 000 aktiivista solmua; yhdessä kokoonpanossa jopa 56 kytkintä ja 19 hyppyä, suuremmat kokoonpanot tarpeiden mukaan.
Suorituskyky
Linjanopeus 1,063 Gb/s (kaksisuuntainen), linjanopeus 2,125 Gb/s (kaksisuuntainen), linjanopeus 4,25 Gb/s (kaksisuuntainen), linjanopeus 8,5 Gb/s (kaksisuuntainen), automaattinen tunnistus porttinopeuksille 1, 2, 4 ja 8 Gb/s, ohjelmoitavissa kiinteään porttinopeuteen, nopeuden sovitus porttinopeuksien 1, 2, 4 ja 8 Gb/s välillä
ISL-yhteyskäytäntö
Kehyspohjainen yhteyskäytäntö, jossa jopa kahdeksan 8 Gb/s-nopeuksista porttia ISL-väylää kohden sekä valinnainen lisenssi, nopeus jopa 68 Gb/s ISL-väylää kohden (8 porttia × 8,5 Gb/s [väylätaajuus])
Kokonaiskaistanleveys
680 Gb/s: 40 porttia × 8,5 Gb/s (väylätaajuus) × 2 (kaksisuuntainen)
Kokoonpanon viive
Paikallisesti kytketyt portit 700 ns, ei kilpavarauksia, 8 Gb/s-nopeuksinen läpireititys
Palveluluokat
Luokat 2, 3 ja F (inter-switch-kehykset)
Porttityypit
FL_Port, F_Port, M_Port (peiliportti), E_Port, EX_Port (kuitukanavien integroitu reititys), kytkintyyppiin (U_Port) perustuva itsetunnistus, valinnainen porttityypin hallinta
Tietoliikenteen tyypit
Unicast-, multicast- (255 ryhmää) ja broadcast-liikennettä tukevat kokoonpanokytkimet
Materiaalityypit
4 Gb/s: Edellyttää käytön aikana kytkettävää Brocaden Small Form-factor Pluggable (SFP) -LC-liitintä; 4 Gb/s Short-Wavelength Laser (SWL); 4 Gb/s Long-Wavelength Laser (LWL); 4 Gb/s Extended Long-Wavelength Laser (ELWL). Etäisyys on riippuvainen valokaapelista ja portin nopeudesta.
8 Gb/s: Edellyttää käytön aikana kytkettävää Brocaden SFP+-LC-liitintä, Short-Wavelength Laser (SWL). Etäisyys on riippuvainen valokaapelista.
Kokoonpanon palvelut
Simple Name Server (SNS) -nimipalvelin, Registered State Change Notification (RSCN), NTP v3, Reliabl ng (oletusvyöhykejako, portti/WW N -vyöhykejako, lähetysvyöhykejako), NPIV,N_Port-yhteyskäytäntö, FDMI, Järjestelmänhallintapalvelin, FSPF, Fabric Watch, Extended Fabrics, ISL-yhteyskäytäntö, Advanced Performance Monitoring, mukautuvat verkkopalvelut (datavirtakohtainen QoS-laatupalvelu, lähtönopeuden rajoitus, liikenteen eristys, Top Talkers, lisensointi vaihtelee), IPoFC, integroitu reititys, Kehyksen uudelleenohjaus, Portin suojaus, BB credit recovery
Vaihtoehdot
Kehikkoon asennettavat kiskosarjat (kiinteät, liukuvat, keskiasennetut)
Hallinta
Tuetut hallintaohjelmistot

Telnet, HTTP, SNMP v1/v3 (FE MIB, FC Management MIB), Auditing, Syslog, muutosten hallinnan seuranta, EZSwitchSetup-määritystoiminto, Brocade Advanced Web Tools, Brocade EFCM Standard/Enterprise 9.x (valinnainen), Brocade Fabric Manager (valinnainen: (vain) FOS-ympäristöt; SMI-S-yhteensopiva, SMI-S scripting toolkit -komentosarjatyökalut, hallinnolliset verkkoalueet, koelisenssit lisättävien ominaisuuksien valitsemista varten.

Hallintakäyttö

10/100 Ethernet -portti (RJ-45) kaistansisäisesti kuitukanavan kautta, sarjaportti (RJ-45); USB, call-home integrointi Brocaden EFCM:n ja Brocade Fabric Managerin kautta
Vianmäärityksen apuohjelmat
POST- ja sisäiset online/offline -diagnostiikat, sisältää RAStrace-kirjauksen, ympäristön valvonnan, häiriöttömän daemon-uudelleen käynnistyksen, FCping ja Pathinfo (FC-reittijäljityksen), porttien peilauksen (SPAN-portti).
Kotelo
Fyysiset ominaisuudet

Kehikko
Koko 1U
Leveys 42,88 cm
Korkeus 4,29 cm
Syvyys 61,05 cm
Paino 9,3 kg, kaksi virtalähdettä, ei SFP
Käyttöympäristön olosuhteet
Ympäristöominaisuudet

Lämpötila
Käytön aikana: 0 °C...40 °C
Säilytyksen aikana: -25 °C...70 °C

Ilmankosteus
Käytön aikana: 10–95 %, ei tiivisty

Korkeudensieto
Käytön aikana: enintään 3 000 m
Säilytyksen aikana: jopa 12 km

Isku
Käyttö: 20 g, 6 ms, puolisinipulssi
Säilytys: 33 g, 11 ms, puolisinipulssi, 3/eg-akseli

Tärinä
Käyttö: 0,5 g, sinipulssi; 0,4 grms, satunnainen, 5–500 Hz
Säilytys: 2,0 g, sinipulssi; 1,1 grms, satunnainen, 5–500 Hz

Ilmavirta

Nopea: 29 cfm (kuutiojalkaa minuutissa)
Hidas: 22 cfm
Virta
Enimmäisantoteho
125 W

Järjestelmän virrankulutus
Enintään 91 W (40 porttia nopeudella 8Gb/s ), nimelliskulutus 84 W

Nimellinen tulojännite
100–240 V AC, yleinen

Tulolinjan taajuus
47–63 Hz

Vähimmäistulojännite
85 V AC

Enimmäistulojännite
264 V AC

BTU-arvo (80 %:n tehokkuus)
311 BTU/h

Käynnistyssysäysvirta
Enint. 35 A
Säädökset
5100 on seuraavien suojaussertifiointien mukainen:
USA: Bi-Nat UL/CSA 60950-1, 1. tai viimeisin painos; ANSI C63.4
Kanada: Bi-Nat UL/CSA 60950-1, 1. tai viimeisin painos; ICES-003 Class A
Japani: CISPR22 ja JEIDA (ylivärähtely)
Euroopan yhteisö: EN60950-1 tai viimeisin painos; EN55022 ja EN55024
Australia/Uusi-Seelanti: EN55022 tai CISPR22 tai AS/NZS CISPR22
Argentiina: IEC60950-1 tai viimeisin painos
Venäjä: IEC60950-1 tai viimeisin painos; 51318.22-99 ja 51318.24.99 tai viimeisin painos
Korea: KN22 ja KN24
Kiina: (vain PS) GB4943-2001 ja GB9254-1998 tai viimeisin painos; GB17625.1-2003 tai viimeisin painos
Taiwan: (vain PS) CNS 14336(94) tai viimeisin painos; CNS 13438(95) tai viimeisin painos
Highlights
Brocade 5100 — 40 Port 8-Gbit/sec Fibre Channel switches for entry and midrange enterprise SANs

Fast, Reliable 8-Gbit/sec Performance
Non-blocking and non-oversubscribed platform with a total bandwidth of 680 Gbit/sec in 1U
Designed to increase network performance with enhanced Brocade Inter-Switch Link (ISL) Trunking, which allows up to eight ports (at 2, 4 or 8-Gbit/sec speeds) between a pair of switches to be combined to form a single, logical ISL with a speed up to 64 Gbit/sec
Offers Adaptive Networking services, including Adaptive fabric quality of service (QoS), traffic isolation and ingress rate limiting, enabling organizations to maintain optimized application performance in virtual environments.
Extended distance support that enables native Fibre Channel extension up to 3600 km 
Affordable Scalability
Combines up to 40 ports of industry-leading 8-Gbit/sec technology with Ports on Demand scaling from 24 to 32 to 40 ports, allowing "pay-as-you-grow" scalability
Provides integrated, per-port routing for excellent scalability, interoperability and fault isolation
Designed to protect existing investments by providing 8-Gbit/sec technology with auto-sensing capabilities to also recognize 1, 2 and 4-Gbit/sec devices
Helps future-proof investments by allowing organizations to use 4-Gbit/sec small form-factor pluggables (SFPs) today and upgrade to 8-Gbit/sec SFPs when required 
Simple Deployment and Management
Utilizes the Brocade EZSwitchSetup wizard, making SAN configuration a simple, three-step point-and-click task
Includes a USB port that can increase serviceability and error logging by facilitating firmware upgrades and downloads of system log files
Meets high-availability requirements with redundant, hot-pluggable components, nondisruptive software upgrades and hot code activation for a wide range of SAN configurations
Employs familiar Brocade software and management interfaces, including Brocade EFCM and Brocade Fabric Manager, simplifying management and reducing training costs 
Excellent Value for a Variety of SAN Environments
Designed to provide a greater than 40 percent power efficiency improvement (watts/Gbit) over the previous generation of Brocade switches, further helping to reduce power consumption and the overall cooling burden in a data center
Includes a USB port that provides excellent serviceability and error logging functionality by facilitating easy firmware upgrades and downloads of system log files
Offers Top Talkers, which monitors resources and can assist in finding hot spots to increase resource utilization
Can distribute traffic across ISLs in SAN by utilizing ISL Trunking and dynamic path selection, helping to increase utilization of the SAN and reduce costs
Introducing Dell ProSupport
Professional, proactive and proven support services designed to address the technology challenges you face today.

Dell™ ProSupport™ starts with the Dell ProSupport for IT service model designed for IT professionals like you. Dell ProSupport for IT provides:
7x24 direct access to Dell expert centers
Fast-track dispatch for Dell-certified technicians
Escalation management through Dell's Global Command Centers
Next, Dell ProSupport options align to the way you use technology — rapidly responding to your needs, helping to protect your investment, your productivity and your sensitive data, and providing excellent proactive support services that can reduce the risk and complexity of managing your infrastructure.
SPEED OF RESPONSE
PROTECTION
PREMIUM PROACTIVE
Mission Critical — Perfect for server and storage environments where avoiding unplanned downtime and reducing recovery time through priority response are a must. The package includes priority 4-hour on-site service

*

or optional 2-hour response with 6-hour hardware repair, Dell's proven critical situation response process and emergency dispatch.

Keep Your Hard Drive

*

 — Enables you to control your sensitive data by retaining your hard drive and helps you comply with current data privacy regulations to help mitigate risks associated with regulatory or civil liabilities.

Enterprise-wide Contract — Provides excellent proactive capabilities through:

Designated Service Delivery Manager

Performance benchmarking and custom reporting

Planning and assessments

Proactive Maintenance — Designed to maximize the availability and stability of your infrastructure proactively. The package includes a detailed system assessment and implementation of driver or firmware updates and upgrades for your server or storage systems.

Remote Advisory Options — Provides telephone and internet access to technical expertise for specialized applications and solutions such as Microsoft® Exchange, virtualization and more.


Infrastructure Consulting Services
Some key challenges facing IT departments today include simplifying operations, planning and building for scalability and improving utilization of their existing systems. Dell's Infrastructure Consulting Services suite is organized into focused practice areas that signify the intersection of these common customer challenges and our domain expertise — including systems management, messaging, databases, virtualization/consolidation and storage.

Storage installation
Go from factory to deployment with Dell storage installation services. Our modular suite of installation services allow you to customize the right package of services needed to rapidly implement your new system.

Storage consolidation
Consolidation services provide a common platform to allocate and manage growing demands for data storage and helps reduce administrative effort by establishing a single management console. Dell's comprehensive approach to storage consolidation helps you accelerate productivity by delivering customized systems, software and services that ease management and can result in lower total cost of ownership.

SAN implementation services
This service includes planning, design, configuration, project management and implementation of Dell/EMC storage arrays (DAS and SAN). This service is available for Dell/EMC storage system solutions only and is not currently available for Dell PowerVault™ or (non-Dell) EMC storage array solutions.

Backup and recovery
To sustain the continued operation of your storage solution, you should engineer availability, security and reliability into every process from the outset. Dell can provide backup and recovery solutions that help ensure adequate procedures are in place to minimize or avoid data loss.

Asset Recovery and Recycling Services
Proper disposal, reselling and donation of computer equipment is a time-consuming task that typically falls to the bottom of many IT to-do lists. Dell helps simplify the end-of-life processes for IT equipment in a way that can maximize value for your organization.

Add a host
Dell provides for the design and implementation of a single Dell PowerEdge™ server or Dell PowerVault™ NAS (with approved operating system versions) as an additional host into an existing SAN or DAS solution.

Add a JBOD
Dell provides for the basic design, installation and implementation of a single Dell enclosure as additional storage into an existing Dell PowerVault™ Storage Area Network (SAN) or Direct Attach Storage (DAS) solution.


Dell Storage online training course
Arm your employees with the knowledge and skills they need to be as productive as possible. Dell offers comprehensive training services, which include hardware and software training, as well as PC skills and professional development classes. Dell training can help improve system reliability, maximize productivity and reduce end-user requests and downtime.