Détails sur le serveur Dell PowerEdge M905
---
Nous sommes désolés, cet article ne peut plus être acheté en ligne. Veuillez consulter le produit de remplacement que nous vous recommandons.
Fonctionnalités
Flexibility Redefined
Only Dell M-Series provides complete, snap-in FlexIO scalability down to the switch interconnects. FlexIO technology is the foundation of the M1000e I/O subsystem and delivers the flexibility to design the solution to meet your requirements today, and the scalability to add or change options as warranted by your data center or future technologies in the future.
Ethernet


The M-Series enclosure supports a broad set of modular Ethernet blade switches including PowerConnect and Cisco Catalyst.

Dell's fully-modular PowerConnect switches provide great flexibility with choices in models from 1Gb to 10GbE speeds, flexible modular uplinks of varying media types, and many other valuable features. The PowerConnect portfolio, including the M6220 and M8024, offers a selection of switches for a variety of needs.

Spanning entry-level GbE to GbE with stacking and 10GbE uplinks – Cisco models include the Catalyst 3032, 3130G, and 3130X. The 3130 switches feature Cisco's Virtual Blade Switch functionality, enabling customers to interconnect up to 9 switches to create a single logical switch, thereby simplifying the manageability of their data center.



Learn More about Ethernet Blade Switches




Learn More about Ethernet Blade Mezzanine Cards
Fibre Channel


Brocade 4Gb and 8Gb Fibre Channel Switches provide powerful connectivity to fibre channel SANs, such as those offered by Dell/EMC. Models currently available include the M4424 and M5424.

For heterogeneous integration into any Fibre Channel network, these Brocade FC Switches can be configured as in Access Gateway mode. Based on NPIV functionality, Access Gateway mode delivers the cable aggregation benefits and cost savings offered by Dell's M-Series blade solution.



Learn More about Fibre Channel Blade Switches




Learn More about Ethernet Blade Mezzanine Cards
I

nfiniBand


For High-Performance Computing (HPC) or other environments requiring the highest bandwidth and lowest latency available, the M-Series offers two levels of InfiniBand switches. The industry's first chassis-integrated Quad Data Rate IB switch is available in the Mellanox M3601Q, with speeds of up to 40Gbps. For Dual Data Rate (DDR) InfiniBand infrastructures, the M-Series can be equipped with Cisco M7000E or Mellanox M2401G switches. Each switch features 16 ports in and 8 ports out to ensure the availability and redundancy needed for the most demanding applications.



Learn More about InfiniBand Blade Switches




Learn More about InfiniBand Blade Mezzanine Cards
FlexIO for M-Series: Delivering the speed you need, when you need it
Learn More about M-Series Blade I/O Options
Dell ProSupport
Faster, more reliable support services designed to address the technology challenges you face today. This new support portfolio is focused on your needs, time demands and budgets.
Need professional support services that take care of both you and your employees' IT needs 7x24? Choose Dell ProSupport to get access to a certified technician in two minutes or less.
Got an IT staff? Choose Dell ProSupport for IT and get tech-to-tech support with Fast-Track Dispatch, along with 7x24 access to Dell-certified technicians.
 Dell ProSupport Service Model

Dell ProSupport

Dell ProSupport for IT

Designed for organisations with limited or no dedicated IT staff.

Includes:


7x24 direct break-fix hardware support for your employees

"How-to" support on popular software applications such as Norton AntiVirus, Microsoft Office, Microsoft Small Business Server, Intuit QuickBooks, Adobe Photoshop and Adobe Acrobat.

Access to a certified technician in two minutes or less

Designed to provide tech-to-tech support for IT Professionals, Database Administrators and internal Service Desks or helpdesks.

Includes:


7x24 Direct access to Dell Expert Centers

Fast-track dispatch for Dell-certified technicians

Escalation management through Dell's Global Command Centers
Next, Dell ProSupport Options align to the way you use technology – rapidly responding to your needs, protecting your investment, your productivity and your sensitive data, and providing enhanced proactive support services to help reduce the risk and complexity of managing your infrastructure.
SPEED OF RESPONSE

PROTECTION

PROACTIVE

Mission Critical - Perfect for server and storage environments where avoiding unplanned downtime and reducing recovery time through priority response are a must. The package includes priority 4-hour onsite

*

service or optional 2-hour response with 6-hour hardware repair, Dell's proven Critical Situation process, and emergency dispatch.

Data Management and Protection


Keep Your Hard Drive

*

helps you retain control of sensitive data

Certified Data Destruction wipes your hard drive clean and destroys data

Proactive Maintenance - Maximises the availability and stability of your infrastructure proactively. The package includes a detailed system assessment and implementation of driver or firmware updates and upgrades for your server or storage systems.

Remote Advisory Options - Provides telephone and Internet access to technical expertise for specialised applications and solutions such as Microsoft Exchange, Virtualization and more.
Ideal for non-essential application environments. This service offers business-hour, phone-based support* for hardware-only issues with Next Business Day On-Site Service following completion of phone-based troubleshooting.
Server Installation Services
Go from factory to deployment with Dell server installation services. Our modular suite of installation services allows you to customise the right package of services needed to rapidly implement your new system.
Comprehensive Training
Get the skills you need to keep pace in today's competitive IT environment with comprehensive training and certification courses. Dell offers a vast array of instructor-led classes and online training courses in a range of topics from server maintenance to in-depth technical overview of specific systems.
Reliable Protection for Your Data

Dell offers storage technology that can enable you to derive maximum value from your information infrastructure.

No other company knows more about storing and protecting information on Dell servers and storage arrays than Dell. Direct feedback from customers drives the design and development of a broad range of storage products for organizations of all sizes.

Storage Area Network (SAN):
A network of shared storage resources



 
---
Network Attached Storage (NAS):
A storage server that connects to a network



 

 
---
Disk Storage Arrays:
Disk enclosures that connect to a server or network


 
---
Tape Automation:
Automated tape systems for consolidated backup



 
---
Tape Drives and Removable Disk Drives:
Tape and Removable Disk Drive devices used to back up and restore information

Virtualization Solutions
Dell Management Plug-in for VMware vCenter™
What if you could manage your physical infrastructure from your virtual console?
What if you could rapidly and consistently provision hardware and deploy virtual machines from within VMware vCenter?
What if you could reduce the number of steps needed to deploy virtual infrastructure?
With the Dell Management Plug-in for VMware vCenter installed in your VMware environment, you can:
• Get deep-level detail from Dell servers for inventory, monitoring and alerting — all from within vCenter
• Deploy BIOS and firmware updates to Dell servers from within vCenter
• Build hardware and hypervisor profiles and deploy any combination of the two on bare-metal Dell PowerEdge servers without a preboot execution environment (PXE)
• Automatically perform Dell-recommended vCenter actions based on Dell hardware alerts
• Access Dell hardware warranty information online
And, to give you even more power, we deliver our plug-in as a virtual appliance. That makes it easier to deploy and configure and offers integration directly into the vCenter console, providing more information inside of vCenter itself — unlike many other vendors who provide only "link-and-launch" capabilities to point to their own proprietary consoles.
The combination of the Dell Management Plug-In for VMware vCenter and the revolutionary embedded management features offered by Integrated Dell Remote Access Controller (iDRAC) with Lifecycle Controller in Dell PowerEdge servers gives you an unmatched level of integration between vCenter and your server hardware.
Pilotes, manuels et support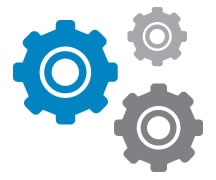 Support Dell
Pilotes, guides, outils de diagnostic, pièces de rechange... Le support technique Dell est là pour vous aider.