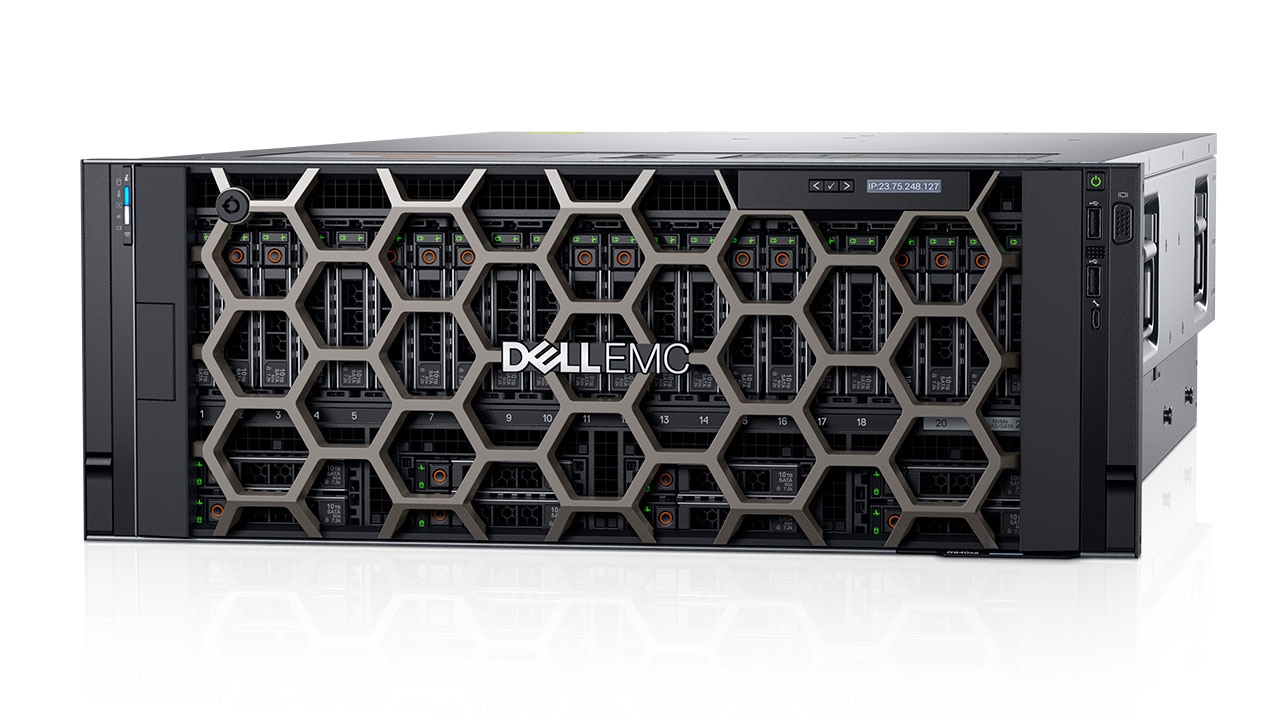 PowerEdge R940XA - Full Configuration
Accélération exceptionnelle pour l'exploitation des données d'entreprise
Accélérez les bases de données du processeur graphique pour les applications stratégiques avec un puissant serveur à quatre sockets. Étendez la capacité avec un stockage interne important.
Hors TVA, Éco-contribution incluse, livraison gratuite
cliquez ici
PowerEdge R940XA - Full Configuration
PowerEdge R940XA - Full Configuration
Hors TVA, Éco-contribution incluse
Les prix du support et des services dépendent du choix de matériel et de système d'exploitation
Expédition depuis l'usine en 4 à 6 jours ouvrés
Code de commande emea_r940xa_vi_vp
Fonctionnalités

Transformez rapidement les données exploitables en résultats
Le serveur PowerEdge R940xa accélère les applications pour une prise de décisions en temps réel. Le serveur R940xa associe quatre processeurs à quatre processeurs graphiques au sein d'un puissant format 1:1 qui permet l'accélération des bases de données. Avec jusqu'à 6 To de mémoire et les performances de quatre sockets, le serveur R940xa offre des temps de réponse rapides et cohérents. Faites évoluer votre capacité sur site pour contrebalancer l'augmentation des frais du Cloud et les risques de sécurité. 
Charges de travail idéales :
Applications de calcul intensif
Apprentissage automatique et intelligence artificielle
Accélération des bases de données du processeur graphique

Faites évoluer dynamiquement les ressources au fur et à mesure de l'évolution de vos charges de travail
Le serveur R940xa 4U permet de s'adapter de manière flexible à l'évolution de l'activité de votre entreprise. La grande capacité de stockage interne vous permet d'évoluer au fur et à mesure de l'augmentation de la complexité et de la taille de vos bases de données.
Augmentez vos performances avec jusqu'à quatre processeurs Intel® Xeon® Scalable de 2e génération et jusqu'à 112 cœurs de traitement
Choisissez jusqu'à quatre processeurs graphiques double largeur ou jusqu'à quatre cartes FPGA double largeur ou huit simple largeur pour accélérer vos charges de travail
Gérez des jeux de données volumineux avec jusqu'à 48 modules DIMM (dont 24 peuvent être des DCPMM) et jusqu'à 15,36 To de mémoire
Étendez la capacité avec jusqu'à 32 disques durs/SSD de 2,5", avec jusqu'à quatre disques NVME
Adaptez-vous rapidement aux évolutions, avec jusqu'à 12 logements PCIe pour les connexions externes

Rationalisez les opérations informatiques de votre datacenter
Grâce à l'automatisation intelligente, réduisez le temps et les efforts nécessaires pour gérer les environnements informatiques. 
Automatisez l'efficacité via la gestion unifiée des systèmes à partir d'OpenManage Enterprise, du contrôleur iDRAC9 intégré et de SupportAssist.
Reposez-vous sur vos investissements existants en consoles de gestion avec les intégrations OpenManage pour VMware vCenter, Microsoft System Center ou Connections for Nagios.
Simplifiez le déploiement en utilisant la configuration du profil serveur pour déployer et préparer entièrement le serveur.
Résolvez les problèmes tout en limitant la charge pour le service informatique (72 % de travail en moins) grâce à la technologie proactive et prédictive automatisée de ProSupport Plus et SupportAssist.*

Protection complète du datacenter et disponibilité maximale
Dell EMC propose une architecture résiliente aux cybermenaces avec une sécurité intégrée à chaque serveur afin de protéger vos données. Les fonctionnalités de haute disponibilité facilitent les opérations en continu.
Protégez la configuration de vos serveurs et les micrologiciels de modifications malveillantes avec la fonctionnalité de verrouillage de la configuration.
Utilisez l'effacement système pour les appareils de stockage locaux afin de garantir la confidentialité des données lorsque vous réaffectez des serveurs ou les mettez au rebut
Prenez le contrôle de vos consoles de micrologiciels avec une authentification intégrée conçue pour autoriser uniquement les mises à jour correctement signées
Garantissez la disponibilité avec des blocs d'alimentation et des disques enfichables à chaud
Dell EMC propose des services de bout en bout complets
L'optimisation du cycle de vie informatique est essentielle. Nous proposons des services d'expert
*
pour toutes les phases du cycle de vie. Économisez du temps et des ressources, réduisez vos efforts et améliorez votre expérience informatique.

Conseils
Les services de conseil vous permettent de profiter de conseils d'expert afin de développer, d'optimiser et de transformer votre environnement informatique à votre rythme et selon vos contraintes budgétaires. Nos nombreux consultants et ingénieurs certifiés, aidés par des équipes de gestion de programmes, vous apporteront leur solide expertise technique. Vous pouvez être assuré que votre projet sera mené de façon correcte et dans les délais fixés.

Support
Prenez le temps de vous concentrer sur la transformation de votre entreprise avec une expertise et des conseils de support qui ont fait la réputation de Dell EMC à travers le monde. Choisissez le support adapté en fonction du niveau stratégique de systèmes spécifiques avec l'analyse prédictive automatisée, l'assistance collaborative par des tiers et un responsable des services technologiques.

Déploiement
La solution ProDeploy Enterprise Suite vous permet de mieux tirer parti de la technologie, dès le départ. Le service de délégation de compétences sur site client assure une assistance de transition continue pour accélérer l'adoption. Faites confiance à nos experts pour gérer les déploiements, qu'il s'agisse d'installations matérielles de base ou d'intégrations complexes, en passant par la planification et la configuration, pour vous aider à atteindre vos objectifs commerciaux, aujourd'hui comme demain.

Éducation
Les services de formation Education Services proposent une large suite de services et de méthodes de formation. Les formations peuvent être dispensées en classe, être suivies en ligne au rythme de chacun ou être assurées par un formateur virtuel. En proposant des programmes de formation complets et souples, nous aidons vos collaborateurs à acquérir facilement les compétences dont ils ont besoin pour gérer et optimiser votre nouvelle technologie.


Pilotes, manuels et support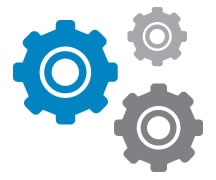 Support Dell
Pilotes, guides, outils de diagnostic, pièces de rechange... Le support technique Dell est là pour vous aider.