Scalable 10Gb performance switch
Sorry, this item is not available anymore for purchase online. Please see our recommended replacement product.
Deliver efficient 10Gb wire-speed switching for virtualized, large campus and small data center environments with the PowerConnect™ 8024.
High throughput: Supports wire-speed performance with up to 24 ports of 10GbE and four combo ports
Scalable with high availability: Manages multiple wire-speed switches as a single unit, each with redundant power
Energy conscious: Reduces power to ports in sleep mode or cuts power to inactive ports, while the 80 PLUS-certified power supply helps lower overall power and cooling costs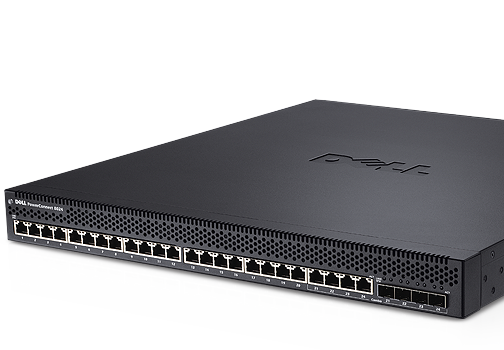 PowerConnect 8024 Ethernet Switch
PowerConnect
10GbE Performance
Deploy high throughput and availability for your entry-level top-of-rack, aggregation and unified fabric deployments with the PowerConnect™ 8024 high-density 10Gb Ethernet (10GbE) switch. It's designed to deliver energy-efficient 10GbE connectivity for converged Ethernet environments supporting dense virtualization, 10Gb server/storage aggregation and medium to large enterprise wiring closets. The 8024 also provides full Layer 3 routing features, redundancy and front-to-rear cooling in a compact 1U form factor. Expand your network easily by stacking switches (managed as a single unit) for high-availability environments while simultaneously benefitting from robust security and enterprise management capabilities.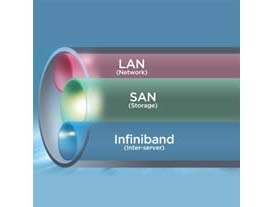 Unified Fabric Ready
The PowerConnect 8024 family is one of the key components in Dell Unified Fabric solutions, and supports converged fabric requirements such as Priority Flow Control (802.1Qbb), iSCSI Optimization, and 10Gb wire speed performance on all ports. iSCSI traffic can also be monitored at the fabric level, allowing the administrator to track active iSCSI sessions.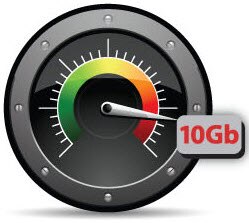 10Gb performance and flexibility
Experience the benefits of 10GbE in a compact and reliable switching platform, with the quality and great service of Dell PowerConnect 8024 and 10GbE provide a superb return on IT investment through:
Investment protection: 10GbE is a network fabric of the future, with an ever-expanding ecosystem of solutions and the capabilities to help you grow.
Energy efficiency: Reduce power requirements and heat loads by replacing multiple GbE components in your infrastructure with 10GbE.
High performance: Enable 480Gb of throughput for wire-speed 10Gb switching.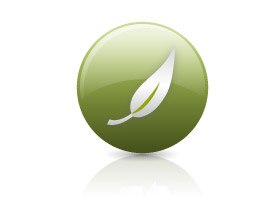 Energy conscious
Go easy on the environment as well as your budget with the PowerConnect 8024 family. Designed for energy savings from the power cord to the ports, the PowerConnect 8024 redundant power supplies operate above 80 percent efficiency in all modes. Variable speed fans automatically adjust speeds according to environmental conditions, and power-efficient 10GBASE-T ports reduce power draw for short cable runs.

High availability
The PowerConnect™ 8024 is designed to be highly available, with dual internal hot-swap power supplies and removable hot-swap fan modules. It also incorporates dual firmware images to enable image promotions or image redundancy in the network.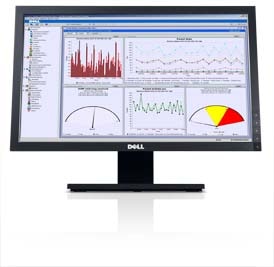 Flexible management
Monitor and manage the power-saving features, high-availability functions and other switch operations from your choice of management options, including:
Industry-standard command-line interface (CLI)
Remote management using the embedded Web server and browser-based graphical-user interface (GUI)
Support for SNMP-based management applications, such as OpenManage Network Manager
The Web GUI for PowerConnect switches provides a robust management, with control comparable to the command-line environment. This means you can choose a preferred method for interacting with the switch.

Single IP stack management allows simple scalability without adding complexity.
Dell ProSupport *— Fast, reliable support services designed to address the technology challenges you face today. This support portfolio is focused on your needs, time demands and budgets.

Need professional support services that take care of both you and your employees' IT needs 7x24? Choose Dell ProSupport to get access to a certified technician.

Got an IT staff? Choose Dell ProSupport for IT and get tech-to-tech support with Fast-Track Dispatch, along with 7x24 access to Dell-certified technicians.



Dell ProSupport Service Model


Dell ProSupport for End Users
Designed for organizations with limited or no dedicated IT staff.
Includes:

7x24 direct break-fix hardware support for your employees
"How-to" support on popular software applications such as Norton AntiVirus, Microsoft Office, Microsoft Small Business Server, Intuit QuickBooks, Adobe Photoshop and Adobe Acrobat.

Dell ProSupport for IT
Includes: 

7x24 Direct access to Dell Expert Centers
Fast-track dispatch for Dell-certified technicians
Escalation management through Dell's Global Command Centers

Next, add Same-Day Response for faster resolution:

Same-Day Response — Ideal for customers using their Dell systems for time-sensitive operations or critical business functions. A Dell-trained technician will arrive onsite within 4 hours* after problem determination, depending on location, to help get your system back in operation as rapidly as possible.

Limited Hardware Warranty

One year unit exchange Limited Hardware Warranty supplemented with one year of Next Business Day Onsite Service part or unit hardware replacement
7-day/24-hour Telephone Technical Support for troubleshooting and diagnosis of Dell hardware
Customization and Set-Up

Installation – Dell provides streamlined standard installation services so you can easily choose the specific package that quickly gets new systems into the workspace and old systems out.
You can upgrade to three years of part or unit hardware replacement, with either Same Day, 4 Hour response or Next Business Day Onsite Service response.