Hugely Scalable iSCSI SAN High density: 48TB in 4U
Very large-scale SATA SANs Tiered storage applications and consolidation Consolidated disaster recovery sites
Sorry, this item is not available anymore for purchase online. Please see our recommended replacement product.
EqualLogic PS6500E iSCSI SAN Storage
EqualLogic
Environmental Operating Conditions
Temperature range: 5 to 35°C / 41 to 95°F
Storage temperature: -20 to 60°C / -22 to 140°F
Altitude: -70 to 3,000 m operational / -305 to 12,192 m non-operational
Relative humidity: 20 to 80% non-condensing operational / 5 to 95% non-condensing non-operational
Shock: 5 g 10 ms ½ sine operational / 30 g 10 ms ½ sine non-operational
Vibration: Random .21 grms @ 5-500Hz operational / Random 1.04 grms 2-200Hz non-operational
Acoustics: LwA 6.6 Bels
Air Quality: Airborne contaminant level of G2 or lower as defined by ISA-S71.04-1985
Power
AC voltage: 100-240 VAC ±10% single phase
Frequency: 47-63 Hz
Power factor: 0.95 (minimum)
Power consumption: 1400 VA, 1,400 Peak VA (operating maximum)
Heat dissipation: 3,400 BTU per hour (maximum)
Power supplies: Three 440W dc
Management
SAN HeadQuarters multi-group performance and event monitoring tool
SNMP, telnet, SSH, HTTP, Web (SSL), host scripting
Serial console
Multi-administrator support
Ability to configure a separate management network

Chassis
Height: 17.5 cm / 6.89 in / 4 EIA units
Width: 48.3 cm / 19.01 in / 1EC Rack Compliant
Depth: 96 cm / 37.8 in
Weight: 74.8 kg / 165 lb
Reliability
Redundant hot-swappable controllers
Hot-swappable disks and power supplies
Notification Methods
SNMP traps, e-mail, syslog
Technical Highlights
Volumes

Up to 1,024

Snapshots

512 per volume / up to 10,000 total

Hosts Accessing PS Series Group

Up to 1,024 per pool / 4,096 per group

Host Protocol

Any standards compliant iSCSI initiator

Operating Systems Supported



Microsoft® Windows Server® including Hyper-V®
VMware® ESX Server™
Red Hat® Enterprise Linux® (RHEL)
SUSE® Enterprise Linux® (SLES)
Oracle® Linux
Oracle® Solaris™
IBM® AIX®
HP-UX
Mac OS® X
Citrix® XenServer®
Novell® NetWare®

For a complete list of supported OS versions including software initiators, NICs/CNAs, and HBAs, see the EqualLogic Compatibility Matrix on //en.community.dell.com/techcenter/storage/w/wiki/2661.equallogic-compatibility-matrix-07262013.aspx.

RAID Support

RAID 5, RAID 6, RAID 10, RAID 50*

GbE Network Interfaces

Interface ports: Four 1000BASE-T ports per controller, one may be used for management purposes

TCP Network Support

IPv4, IPv6 core support including JITC

Expansion Option
Can be combined with other EqualLogic PS Series arrays in the same SAN group, online. Up to 16 total members per group.
Product Configurations
Storage Controllers
Dual controllers with 2GB non-volatile memory per controller

Hard Disk Drives
Forty eight (48) SATA or NL-SAS hot-pluggable hard disk drives

Drive Capacities
7.2K RPM SATA II drives available in 1TB*  or 2TB*
7.2K RPM NL-SAS or NL-SAS SED drives available in 3TB*

System Capacities
48TB* using 48 x 1TB* SATA disk drives
96TB* using 48 x  2TB* SATA disk drives
144TB* using 48 x 3TB* NL-SAS or NL-SAS SED disk drives

Enclosure Monitoring System
Automatic spare configuration and utilization
SMART
Automatic bad block replacement
Auto-Stat Disk Monitoring System (ADMS) to monitor health of data on disk drives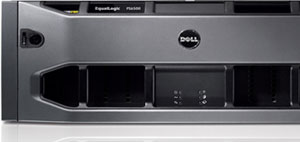 Dell EqualLogic PS6500E
The Dell™ EqualLogic™ PS6500E is a virtualized Internet SCSI (iSCSI) SAN that combines intelligence and automation with fault tolerance to provide simplified administration, rapid deployment, seamless scalability, and enterprise performance and reliability. With SATA disk drives, the PS6500E delivers excellent cost-per-gigabyte and up to 2.3PBs of high-capacity storage.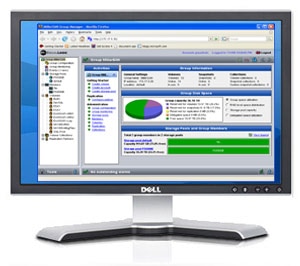 Exceptional Ease of Use
The PS6500E is an intelligent storage array that provides rapid installation, simple management and seamless expansion. All PS Series storage arrays include SAN configuration features and capabilities that sense network topology, automatically build RAID sets and conduct system health checks to help ensure that all components are fully functional. A PS6500E can often be configured and operational in less than one hour.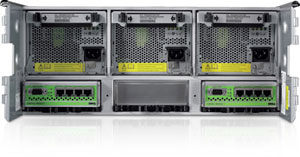 Modular Design with Enterprise Reliability
The virtualized, modular architecture of the EqualLogic PS Series enables IT managers to purchase only the storage that is needed, when it is needed — helping to prevent both underutilization and over-provisioning. Using patented data movement technology, all PS Series arrays can work together to automatically manage data, load balance across system resources and expand to meet growing needs.
All PS Series arrays are designed to exceed the ruggedness requirements of the data center. The PS6500E is fault-tolerant, with fully redundant and hot-swappable components — standard dual-controllers, triple fan trays, triple redundant power supplies and disk drives with hot spares. Self-tuning write-back caches are battery-backed and mirrored across controllers for the ultimate protection without compromising performance.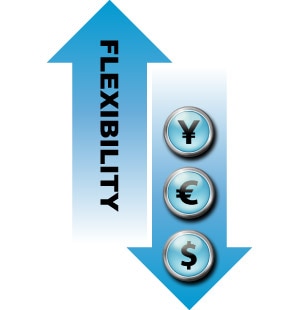 Flexibility with Low Cost of Ownership
Dell™ EqualLogic™ PS Series arrays represent a breakthrough in storage economics, from purchase and setup to operation and upgrades. The PS Series scales on-demand and online, allowing storage growth without disrupting applications. As a result, EqualLogic arrays provide exceptional flexibility at a low total cost of ownership.

Whether consolidating a direct-attached storage (DAS) infrastructure, migrating data from an existing SAN, streamlining data protection processes or simply adding storage capacity, the Dell™ EqualLogic™ family of proven, high-performance, self-managing storage arrays is designed to meet the requirements of today's critical data center environments.
Software and Services for a complete SAN solution
Dell delivers comprehensive end-to-end solutions with software and services options to help you store and manage your data more efficiently and cost-effectively. Included with your PS Series array purchase are the EqualLogic™ array software and host software — virtually all the tools your organization needs for a complete solution.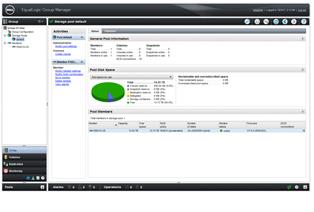 EqualLogic Array Software
EqualLogic Group Manager helps to streamline storage and data management.
EqualLogic Manual Transfer Utility minimizes downtime when transferring large amounts of data.
EqualLogic PS Series Firmware is the foundation of the EqualLogic software family.
Dell Storage Update Manager simplifies the upgrade process with guided update management.
Integrated across the entire family of EqualLogic PS arrays, the EqualLogic Firmware is a SAN operating system based on a unique peer storage architecture that:
Virtualizes SAN resources
Enables peer scalability of up to 16 arrays
Provides intelligent data management functionality
Automatically adjusts system resources
Optimizes performance
EqualLogic Host Integration Tools
This family of host-based software provides tight integration between the PS Series array and the host. Dell provides host integration tools for Microsoft®, VMware® and Linux® environments to offer comprehensive data protection and reliable performance.
EqualLogic SAN Headquarters
Dell EqualLogic SAN Headquarters (SAN HQ) is a centralized monitoring and reporting tool that gathers and provides in-depth information on performance and capacity and provides alerts across multiple groups of PS Series arrays. SAN HQ with Support Assist further streamlines management and improves productivity with automatic case creation and case tracking.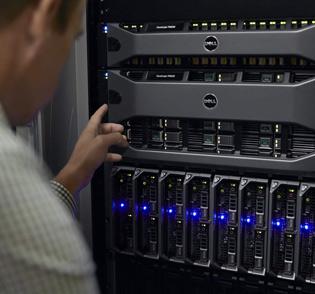 Global Services and Support
Dell offers a wide range of professional services to simplify the assessment, design, implementation, management and maintenance of your IT environment to help you transition from platform to platform.

Dell Support Services
Dell ProSupport offers a suite of support services that enable you to choose support models based on how you use technology and where you want to allocate resources. We recommend Dell ProSupport Plus with SupportAssist for mission-critical systems or Dell ProSupport for premium hardware and software support for your PowerEdge solution. For hyper-scale data centers, we also offer ProSupport Flex for Data Center.

Dell Enterprise Deployment Services
ProDeploy Enterprise Suite* offers a full range of deployment services and professional certifications to help you get more out of your technology starting on day one. Choose ProDeploy Plus for the most complete deployment offer available in the market, ProDeploy for expert configuration and installations, or Basic Deployment for worry-free hardware installations.
Dell Training Services
Dell Education Services aims to complement your relationship with Dell as a trusted partner by offering Education Services for our own products, for industry leading infrastructure solutions and for the ongoing development of your organization. It is a global organization with local representation, classrooms and web-based training available worldwide.

Contact your Dell representative today for more information or click here.