Ultra-secure, elegant and powerful PCoIP
Simplify security and management with a virus- and malware-immune all-in-one thin client featuring Wyse ThinOS, PCoIP and a 21.5" display.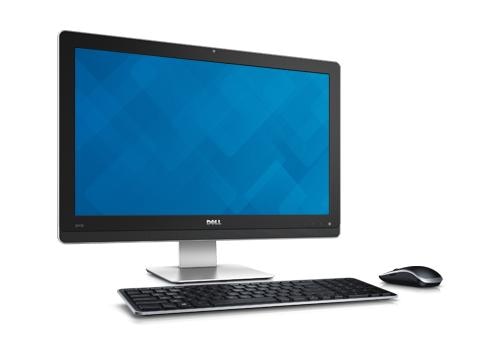 5000 Series All-in-One with PCoIP
Wyse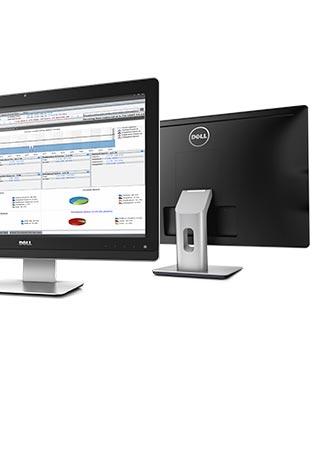 Complete security and virus immunity
Simplify end-user computing with an integrated solution that combines the security, elegance and easy management of traditional thin clients with the power and performance of PCoIP. The ultra-fast, virus-immune Wyse 5000 series all-in-one thin client with PCoIP is the first all-in-one thin client to offer PCoIP and 128-bit encryption via PCoIP protocol. And with the power of an AMD G-Series dual-core 1.4GHz processor, the Wyse 5000 series all-in-one thin client with PCoIP boots in less than ten seconds and can support a wide variety of demanding workloads.


Effortless management and scalability
Deployment is effortless with a simple one-cord design and out-of-box automatic setup. The Wyse 5000 series all-in-one thin client with PCoIP requires no on-site management or configuration, so you can keep your IT resources focused on other projects. It can also be managed remotely with a simple file server, Wyse Device Manager (WDM) or Wyse Cloud Client Manager to help lower the total cost of ownership and offer enterprise-wide management that scales as you grow from just a few thin clients to tens of thousands.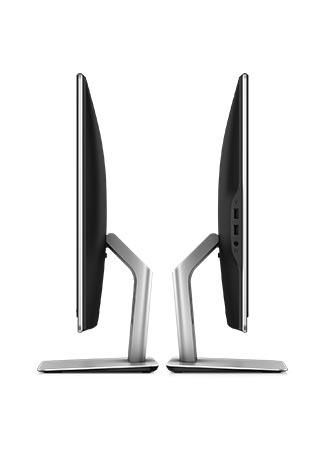 Versatile, streamlined design
This sleek, slim all-in-one thin client with PCoIP won't clutter workspaces. An elegant design perfectly complements any customer-facing or business space. 
Flexible multimedia connectivity
The Wyse 5000 series all-in-one thin client with PCoIP connects to multiple protocols automatically upon deployment and offers versatile connectivity options for use in a wide range of industries. With four USB 2.0 ports, Gigabit Ethernet, fiber and integrated dual band WiFi options, users can link to their peripherals and quickly connect to the network while working with processing-intensive, graphics-rich applications. Built-in speakers, a camera and a microphone make video conferencing and desktop communication simple and easy. It even supports a second display for employees who need a dual monitor configuration.
Environmentally conscious for long-term value
Designed for cost-effective virtual desktop deployments, the Wyse 5000 series all-in-one thin client with PCoIP is a great value from day one with minimal initial investment and energy-efficient operation. Additionally, it is designed with an ISO 14001-based environmental management system and using WEEE recycling processes. All Wyse products meet stringent RoHS requirements and EPEAT compliance.
*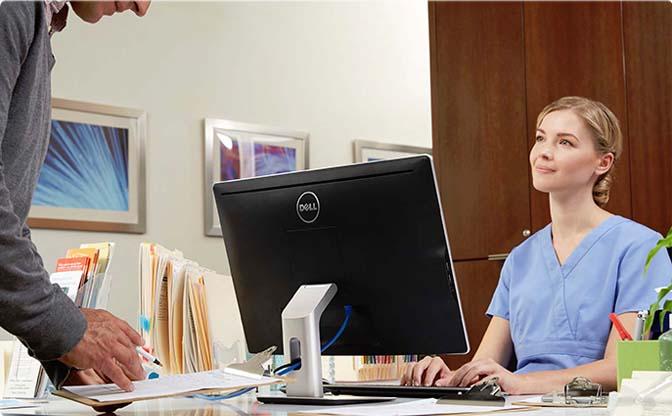 Versatile applications
The Wyse 5000 series all-in-one thin client with PCoIP combines high performance and affordability with extremely secure desktop virtualization to increase workplace productivity and aesthetics.
Healthcare, Finance and Retail
Secure, virus-immune all-in-one for hospitals, nurses' desks, clinics, call centers, traders, banks and retail point-of-sale
Multi-monitor capability for power users and small form factor for use with mobile computing carts
Education
Cost-effective, high performance all-in-one for classrooms, libraries and labs
Integrated webcam and speakers for multimedia purposes
Work from Home
Easy deployment and remote management with total data security for remote employees
Affordable, compact all-in-one for at-home productivity
Essential accessories for your Wyse 5000 series All-in-One thin client with PCoIP
Complete your Wyse thin client with accessories recommended to enhance team productivity. Look for these great products and more at checkout.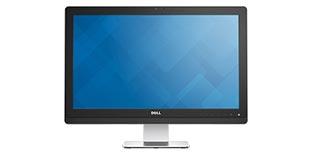 Dell UltraSharp 22 Multimedia Monitor – UZ2215H
Improve productivity by adding a second screen.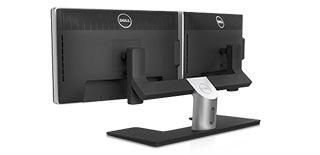 Dual Monitor Stand – MDS14
Optimize your dual monitor setup to improve productivity and reduce desktop clutter.

Dell ProSupport

Choose Dell's premium support service, ProSupport, for 24/7* direct telephone access to advanced-level technicians based in your region. Whether you have one office or hundreds around the world, protect your investments with this simple yet flexible approach.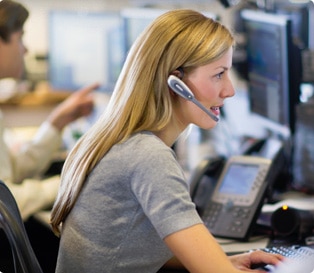 Get end-to-end support 24x7.
Dell Wyse thin clients feature a complete services portfolio including Deployment Services, ProSupport and Accidental Damage Service giving you end-to-end support throughout the product lifecycle. Dell services portfolio for Wyse thin clients helps you streamline deployment and support so you can focus on innovation.
Operating System
Wyse ThinOS 8.1 with PCoIP
Display
54.61 cm (21.5 inches) / Full HD 1920 x 1080 at 60 Hz (Primary and dual monitor)
Widescreen (16:9) flat panel display, Anti-glare with hard-coating 3H
Processor
AMD G-Series T48E Dual Core 1.4GHz / AMD Radeon HD 6250
Networking
10/100/1000 RJ-45 Ethernet or SFP Fiber (mutually exclusive)
Optional – 802.11 a/b/g/n integrated wireless Ethernet with dual-band antenna.
* Available in select countries.



---

I/O peripheral support

4 USB 2.0 ports
1 RJ45
1 SFP fiber (optional)
1 VGA (PC mode)
1 DisplayPort (dual display)
Composite audio jack: 1/8-inch mini, 16-bit stereo / Internal mono speaker
HD web cam (integrated)
Speaker bar (integrated)
Microphone (integrated)
Dimensions & Weight
Display with stand (W x D x H): 531mm (20.9 in) x 181mm (7.1 in) x 408mm (16.0 in)
Display without stand (W x D x H): 531mm (20.9 in) x 45mm (1.8 in) x 343mm (13.5 in)
Fixed Stand (W x D x H): 191mm (7.5 in) x 181 mm (7.1 in) x 315mm (12.4 in)
Software
Citrix ICA, HDX 3D & 3D Pro, Microsoft RDP 8.0, VMware (RDP) view 5.2, VMware View with PCoIP and Dell vWorkspace



---

In the Box

In the BoxWyse thin client all-in-one
Enhanced USB keyboard with Windows Keys (104 keys) included in the U.S. and sold separately outside the U.S. (availability varies by region). (USB keyboard (US) DJ454.)
USB optical mouse is included. (USB mouse (US) 11D3V)



---

Optional accessories (sold separately)

Headset Jabra UC 550 Duo Dell Part# A7371144
Wireless Keyboard & Mouse Dell Part# 332-1396
Printer C2660dn Dell Part# 210-ABPD
Dual UZ2215H Monitor Dell Part# 861-BBDD
Dell Dual Monitor Stand Dell Part# 332-1236



---

Energy efficiency

Less than 27W average power consumption
External power supply auto-sensing between 110v and 240v. Energy Star V6.0/6.1. Phase V external and EuP-compliant power adapter.



---

Weight

With packaging 6.78kg (14.92lb)
With stand assembly & cables 5.4kg (11.88lb)
Without stand assembly 3.58kg (7.88Ib)
Stand 1.02kg (2.24lb)
Warranty
Three year limited warranty. Extended warranty up to 4 and 5 years.
Optional warranty extension with advanced replacement.