Thin. Sleek. Fast. Ultra-light laptop for the style-savvy professional.
Λυπούμαστε, αλλά αυτό το προϊόν δεν διατίθεται πλέον για online αγορά. Δείτε το συνιστώμενο προϊόν που το αντικαθιστά.
Latitude Z Laptop
Latitude
Elite Mobility Meets Intuitive Design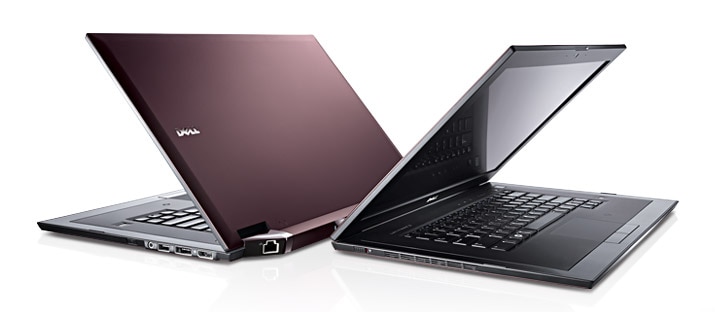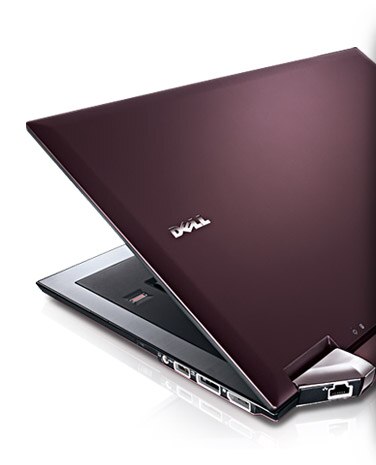 Discover Mobility at its Finest
Truly in a class of its own, the Latitude Z combines boundless mobility with leading-edge technology in a design that's miles beyond business as usual.
Breathtakingly Thin and Light: Lean, tapered design starting at just over half an inch thin (14.5mm) and 4.4 lbs. (2.0kg) in weight.
Luxury Inside and Out: A lush, soft-touch finish on the outside and a silky-touch backlit keyboard beneath the case make the Z a true complement to style and success.
Expansive Screen Estate: Backlit widescreen, high-definition 16" LCD with integrated 2MP autofocus webcam provides a larger visual workspace for viewing multiple files at once or for easy collaboration both in and out of the office.
Thoughtful, Functional Design: Thoughtful design extends the concept of a leaner, lighter travel weight all the way to the Z's power adapter, optional accessories and external optical drive.
Get Things Done Faster and Easier
The Latitude Z doesn't just open new doors to remote collaboration with colleagues. With its seamless integration of form and function, the Z also changes the way you interact with your laptop.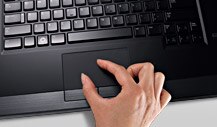 Intuitive Touch Controls: While the Z's agile keyboard begs to be touched, you can also command your workspace without pressing a single key. Scroll through Web sites and interact with frequently used applications using Dell's first-of-its-kind EdgeTouch™ LCD sensor, which sits conveniently on the side of your screen. Or, use the roomy, gesture-enabled touchpad to zoom, rotate and surf through your work with ease.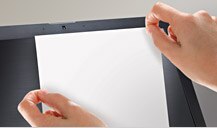 Easy Scan and Copy: Dell Capture technology lets you conveniently scan and save business cards to Outlook Contacts and copy documents to PDF, so no matter where work may take you, you can save time, minimize clutter and preserve key documents for later use.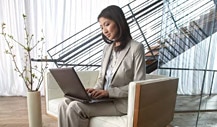 Desktop Freedom: Unshackle yourself from power-cable clutter and conventional docking systems alike: As the world's first laptop with a wireless inductive charging stand and dock, the Z gives you the freedom to charge, connect and collaborate in extraordinary ways.
Enjoy Business Perks
While the Latitude Z's design offers built-in bragging rights, the Latitude name guarantees the manageability, security, wireless and service options that professionals worldwide have come to expect from Dell Latitude systems.


Easy Manageability: Simplify IT tasks and maintain control with features such as Dell ControlPoint System Manager, optional Dell Client Manager and Intel® vPro™ remote management.

Always ON™: Dell Latitude ON™ technology helps you to get up and running even when you're running late. Simply turn it ONT for instant, no boot-up wait time; interactive access to information you need (Web, e-mail, calendar, contacts); and the added benefit of idle battery life that can extend for days, not just hours.

Comprehensive Security: Protect your Latitude Z from prying eyes and hands with features such as built-in fingerprint reader, Dell FaceAware™ lockout, contactless smart-card reader and Dell ControlVault™ software.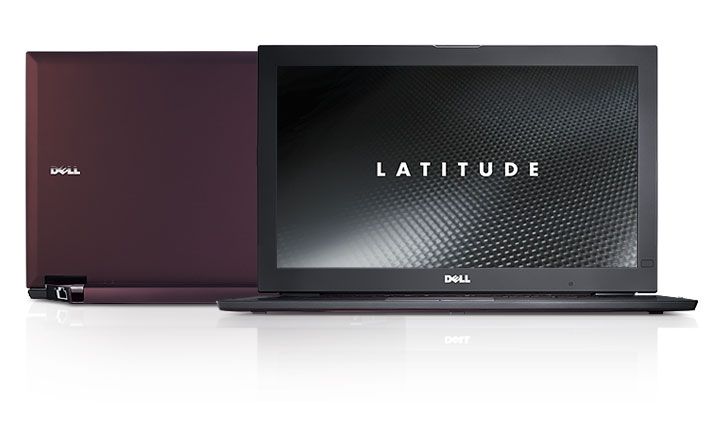 Discover Premium Design
With its razor-thin body, eye-catching design and generous screen estate, the Latitude Z offers an end-to-end experience you won't find in ordinary business laptops.
Lean, Tapered Design: Striking, wedge-style design starting at just over a half an inch thin (14.5mm) and 4.4 lbs. (2.0kg) in weight.

*

Tactile Keyboard: Backlit, silky-touch keyboard with subtle, finger-accommodating curves.
Luxurious Screen Estate: Absolute viewing comfort on the road.
Customized Details: Robust metal hinge with elegant watch finish, as well as tapered outer edges and seamless antenna design.
Exclusive Finish: Soft-touch black-cherry casing, as well as minimal "sticker clutter" on underside of system.

 

 

Experience Form + Function
Combining form and function throughout its efficient design, the Latitude Z integrates a number of controls that enable seamless collaboration not just with colleagues, but also with your laptop.


2MP Autofocus Webcam: Integrated camera for quality videoconferencing.
Dell FaceAware™ Lock-out: Facial-recognition security "locks" your system when you step away. (Available with optional integrated webcam.)
Dell Capture Technology: Integrated business card reader and document copier lets you scan and save colleagues' information or quickly save paper documents to PDF. (Available with optional integrated webcam.)
 

Capacitive-Touch Volume Controls: Raise or lower audio volume with a touch of your finger.
Roomy, Gesture-Enabled Touchpad: Providing more intuitive and at-hand ways to scroll, zoom, rotate and surf.
Dell EdgeTouch™ LCD Sensor: Innovative controls at lower right corner of LCD for quick, easy and customizable laptop interaction.
Do More with Less
Don't be fooled by the Latitude Z's minimalist packaging: Inside the box is a complete mobile office, with optional add-ons giving you even more freedom to stay productive on your own terms.


Ultra-Light Accessories: External optical drive, power adapter, auto air adapter and accessory dongles, all designed for easy transport and minimal workspace clutter.
Premium Cases: Protect your Latitude Z during travel with one of several optional, high-end cases from Timbuk2 and Cole Haan.
Κάρτα γραφικών
Intel®  Graphics Media Accelerator 4500MHD
Οθόνη
16.0" Premium High Definition Plus (1600x900) WLED Display
Οπτικός δίσκος
External Optical Drive or Optional External eSATA Slot-load DVDRW Drive or BlueRay Drive
Dell ProSupport


Designed to address the technology challenges you face today, Dell ProSupport™ starts with the Dell ProSupport for IT service model designed for IT professionals like you. Dell ProSupport for IT provides:
24x7 direct access to Dell Expert Centers

Fast-track dispatch for Dell-certified technicians

Escalation management through Dell Global Command Centers
Next, Dell ProSupport Options align to the way you use technology – rapidly responding to your needs, protecting your investment, your productivity and your sensitive data, and providing enhanced proactive support services to help reduce the risk and complexity of managing your infrastructure.
SPEED OF RESPONSE

PROTECTION

PREMIUM PROACTIVE

International On-site Service

provides service and support for your Dell laptop while you are traveling.

Specialized On-site Options enables you to augment your daily IT management or tap into specific technical expertise for critical projects when needed. Recommended options for laptops include:


On-site Parts Management to help minimize downtime by having parts at your fingertips
On-site Personnel to augment your IT staff
On-site Diagnosis for accelerated troubleshooting

Asset Management and Protection


Accidental Damage Protection*

repairs or replaces accidentally damaged systems.

Laptop Tracking and Recovery tracks lost or stolen systems.
Extended Battery Service covers an optional replacement battery during a system's three-year limited warranty* period.


Data Management and Protection


Keep Your Hard Drive* helps you retain control of sensitive data.
Hard Drive Data Recovery provides unlimited attempts to recover data from a failed hard drive.
Remote Data Deletion can remotely delete data if your system goes missing due to loss or theft.
Certified Data Destruction wipes your hard drive clean and destroys data.

Enterprise-Wide Contract provides enhanced proactive capabilities through:


Designated Service Delivery Manager

Performance benchmarking and custom reporting

Planning and assessments
Don't have an IT staff?
Dell ProSupport for End-Users is designed for organizations with limited or no dedicated IT staff. End-users receive 24x7 direct break-fix hardware support plus "how-to" support on popular software applications such as Norton™ AntiVirus, Microsoft® Office, Microsoft Small Business Server, Intuit® QuickBooks, Adobe® Photoshop® and Adobe Acrobat®.


Deployment Services
Our end-to-end deployment services are designed to simplify and accelerate the customization and utilization of your new systems. Dell Deployment Services include everything from order consolidation to coordination of deployment resources.

Managed Deployment
Dell Managed Deployment Services are for customers who need a complete, end-to-end deployment solution. Managed deployments are useful within complex logistical environments which require a single point of contact.

Custom Factory Integration
Dell offers custom factory integration services to help accelerate your system deployments. We can perform a range of services such as custom configuration, consolidation, and integration in our factory so that you can deploy your systems right out of the box.

ImageDirect
ImageDirect is a web-based, hosted image management service that enables customers to easily create, manage, and load custom images for Dell commercial client systems.

Intel® AMT and Intel® vPro™ Support -
For Intel® AMT and Intel® vPro™ customers, new deployment service options such as unique password pre-population; pre-configured management settings; and no-touch deployment can help ease deployment concerns while saving time and money.

Advanced Configuration Services -
With Advanced Configuration Services (ACS), you can save time and resources by selecting various settings during the purchase process. You can choose to partition your hard drive; select boot order; change BIOS settings; and modify various standard software configuration settings.



Asset Recovery Services
Asset Recovery Services offers safe and environmentally-appropriate disposal solutions for outdated or end-of-life IT assets. This service includes transportation, flexible logistics, equipment processing, detailed data security and environmental reports at an affordable price.