Higher Density Gigabit Ethernet Switch With Virtual Chassis Technology for Copper-Based Networks
Sorry, this item is not available anymore for purchase online. Please see our recommended replacement product.
The PowerConnect™ J-EX4200-48T Ethernet switch for enterprise networks combines the pay-as-you-grow convenience and low-power and cooling features of stackable switches with the performance, availability, port densities and operational ease of chassis-based platforms. The J-EX4200-48T switch delivers 48 ports of Fast Ethernet and Gigabit Ethernet support, of which eight ports can be powered by the network (PoE), thereby reducing power needs for the switch.

Ethernet switch offers high availability, high performance and a single point of management in a compact, power-efficient 1U framework.
Virtual chassis technology enables connecting up to 10 switches as a single logical device supporting up to 480 server access ports, lowering management and administrative overhead.
Junos® network OS with a consistent feature set helps shorten the learning curve and lower operational expenses.






Includes Extended Life Warranty*





Extended Life Warranty provides the assurance that your hardware will be repaired or replaced for as long as you own the product. *Warranty extends until five years after end of product model sales. Fans and power supply are limited to five years from date of purchase. Details at

Dell.com/warranty




The item you have selected is not available for purchase online. Please contact your sales representative to purchase.
PowerConnect J-EX4200-48T Ethernet Switch
PowerConnect
Innovative Architecture
The PowerConnect J-EX4200-48T Ethernet switches feature complete enterprise Layer 2 and Layer 3 switching capabilities to satisfy your high-density access and Gigabit Ethernet (GbE) aggregation requirements.
Optional GbE and 10 GbE uplink modules enable high-speed connectivity to aggregation or core-layer switches.
Internal redundant, hot-swappable power supplies and a field-replaceable fan tray with redundant blowers help ensure maximum uptime.
Eight power over Ethernet (PoE) ports deliver a full 15.4 watts of Class 3 PoE to support IP-enabled telephones, video cameras and wireless LAN access points in converged networks.
A purpose-built, packet-forwarding-engine application-specific integrated circuit (ASIC) consistently delivers wire-rate forwarding, even with all control-plane features enabled.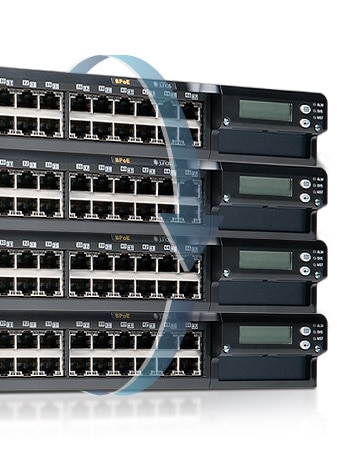 Virtual Chassis Technology
In a virtual chassis configuration, all switches can be monitored and managed as a single device, which enables administrators to improve network efficiency by separating physical topology from logical end-point groupings.

Up to 10 PowerConnect J-EX4200-48T switches can be connected to create a single logical device supporting up to 480 10/100/1000BASE-T ports plus an additional 20 GbE or ten 10 GbE uplink ports, which helps:
Ease configuration and management
Reduce operational costs
Simplify cabling
Lower cooling costs
Conserve data center floor space
Servers attached to the top-of-rack devices are connected by a single, high-bandwidth, low-latency switch and do not rely on an aggregation switch for server-to-server communications. What's more, different models, such as the PowerConnect J-EX4200-24T and PowerConnect J-EX4200-24F, can be mixed to provide a variety of port and density options.

A single virtual switch can also be created using the GbE or 10 GbE uplink ports to extend the virtual chassis configuration across long distances, spanning different wiring closets, floors or even buildings.
Junos Operating System
The PowerConnect J-EX4200-48T Ethernet switch runs on the Junos OS, which is commonly used across all J-Series products, as well as many of the world's largest and most complex networks.
Highly disciplined, the Junos OS development process uses a single source code, follows a single quarterly release train and employs a highly available modular architecture that prevents isolated failures from bringing an entire system down.
Fully regression-tested, each new release is a true superset of the previous version. Therefore, whenever Junos-powered products are updated, all existing capabilities will be maintained and operate in the same way.
Session-based forwarding combines the session state information of a traditional firewall and the next-hop forwarding of a classic router into a single operation, helping to improve throughput and lower latency for session traffic when compared to classic
Leveraging a common version of the Junos OS across the switch families ensures consistency throughout the infrastructure and reduces the learning curve.
Dell ProSupport *— Fast, reliable support services designed to address the technology challenges you face today. This support portfolio is focused on your needs, time demands and budgets.

Need professional support services that take care of both you and your employees' IT needs 7x24? Choose Dell ProSupport to get access to a certified technician.

Got an IT staff? Choose Dell ProSupport for IT and get tech-to-tech support with Fast-Track Dispatch, along with 7x24 access to Dell-certified technicians.



Dell ProSupport Service Model


Dell ProSupport for End Users
Designed for organizations with limited or no dedicated IT staff.
Includes:

7x24 direct break-fix hardware support for your employees
"How-to" support on popular software applications such as Norton AntiVirus, Microsoft Office, Microsoft Small Business Server, Intuit QuickBooks, Adobe Photoshop and Adobe Acrobat.
Dell ProSupport for IT
Includes:

7x24 Direct access to Dell Expert Centers
Fast-track dispatch for Dell-certified technicians
Escalation management through Dell's Global Command Centers
Next, add Same-Day Response for faster resolution:

Same-Day Response — Ideal for customers using their Dell systems for time-sensitive operations or critical business functions. A Dell-trained technician will arrive onsite within 4 hours* after problem determination, depending on location, to help get your system back in operation as rapidly as possible.

Limited Hardware Warranty

One year unit exchange Limited Hardware Warranty supplemented with one year of Next Business Day Onsite Service part or unit hardware replacement
7-day/24-hour Telephone Technical Support for troubleshooting and diagnosis of Dell hardware
Customization and Set-Up
Installation – Dell provides streamlined standard installation services so you can easily choose the specific package that quickly gets new systems into the workspace and old systems out.
You can upgrade to three years of part or unit hardware replacement, with either Same Day, 4 Hour response or Next Business Day Onsite Service response.