Dell 8/4 Gbps FC Pass-Through Module for M1000e Blade Enclosure
Sorry, but this item is no longer available for purchase online. Please contact your sales representative for details on how to order.
8/4Gbps Fibre Channel Pass-Through Module for M1000e Blade Enclosure
Basic 8Gb Aggregator Dell FC Pass-through
Dell
Performance
8 Gbit/sec line speed with backward compatibility to 4, and 2 Gbit/sec line speed
Management
Module is unmanaged – all management occurs via HBA firmware or exterior switches

Interoperability

Integrates with any external FC SAN infrastructure
Fibre Channel connectivity for your existing SAN infrastructure
The Dell™ 8/4 Gbps FC Pass-Through Module provides data centers with existing storage area network (SAN) infrastructures a direct Fibre Channel connection between the servers and the SAN. The module offers sixteen 8/4/2 Gbps Fibre Channel one-to-one, non-switched connections between the blade servers and the SAN.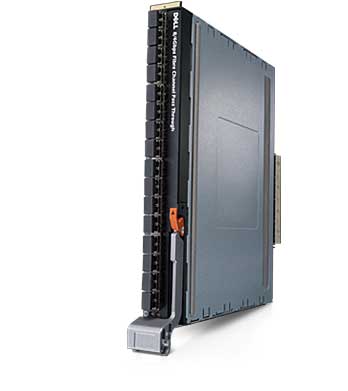 Highlights
Each port provides a dedicated connection for guaranteed bandwidth to each server port.
Transparent pass-through protocol helps remove interoperability issues between SAN and server.
8, 4 or 2 Gbps Fibre Channel connectivity on each port can match existing server and SAN installations.
Navigate network complexity with Dell EMC Services
Our global team of network experts understands the complexities of IT ecosystems, including multi-vendor environments. We have the skillset and experience to not only quickly resolve performance issues but also transform your network to meet the demands of your business.
Consulting
Dell EMC network consultants provide expert guidance to help you optimize and transform the network environment for the demands of today's multi-cloud infrastructures. Our deep infrastructure and application expertise combined with sophisticated network analysis toolsets address a wide range of network technology and process challenges.
Deployment
Leverage the Dell EMC ProDeploy Enterprise Suite to get your network installed and configured. Our experts can free your IT staff to focus on your core business, minimize downtime and give you the confidence that the job will be done right, the first time.
Support
Gain access to ProSupport technical experts who can assist with your most complex networking challenges. The Dell EMC ProSupport Enterprise Suite provides networking support around the clock and around the globe, helping your team maintain a high level of productivity.
Education
Dell EMC offers flexible training programs so your staff can build the right skills to successfully manage and utilize your network to its full potential. Through our personalized approach, your staff gets the exact training they need to improve productivity and adoption, decrease downtime, and reduce end-user support calls.