最適合世界級的遠端存取解決方案,提供無可比擬的效能
請致電戴爾查詢最新價格
本產品暫不支援網上下單。查詢價格及配置 請致電
29693116
或
線上諮詢戴爾銷售
很抱歉,本商品不再提供線上購買。請參閱我們建議的替代產品。​
Precision R5400
Precision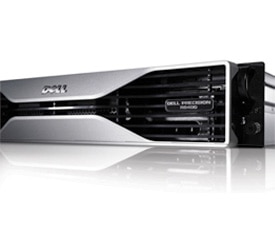 出色的工作站效能
Dell Precision R5400 為配備 Intel ® Xeon ® 處理器並兼顧高效能的雙插槽機架式工作站,可當做符合業界標準的刀鋒工作站替代方案,而且具備可完整擴充、高效能的顯示卡選項,以及:


一系列廣泛的標準桌上型工作站等級 OpenGL 顯示卡任君選擇,並且具備可日後更換的彈性
額外的標準 PCIe 與 PCI 插槽,提供優異彈性
沒有專屬機櫃;這表示初期投資成本較低,而且可享有不受單一廠商侷限的自由
能夠提供全新的高效能運算解決方案,透過寫入的多執行緒應用程式,在工作站 CPU 以外利用 GPGPU (高階顯示卡的一般用途 GPU) 的絕佳效能。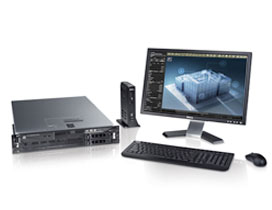 新一代的彈性運用
Dell FX100 遠端存取裝置為 Dell 彈性運算產品的一員,包含主機機架式工作站內的標準 PCIe 卡,以及可直接連接遠端使用者周邊裝置的可攜式裝置。FX100 不同於軟體為主的遠端存取解決方案,採用專屬硬體,以壓縮、加密及管理主機系統與入口網站之間的通訊。

有了 Dell FX100 遠端存取裝置,遠端使用者面對螢幕操作時,就像實際坐在工作站旁邊一樣。

Dell FX100 遠端存取裝置採用 Teradici® PC-over-IP® 技術,即使在遠端使用工作站級應用程式,也能夠獲得最優異的使用經驗,並可完整支援高階 OpenGL 顯示卡。

對於虛擬遠端桌面環境而言,FX100 (搭載 Teradici® 韌體版本 3.X) 是獲得認證的 PCoIP® 硬體零用戶端 (Hardware Zero Client),搭載 VMware View™ 4,可利用簡易的隨插即用方式存取 VMware View ™ 4 虛擬桌面。
視訊卡
繪圖卡選擇

支援 2 個 PCI Express x16 Gen2 顯示卡,最高可達 150W (位於 2 x16 Gen1 PCI Express 插槽):
ATI FireMV 2260
NVIDIA® Quadro® 6000
NVIDIA® Quadro® 4000
NVIDIA® Quadro® 2000
NVIDIA® Quadro® FX 5800
NVIDIA® Quadro® FX 4800
NVIDIA® Quadro® FX 3800
NVIDIA® Quadro® FX 1800
NVIDIA® Quadro® FX 580
NVIDIA® Quadro® NVS 295
NVIDIA® Quadro® NVS 420 四顯示器卡
NVIDIA® TeslaTM C1060 運算處理器
所有顯示卡都支援雙顯示器組態。

機箱
2U 機架工作站:

高:3.40 吋 (8.656 公分)
寬:16.78 吋 (42.62 公分)
深:
含框架 28.84 吋 (73.25 公分)
不含框架 26.95 吋 (68.45 公分)
重量:
含框架 45.97 磅 (20.85 公斤)
不含框架 45.08 磅 (20.45 公斤)

托架

2 個內接 3.5 吋硬碟托架
1 個外接 5.25 吋薄型光碟機托架

插槽

均為全高及全長

業界標準:2 個 PCI-e x16 Gen1 全長顯示卡插槽搭配雙 150W;(共 300W)

擴充卡選項:

1 個 PCIX 64 位元 @ 100MHz;1 個 PCIe x16,接線為 x8 (預設)
或
1 個 PCIX 64 位元 @ 100MHz;1 個 PCI 32 位元;5V

顯示卡的額外電源連接器:
2 個 6 點電源連接器

標準 I/O 連接埠

5 個 USB 2.0:2 個位於正面面板,3 個位於背面面板,1 個內接
2 個序列連接埠、2 個 PS/2、2 個 RJ-45、立體聲輸入及輸出 (背面面板)
電源
瓦數:

750W 80% plus 高效
750W 電源的最大散熱:2559 BTU/小時
註:散熱的計算依據為電源瓦數額定值。

電壓:

自動感應電源:90V 至 265V (50/60Hz)

備份電池:

3-V CR2032 鈕釦型鋰電池
Dell ProSupport
Faster, more reliable support services designed to address the technology challenges you face today. This new support portfolio is focused on your needs, time demands and budgets.

Need professional support services that take care of both you and your employees' IT needs 7x24? Choose Dell ProSupport™ to get access to a certified technician in two minutes or less.

Got an IT staff? Choose Dell ProSupport for IT and get tech-to-tech support with Fast-Track Dispatch, along with 7x24 access to Dell-certified technicians.


Dell ProSupport Service Model

Dell ProSupport

Dell ProSupport for IT

Designed for organisations with limited or no dedicated IT staff.

Includes:

7x24 direct break-fix hardware support for your employees
"How-to" support on popular software applications such as Norton AntiVirus™, Microsoft® Office, Microsoft® Small Business Server, Intuit® QuickBooks®, Adobe® Photoshop® and Adobe® Acrobat™
Access to a certified technician in two minutes or less

Designed to provide tech-to-tech support for IT professionals, database administrators and internal service desks or helpdesks.

Includes:

7x24 direct access to Dell Expert Centers
Fast-track dispatch for Dell-certified technicians
Escalation management through Dell's Global Command Centers
Next, further customise your support solution by taking advantage of the Dell ProSupport Options below that align to how you use your technology.


<><>>

SPEED OF RESPONSE

PROTECTION

Mission Critical 4-Hour Onsite Service

*

-

Priority onsite service to get you back up and running fast

Specialised Onsite Options – Allows you to augment your daily IT management or tap into specific technical expertise for critical projects when needed. Recommended options for laptops include:


Onsite Parts Management to help minimise downtime by having parts at your fingertips.
Onsite Personnel to augment your IT staff.
Onsite Diagnosis for accelerated troubleshooting.

Asset Management and Protection




Accidental Damage Protection

* repairs or replaces accidentally damaged systems



Data Management and Protection




Keep Your Hard Drive* helps you retain control of sensitive data
Hard Drive Data Recovery provides data recovery from a failed hard drive
Certified Data Destruction wipes your hard drive clean and destroys data
<><>>

Customisation and Set-Up


Deployment Services
Our end-to-end deployment services are designed to simplify and accelerate the customisation and utilisation of your new systems. Dell Deployment Services include everything from order consolidation to coordination of deployment resources.
Learn More

Managed Deployment
Dell Managed Deployment Services are for customers who need a complete, end-to-end deployment solution. Managed deployments are useful within complex logistical environments that require a single point of accountability.
Learn More

Custom Factory Integration
Dell offers custom factory integration services to help accelerate your system deployments. We can perform a range of services such as custom configuration, consolidation and integration in our factory.
Learn More

ImageDirect
ImageDirect is a web-based, hosted image management service that enables customers to easily create, manage and load custom images for Dell commercial client systems.

Intel® AMT and Intel® vPro™ Support
For Intel® AMT and Intel® vPro™ customers, new deployment service options such as unique password pre-population; pre-configured management settings; and no-touch deployment can help ease deployment concerns while saving time and money.

Advanced Configuration Services
With Advanced Configuration Services (ACS), you can save time and resources by selecting various settings during the purchase process. You can choose to partition your hard drive; select boot order; change BIOS settings; and modify various standard software configuration settings.



<><>>

Asset Recovery Services


Asset Recovery Services
Asset Recovery Services offers safe and environmentally-appropriate disposal solutions for outdated or end-of-life IT assets. This service includes transportation, flexible logistics, equipment processing, detailed data security and environmental reports at an affordable price.
Learn More