Dell QLE220
請致電戴爾查詢最新價格
本產品暫不支援網上下單。查詢價格及配置 請致電
29693116
或
線上諮詢戴爾銷售
很抱歉,本商品不再提供線上購買。請參閱我們建議的替代產品。​
Dell QLE220是業界首款對應中小企市場且傳輸速率達至4Gbps的主機匯流排配接卡(HBA)。 其每秒輸入輸出次數為30,000 IOPS (I/O Per Second),並藉著光纖通道提供4Gb速率。QLE220在使用簡易和價格低廉的直聯儲存(DAS)上,提供SAN連接性,提升可靠性外更突顯成本效益,適合利用中小型儲存系統的中小企最終用家。 QLE220的設計、軟體、文件和支援方式皆建立在精心推敲之上,是特別依據中小企需求所製。 此款HBA亦包含基於GUI之管理軟體及安裝精靈,對於時間少、無法開展訓練或是缺少人手、苦於不能迅速建立和管理SAN的IT經理而言是相當理想。
欲訂購,請聯絡戴爾銷售代表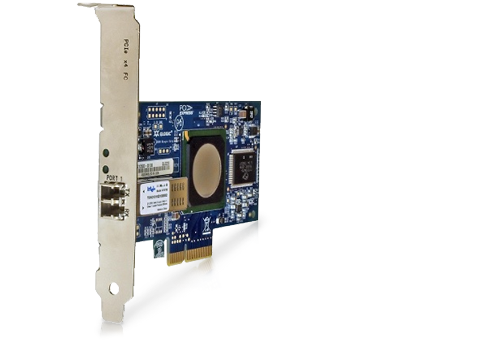 Qlogic QLE220 單通道光纖通道主機匯流排配接卡
Q Logic
Highlights
Dell Single Channel FC Host Bus Adapter for SMB
Extremely easy to use — The QLE220 features enhanced wizard-based installation, auto-configured software, preconfigured factory settings and simple/graphical user documentation.
Low price — Carefully crafted for the SMB segment, this card eliminates components and reduces features that are typically required by enterprise customers.
Built-in robustness — Meticulous design, limited components and a rigorous component evaluation result in extremely high MTBF (mean time between failures).
Proven quality — Mature architecture and design, coupled with exhaustive and meticulous tests, make this FC HBA rock-solid.
Performance — The QLE220 offers 4-Gbps speed with up to 800-Mbps throughput using the PCI Express x4 host bus.
Enhanced training and documentation — Web-based training on SAN, a step-by-step quick start guide and localized documentation enable easy adoption of the FC HBA.
Enterprise Support

Dell's Enterprise Support Services provide customers with robust, flexible support for their server and storage systems. These state-of-the-art services help ensure your IT systems consistently achieve their performance potential. Our specialist support teams work with customers to eliminate problems before they happen; prepare in advance for any elevated IT demands; and provide our fastest and most complete approach to problem resolution. Our innovative service technologies and processes can enable a new level of performance management and continuous improvement. When your business requires nothing less than the very best support, Dell's Enterprise Support Services are the answer.

Platinum Enterprise Support:

Dell's most comprehensive level of support which combines rapid response and resolution for critical issues with customized account planning and reporting to proactively improve availability. This level of support is appropriate for storage systems that are being used in datacenters and complex environments.

Gold Enterprise Support

Provides 7x24 rapid response and resolution of critical issues including escalation management and on-site Emergency Dispatch procedures to quickly restore operations. This level of support is appropriate for storage systems that are being used for email systems, database applications and virtualization.

Dell/EMC Maintenance:

Designed to help keep your storage systems current and healthy, it includes periodic health checks, installation of software updates along with how-to assistance for configuring or installing select SAN components.