請致電戴爾查詢最新價格
本產品暫不支援網上下單。查詢價格及配置 請致電
29693116
或
線上諮詢戴爾銷售
很抱歉,本商品不再提供線上購買。請參閱我們建議的替代產品。​
QLE8152 配接卡具備完整的 FCoE 硬體卸載功能,可將 LAN 及 SAN 網路整合至單一配接卡。

速度達 10Gbps 的高效能 LAN 及 SAN 網路
透過整合降低總體擁有成本以及資料中心成本
可保障乙太網路與光纖通道基礎架構的投資

您所選的商品無法線上購買。 訂購請連絡銷售代表。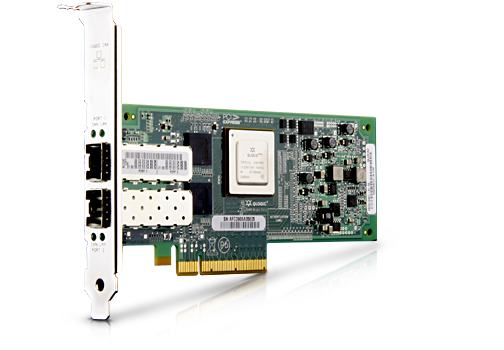 QLogic QLE8152 雙連接埠 10Gbps FCoE 整合網路配接卡
Q Logic
High Performance
10 Gbps per port maximum throughput for high bandwidth storage (SAN) and networking (LAN) traffic
Full hardware offload for FCoE protocol processing
250,000 I/Os per second (IOPS) per port that deliver high I/O (input/output) transfer rates for storage applications
Full support for TCP/IP and Ethernet performance enhancements, such as priority-based flow control (802.1Qbb), jumbo frames, checksum offloads and segmentation offloads
Lower Total Cost of Ownership
Reduced hardware, cabling, power, cooling and management costs through convergence of data and storage networking
Preservation of familiar data and storage concepts, resulting in lower training and administrative costs
Investment Protection
Works seamlessly with existing FC storage
Communicates using Ethernet, the most common networking technology in the world
Is compatible with existing FC drivers and management applications that have been deployed in millions of existing systems
Dell ProSupport — Faster, more reliable support services designed to address the technology challenges you face today. This new support portfolio is focused on your needs, time demands and budgets.

Need professional support services that take care of both you and your employees' IT needs 7x24? Choose Dell™ ProSupport™* to get access to a certified technician in two minutes or less.

Got an IT staff? Choose Dell ProSupport for IT and get tech-to-tech support, along with 7x24 access to Dell-certified technicians.



Dell ProSupport Service Model
Dell ProSupport
Dell ProSupport for IT
Designed for organizations with limited or no dedicated IT staff.

Includes:


7x24 direct break-fix hardware and software support for your employees

Access to a certified technician in two minutes or less

Designed to provide tech-to-tech support for IT professionals, database administrators and internal service desks or helpdesks.

Includes:


7x24 Direct access to Dell Expert Centers

Escalation management through Dell's Global Command Centers

Collaborative hardware and software support
Next, Dell ProSupport options align to the way you use technology — rapidly responding to your needs, protecting your investment, your productivity and your sensitive data, and providing enhanced proactive support services to reduce the risk and complexity of managing your infrastructure.

SPEED OF RESPONSE
PROTECTION
PREMIUM PROACTIVE
Mission Critical — Perfect for server and storage environments where avoiding unplanned downtime and reducing recovery time through priority response are a must. The package includes priority 4-hour onsite service or optional 2-hour response with 6-hour hardware repair, Dell's proven Critical Situation process and emergency dispatch.
Data Management and Protection


Keep Your Hard Drive* helps you retain control of sensitive data

 

 

 

Enterprise-Wide Contract — Provides enhanced proactive capabilities through:

Designated Service Delivery Manager

Performance benchmarking and custom reporting

Planning and assessments

 

 

 
Dell Server and Storage Deployment Services
Dell provides a comprehensive set of remote and on-site installation services for PowerEdge™ and PowerEdge SC servers, as well as PowerVault™, Dell | EMC and Dell EqualLogic™ storage products to help reduce the time required to get your system up and running. These installation services help:

Speed up deployment

Supply necessary expertise for correct installation

Minimize disruptions to your business

Learn More
Comprehensive Training
Get the skills you need to keep pace in today's competitive IT environment with comprehensive training courses. Dell offers a vast array of instructor-led classes and online training courses in a range of topics from server maintenance to in-depth technical overview of specific systems.