PowerConnect 6224 Switch
PowerConnect
Advanced features with superb performance
The PowerConnect™ 6224 delivers a comprehensive feature set with superb performance for the small to medium enterprise. This 24-port Gigabit Ethernet Layer 3 switch is stackable and offers optional 10 Gigabit Ethernet uplinks and supports the latest version of the Internet Protocol—IPv6—enabling broader worldwide scalability. The PowerConnect™ 6224 offers Enterprise class availability with failover times that provide for sub-250ms failover of any stacked switch, including master failure under all configurations. Furthermore, high performance stacking is supported for up to twelve systems, and advanced security and Quality of Service (QoS) features make this switch ideal for applications such as Voice over IP, Layer 3 routing, High Performance Cluster Computing (HPCC), and iSCSI storage. Advanced monitoring functions include sflow support, SNMP capabilities and a full GUI interface with graphical reporting. In the event of a switch failure, high availability functions maintain traffic flow in the stack, including mission-critical voice and storage sessions. The PowerConnect 6224 switch supports up to four 10 Gigabit fiber (SFP+) & two 10GBase-T copper Ethernet uplinks for connectivity directly to 10GE servers, routers, enterprise backbones and data centers.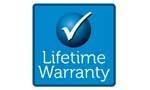 Lifetime Limited Warranty
PowerConnect™ switches not only provide the quality, reliability and capability you expect from Dell™, but also the peace of mind that guarantees hardware for life — a true Lifetime Warranty. For more details see www.dell.com/LifetimeWarranty
High Density
Delivering significant rack density, the PowerConnect 6224 is designed to give users the flexibility to maximize server and workstation connectivity in a 1U form factor. Up to 576 servers and/or clients can be connected in a stack of twelve 62xx series switches to provide the maximum density, flexibility and manageability. And the stack is built on a 10/100/1000BASE-T Gigabit Ethernet switch.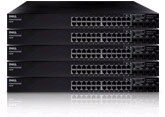 High-Performance Stacking
The PowerConnect 6224 switch supports up to four 10 Gigabit fiber (SFP+) & two 10GBase-T copper Ethernet uplinks for connectivity directly to 10GE servers, routers, enterprise backbones and data centers.

Optional 10 Gigabit Ethernet
The PowerConnect 6224 switch supports up to four 10 Gigabit fiber and two 10GBase-T copper Ethernet uplinks for connectivity directly to 10GE servers.
Advanced Layer 3 Capabilities
The PowerConnect 6224 supports advanced Layer 3 routing and multicast protocols to help reduce congestion and manage traffic in the network. Frequently used LAN routing protocols such as RIPv1/v2, OSPFv2/v3, VRRP, IGMP, DVMRP, PIM and LLDP-MED are also supported.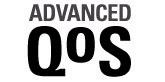 Advanced QoS
The PowerConnect 6224 offers flexibility in QoS by giving network administrators the ability to prioritize time-critical network traffic based on a variety of user-defined criteria. Administrators can expedite traffic based on L2 or L3 information, such as IP QoS, and provide greater control over traffic flow within the network. Voice virtual LANs (VLANs) are provided specifically for voice over IP (VoIP) applications.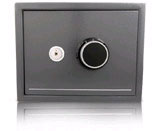 Advanced Security
Access Control Lists (ACLs) can be supported on the switch, allowing the user to perform deep packet inspection. 802.1x port authentication offers both single and multiple host access, including a captive portal option for guest access. Further security is provided through Denial of Service (DoS) Attack Prevention, whereby the switch can help protect against common network attacks and CPU attacks.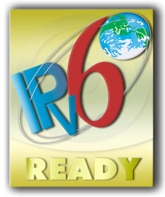 IPv6 Certified
IPv6 is version six of the Internet Protocol that has been in development for over 20 years. IPv6 has been designed to address IP address limitations of previous versions of the Internet Protocol, enabling an increased number of unique IP addresses for broader scalability worldwide now and in the future.
Peace of mind

This PowerConnect™ switch is backed by an industry-leading Lifetime Limited Warranty* which guarantees Basic Hardware Service (hardware repair or replacement) for the life of the product.

While Basic Hardware Service delivers reliable support for your hardware, most organizations benefit from additional levels of support, protecting their IT investment and maximizing productivity. We recommend Dell™ ProSupport™, an enhanced suite of enterprise level of support services, which includes: 24x7 tech support, accelerated response times, immediate access to L2 technical experts and proactive support options. Go beyond the basics and start transforming your IT infrastructure into a true business asset.

Learn more about Dell Lifetime Warranty and ProSupport for networking and other services with these vidoes.
 






Supporting your unique environment

The right support is not one-size-fits-all, it's what fits your environment. Dell™ ProSupport™ provides flexible and reliable support that empowers you to customize services to meet your unique business needs. Choose support based on how you use technology and where you want to allocate resources.

Whether you need to support an IT staff or end users, Dell™ ProSupport™ will help you remove barriers so you can get back to work. You'll receive:

24x7x365 direct access to Dell Expert Centers via email, chat and phone support
Mission-Critical Response Options, including ability to self-designate severity level 1
Hardware and software diagnostics and troubleshooting, including direct Dell OEM support and third-party collaborative support
"How-to" support on popular software applications such as Norton™ AntiVirus, Microsoft® Office, Microsoft® Small Business Server, Intuit® QuickBooks®, Adobe® Photoshop® and Adobe® Acrobat®.
Skip the script and save time with tech-to-tech support
Access to tools and resources to certify your technicians that allows them to self-dispatch parts and labor
Award winning support from Global Command Centers for dispatch monitoring and end-to-end case management for critical situations or natural disasters

Further maximize the availability and stability of your infrastructure through Dell Support Services enhanced support options, such as asset and data protection, Specialized On-site* Services, Remote Advisory Services. Streamline patch management and get detailed reporting with Proactive Maintenance. Get advice by telephone access to technical expertise on applications and solutions such as Microsoft® Exchange, Virtualization and more. And for more complex IT environments, choose the Enterprise-Wide Contract option, which provides a designated Service Delivery Manager, performance benchmarking, proactive planning and custom reporting.

To learn more about Dell ProSupport visit www.dell.com/prosupport. 


Simplify your IT infrastructure

Dell ProConsult™ Global Infrastructure Consulting Services can help integrate your new enterprise hardware into an existing or evolving IT infrastructure. We can provide guidance whether you're adding single or multiple servers, a storage area network or virtualizing your environment. We can also help you enhance the overall performance of your IT infrastructure and data center by consolidating software and hardware, reviewing data usage to optimize the environment, developing a business continuity plan and by helping you migrate to standards-based technologies.

We utilize skilled solution architects, innovative tools, automated analysis and our own intellectual property to give customers rapid insight into the root causes of unnecessary complexity. We seek better answers than traditional service models, based on our belief that solving problems should not need armies of people. Our strategy is to help customers quickly identify high-impact, short-duration projects that deliver ROI and free up resources to obtain competitive advantage. The result is practical, action-oriented plans with specific, predictable, measurable outcomes. From data center optimization to server virtualization to systems management, our consulting services help you build a more efficient enterprise.


Accelerating deployment

Dell helps simplify implementation with deployment services that speed time to production of new hardware and IT solutions. During the initial system-build of your server, we can customize software and hardware to match your specific requirements. By helping you rapidly deploy new capabilities while minimizing disruptions, we can contribute to improved efficiencies and lower costs.


Empowering your team

Our education services provide training and certification courses to help you and your team better manage and use your new hardware so you can reap the full benefits of standards-based technologies.

For more information, please visit www.dell.com/services. 


Lifetime Limited Warranty*

Select PowerConnect™ products carry a Lifetime Limited Hardware Warranty* with Basic Hardware Service for as long as you own the product. Repair or replacement does not include configuration or other advanced service and support provided by Dell ProSupport Services. The PowerConnect products covered by the Lifetime Limited Hardware warranty* are: the PowerConnect™ 2800 Series, the PowerConnect™ 3500 Series, the PowerConnect™ 5500 Series, the PowerConnect™ 6200 Series and the PowerConnect™ 8000 Series rack switches. For more details see www.dell.com/LifetimeWarranty.