The PowerVault ML6000 is an intelligent, modular tape library that prepares SAN environments for true disaster recovery.

To order the ML6020 (14U) or ML6030 (23U), please contact a sales representative.
 
PowerVault ML6010 Tape Library
PowerVault
Software
Dell NetVault® Backup
For additional tape backup software support such as Symantec and CommVault, visit the software vendor site for up-to-date support information.
Environmental Operating Conditions
Electrical: 100-240V
Altitude: 10,000 ft (9,144m)
Temperature: 10°C to 40°C (operating)
Humidity: 20-80% non-condensing (operating)
Management
Library Management Interface:

Operator panel
Password-protected, context-sensitive LCD menu display with backlight
Displays library, drive and mailbox activity
Remote management (Remote Management Unit -- RMU) with integrated web server



Industry Leading Storage Solution

 You have better things to think about than your back-up technology, and the PowerVault ML6000 family is designed to ensure that storage of your key files are worry and hassle free. The ML6000 is a versatile, enterprise-level, top-rated modular tape library that allows customers to scale their SAN backup solution. Employing LTO-3, LTO-4 and LTO-5 drives and media with WORM capability, as well as features such as Proactive Monitoring to supervise all major subsystem components and Encryption Key Management for added security, the ML6000 is an intelligent, long-term investment. Capable of expanding as your capacity needs grow, the ML6000 family offers your organization long-term data retention and restoration functionality, in a robust, intelligent, user-friendly storage system.



Modular Flexibility

The Dell PowerVault ML6000 Tape Library is a truly modular back-up solution for your critical files and data. Completely scalable, the ML6000 family provides you with the secure storage capacity you require now, while helping to ensure that your needs are met tomorrow. Starting with up to 61.5TB of native capacity in the 5U, 41-cartridge ML6010 Library Control Module, you can stack and grow your library, adding 145.5TB of capacity with each 9U, 97-cartridge ML6000 Expansion Module, up to a total potential storage capacity of a staggering 613.5TB. The library is available pre-configured in 5U (ML6010), 14U (ML6020), or 23U (ML6030) sizes and adding an additional 9U unit to your stack is a straightforward procedure.
---

Capacity on Demand
Planning for future storage capacity today can help save your organization time and money when you take advantage of the capacity on demand feature. For example, the ML6030 Library is pre-configured with 87 cartridge slots enabled. When the need arises, additional cartridge slots can be activated in 46 slot increments via the software License Key, allowing for non-disruptive scalability to even greater capacity, up to an instantaneously available 225 tape cartridge slots providing 337TB of initial native capacity. As your enterprise grows, so does your library, each additional 9U Expansion Module is also License Key scalable in 46 slot increments, that will eventually support up to 409 slots in a 41U library configuration! Activating a new License Key code and increasing your capacity is a simple, straightforward process that does not require any extra hardware or re-initialization of the library.

Intelligent Diagnostics
The ML6000's intelligence proactively monitors the status of all components and operations in the library. Relational diagnostics maintains a history of events occurring in the library over time, and correlates them to provide failure prediction capabilities. The ML6000 will select, gather and analyze logs and provide proactive notification to your designated administrator of potential issues before an issue actually occurs. You can take advantage of the email notification feature to provide remote notification of events occurring in the backup environment. Finally, the integrated Data Path Verification Tool proactively checks the data-path to help ensure connectivity before running your backup, helping to dramatically reduce instances of failed jobs.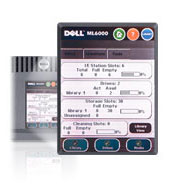 Versatile Management
The integrated Operator Panel's touch screen is a simple and intuitive GUI interface that allows you one-touch access through menu items, and provides quick-glance information on the library's health. Set-up, installation, maintenance, partitioning and troubleshooting are all handled through Wizards that guide you through each process step-by-step in plain English. A full-featured, HTML-based remote management utility allows administrators to perform all library management functions from any remote location. The self-awareness and ease of management of the ML6000 PowerVault Library helps ensure that the safety of your back-up execution is always worry free.
Reliable Technology

Effective data protection requires reliability. The entire PowerVault ML6000 stack is governed by a single, continuous robotic system, meaning fewer moving parts and less chance of failure, further helping to ensure your key files are safe and secure. WORM (Write Once Read Many) is integrated with the LTO-3, LTO-4 and LTO-5 drives and media to help prevent data from being overwritten or digitally altered. The ML6000 has a Redundant Power Supply designed to ensure that your storage is active and available, at all times.For additional security, Library Managed Encryption is available when configured with LTO-4 and LTO-5 drives

.

Aligning Tape and Disk Solutions
The ML6000 PowerVault family is optimized for Dell PowerEdge Servers, and designed to align perfectly with the Dell EqualLogic™ iSCSI and Dell/EMC Fibre Channel disk storage systems. The PowerVault ML6000 family is the ideal choice for Dell/EMC or Dell EqualLogic SAN backup and can effectively support your long-term archiving needs.
Ready for Tomorrow
Technology evolves. That's why the ML6000 family supports a wide range of software from leading companies like Symantec, EMC and CommVault, as well as the Dell/EMC and Dell EqualLogic disk portfolio. The PowerVault ML6000 uses drive technology that is future-ready, capable of expanding with the market to support different connectivity options including SCSI and Fibre Channel. Long term investment requires a system that is flexible, modular and scalable, and the PowerVault ML6000 family is ready to grow with your enterprise.
SMB - PowerVault Storage
Support Services
Dell ProSupport
– Faster, more reliable support services designed to address the technology challenges you face today. This new support portfolio is focused on your needs, time demands and budgets.
Need professional support services that take care of both you and your employees' IT needs 7x24? Choose Dell ProSupport to get access to a certified technician in two minutes or less.
Got an IT staff? Choose Dell ProSupport for IT and get tech-to-tech support with Fast-Track Dispatch, along with 7x24 access to Dell-certified technicians.
Dell ProSupport Service Model
Dell ProSupport

Designed for organizations with limited or no dedicated IT staff.

Includes:

7x24 direct break-fix hardware support for your employees

"How-to" support on popular software applications such as Norton AntiVirus, Microsoft Office, Microsoft Small Business Server, Intuit QuickBooks, Adobe Photoshop and Adobe Acrobat.

Access to a certified technician in two minutes or less
Dell ProSupport for IT

Designed to provide tech-to-tech support for IT Professionals, Database Administrators and internal Service Desks or helpdesks.

Includes:

7x24 Direct access to Dell Expert Centers

Fast-track dispatch for Dell-certified technicians

Escalation management through Dell's Global Command Centers
Next, Dell ProSupport Options align to the way you use technology – rapidly responding to your needs, protecting your investment, your productivity and your sensitive data, and providing enhanced proactive support services to reduce the risk and complexity of managing your infrastructure.
SPEED OF RESPONSE

PROTECTION

PROACTIVE

Mission Critical

*

– Perfect for server and storage environments where avoiding unplanned downtime and reducing recovery time through priority response are a must. The package includes priority 4-hour onsite

*

service or optional 2-hour response with 6-hour hardware repair, Dell's proven Critical Situation process, and emergency dispatch.

Data Management and Protection



Keep Your Hard Drive

*

helps you retain control of sensitive data

Certified Data Destruction wipes your hard drive clean and destroys data

Proactive Maintenance – Maximizes the availability and stability of your infrastructure proactively. The package includes a detailed system assessment and implementation of driver or firmware updates and upgrades for your server or storage systems.

Remote Advisory Options – Provides telephone and Internet access to technical expertise for specialized applications and solutions such as Microsoft Exchange, Virtualization, virus remediation and more.
Customization and Set-Up
EDT Installation
Enhanced installation and configuration with Dell professional project management and documentation. A project manager will be acting as the single-point-of-contact for the entire installation project from pre-site audit to co-ordination of the installation and delivery of post-project documentation.
Training
Comprehensive Training

Get the skills you need to keep pace in today's competitive IT environment with comprehensive training and certification courses. Dell offers a vast array of instructor-led classes and online training courses in a range of topics from server maintenance to in-depth technical overview of specific systems.