Dell PowerVault NX3000 Built-in efficiency to manage both file and block data
Sorry, this item is not available anymore for purchase online. Please see our recommended replacement product.
Advanced software for more efficient data Sharing
No time wasted to setup or manage
Integration that adapts to your environment
PowerVault NX3000 Network Attached Storage
PowerVault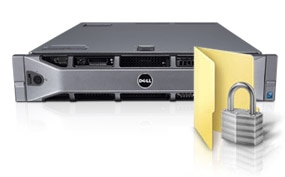 Advanced software for more efficient data
It is now possible to share data among many disparate users in an efficient way. Single Instant Storage (SIS) eliminates data clutter. It identifies duplicate files, saves one copy and replaces other version with pointers to the stored versions. Distributed File System (DFS) gives you simplified, quick access to data stored across wide area network/local area network (WAN/LAN) environments. DFS replication makes it possible to eliminate local backup at branch offices and rely on daily backups from the corporate office. This helps keep administrative tasks centralized and easier to manage.

File Services Resource Manager (FSRM) is a single management interface that delivers better managed file services across Common Internet File System/Network File System (CIFS/NFS) and provides improved control and compliance over files. This is great for audit and planning purposes.

NFS allows administrators to consolidate file-sharing resources so both Windows and non-Windows clients can collaborate more effectively.

The PowerVault™ NX3000 supports systems management with remote management through Integrated Dell™ Remote Access Controller (iDRAC) and Dell™ OpenManage™ 6.1 including DMC (Dell Management Console), IT Assistant.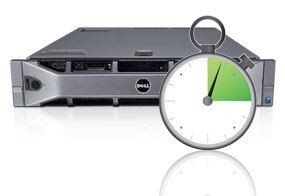 No Time Wasted to Set Up or Manage
File services are already preconfigured as part of the NX3000 for painless deployment. This reduces the overall deployment time, as it removes many management tasks and minimizes the impact on organizations' file infrastructures.

The new Initial Configuration Tasks interface starts automatically during log-on for streamlined setup of admin passwords, network settings, domain membership and configuring updates. This lets users get back to running their business instead of babysitting setup.

Remote management is handled through a simple browser with ActiveX® Remote Desktop Protocol (RDP) for Windows® or Java™ RDP for non-Windows.

Finally, there is no need for Client Access Licenses (CALs) because support for multiple users is already built into the appliance.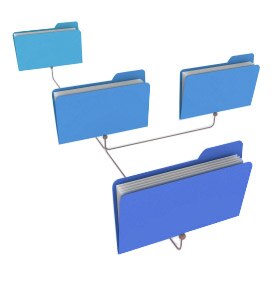 Integration that Adapts to Your Environment
The Dell PowerVault NX3000 is a network attached storage system that stores both file and application data(using the optional Internet SCSI target) at the same time while supporting different operating environments. The PowerVault NX3000 can also be deployed as a storage area network (SAN) gateway in front of a Dell/EMC, EqualLogic™ PS Series or PowerVault MD Series backend to leverage your existing SAN investment.

The PowerVault NX3000 harnesses the performance of the Intel® Xeon® quad-core or dual-core 5500 series processors resulting in improved file access and throughput. Plus, it has the added bonus of advanced software, making data easier to manage and share.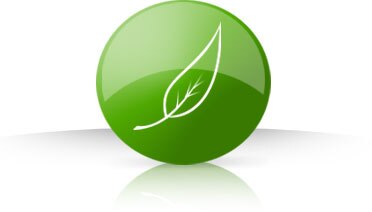 Energy Efficient Design
The PowerVault NX3000 features Energy Smart™ technologies that are designed to reduce power consumption while increasing performance capacity. Energy efficient design features include efficient power supply units right-sized for system requirements, innovative system-level design efficiency, policy-driven power and thermal management and highly efficient standards-based Energy Smart components. All these elements are designed to increase energy efficiency across our latest core data center servers while delivering the performance your business requires.
Dell Services
Dell offers services across the storage lifecycle that can help you plan a storage solution aligned with your IT objectives, efficiently implement the technology into your business and help maintain your storage solution at peak performance to support your critical business operations.

Plan - Design and Assess

Whether you're consolidating disparate data stores onto a SAN platform for the first time, or adding platforms to support growing storage requirements, Dell's experienced SAN professionals can help you choose the right technology to meet the demands of your scalable enterprise.

Storage Consolidation Services
Infrastructure Consolidation Readiness Assessment Analyzes existing infrastructure, operational practices and technical readiness to develop a roadmap for conducting a server or storage consolidation.
Consolidation Planning and Validation Develops a detailed consolidation deployment plan as well as a validated and refined solution design.
Implement - Deploy, Train and Recover

Dell provides a choice of deployment service offerings ranging from as needed, over-the-phone consultation and remote assistance to on-site project management and deployment services for complex storage migration and consolidation initiatives.

Storage Installation Services

On-site or remote installation of your complete Dell storage system is highly recommended. By allowing Dell to provide installation, you can help reduce the time required to get your system up and running, while making efficient use of your employees' time.
Remote Installation for the AX4-5 provides customers with an alternative to on-site installation for direct attach or SAN AX4-5 configurations. By using a combination of Phone and Remote support, Dell technicians can assist customers with all aspects of configuring Windows hosts to access the AX4-5. This service is only available for those configurations deemed "customer installable" and applies only to Windows configurations.
Getting your IT resources quickly up-to-speed on any new technology is essential in today's fast-past business environment. Dell's comprehensive on-line or on-site training courses will arm your IT staff with the skills they need to proficiently manage your new Dell AX4-5 SAN.
Maintain - Support and Optimize

After your Dell NX4 is fully operational, Dell can help keep it running smoothly. Dell ProSupport services can help you maximize your SAN's availability and performance.
Operations Performance Benchmarking Innovative management tools and processes, providing customers with unprecedented visibility into their IT operations and a mechanism for continuous improvement.
ECC Real-time Tracking Window A real-time web based tool that allows customers to track the real-time position and status of every open incident they are experiencing around the world, without picking up the phone.  
SAN Maintenance Service is designed to provide periodic health checks, updates and upgrades for your SAN system throughout your Limited Warranty4 period. We can analyze your system for overall health and provide software and system updates and upgrades. We can also provide how-to assistance for configuring or installing SAN components through our Enterprise Assistance program. For ongoing performance, dependability, changing demands and challenges, the SAN Maintenance service is the smart choice for your SAN system maintenance.
1 Technician, replacement part or unit (depending on service contract) will be dispatched if necessary following phone-based troubleshooting. Subject to parts availability, geographical restrictions (on site and/or next business day service not available in some locations) and terms of service contract. Service timing dependent upon time of day call placed to Dell. Defective unit must be returned or paid for. Replacements may be refurbished. 2 Technician, replacement part or unit (depending on service contract) will be dispatched if necessary following phone-based troubleshooting. 3 The defective hard drive must still be covered by the hardware limited warranty.4 Limited Warranty coverage for the Dell NX4 is available for up to three (3) years with initial purchase of the product and may be extended for up to one (1) additional year with purchase of a separate warranty extension plan prior to the expiration of the original limited warranty2 purchased for the product. The exact length of the Limited Warranty coverage period will be reflected on your packing slip or invoice.


Dell ProSupport
– Designed to address the technology challenges you face today.

Dell ProSupport starts with the Dell ProSupport for IT service model designed for IT professionals like you. Dell ProSupport for IT provides:
7x24 Direct access to Dell Expert Centers
Fast-track dispatch for Dell-certified technicians
Escalation management through Dell's Global Command Centers
Next, Dell ProSupport Options align to the way you use technology – rapidly responding to your needs, protecting your investment, your productivity and your sensitive data, and providing enhanced proactive support services to help reduce the risk and complexity of managing your infrastructure.


SPEED OF RESPONSE
 PROTECTION
 PREMIUM PROACTIVE
Mission Critical * - Perfect for server and storage environments where avoiding unplanned downtime and reducing recovery time through priority response are a must. The package includes priority 4-hour on-site* service or optional 2-hour response with 6-hour hardware repair, Dell's proven Critical Situation process, and emergency dispatch.
Data Management and Protection


Keep Your Hard Drive* helps you retain control of sensitive data
Hard Drive Data Recovery provides unlimited attempts to recover data from a failed hard drive
Certified Data Destruction wipes your hard drive clean and destroys data

Enterprise-Wide Contract – Provides enhanced proactive capabilities through:


Designated Service Delivery Manager
Performance benchmarking and custom reporting
Planning and assessments


Proactive Maintenance - Maximizes the availability and stability of your infrastructure proactively. The package includes a detailed system assessment and implementation of driver or firmware updates and upgrades for your server or storage systems.

Remote Advisory Options - Provides telephone and Internet access to technical expertise for specialized applications and solutions such as Microsoft Exchange, Virtualization, and more.
Additional Service Offerings


Comprehensive Storage Training and Certification
Through comprehensive storage training courses, Dell provides expertise in implementing Dell storage into an existing IT infrastructure. If you are interested in validating or maintaining your skill sets for company compliance, the Dell Certified Network Storage Networking Professional Certification path is available.
To sustain the continued operation of your storage solution, you should engineer availability, security and reliability into every process from the outset. Dell can provide backup and recovery solutions that help ensure adequate procedures are in place to minimize or avoid data loss.