Latitude 10 st2e Tablet
Latitude

Business-class control
World-class security
Conduct business confidently knowing your data is protected wherever you go. The Latitude 10 tablet helps protect you with Intel® Platform Trust technology or optional Trusted Platform Management (TPM 1.2)
*
and a lock slot.
Find Out More
Easy management
Integrating the Latitude 10 tablet with your organization is easy. Seamlessly manage the tablet as you would any other PC within your organization using your existing remote systems management solutions or Dell™ KACE™ appliances.
Find Out More
Reliable service and long-term stability
Backed by established support and configuration services, the Latitude 10 tablet is designed for stability, long lifecycles and managed transitions.
Find Out More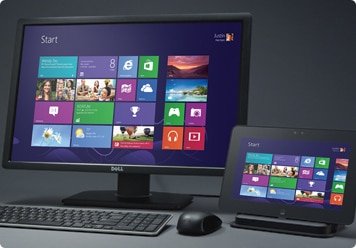 Inspired design
Work comfortably
Enjoy in-office, desktop-like productivity with the optional productivity dock designed specifically for the Latitude 10. Use the optional Wacom® Active Stylus for pinpoint accuracy.
Find Out More

Business-rugged durability
Hit the road with confidence thanks to the Latitude 10 tablet's reinforced magnesium alloy frame and Corning® Gorilla® glass. Get further protection with the available custom-fit Griffin® Survivor™ protective case (coming soon).
Find Out More

Easy portability
Starting at 658 g* and only 10.5 mm thick, the Latitude 10 is easy to carry from meeting to meeting or country to country.
Find Out More
 
 
 
 

Configuration

Latitude 10 (essentials)

Latitude 10 (standard)

Latitude 10 (enhanced security)

Take full advantage of the optimized touch experience of Windows 8 with full PC functionality, a 10.1" capacitive multi-touch HD display and full size USB and SD card support.

Boost your tablet experience with all of the essential features plus Active Stylus support, removable battery and TPM 1.2 security features.

The ultimate in business security. This configuration features the same enhanced tablet experience as the standard and is enhanced with a smart card reader and fingerprint reader for robust security.

Processor

Intel® Atom™ processor Z2760 1.8GHz with Intel® Burst Technology, 1.5GHz HFM, 600MHz LFM

Intel® Atom™ processor Z2760 1.8GHz with Intel® Burst Technology, 1.5GHz HFM, 600MHz LFM

Intel® Atom™ processor Z2760 1.8GHz with Intel® Burst Technology, 1.5GHz HFM, 600MHz LFM

Operating System

Windows 8, 32-bit, no media, English Or
Windows 8 Pro, 32-bit, no media, English
Windows 8, 32-bit, no media, English
Or
Windows 8 Pro, 32-bit, no media, English

Windows 8 Pro, 32-bit, no media, English

Display

10.1" IPS (1366 X 768) Wide View Angle LCD, Corning® Gorilla® Glass, Capacitive 5 Finger Touch and passive stylus support.

10.1" IPS (1366 X 768) Wide View Angle LCD, Corning® Gorilla® Glass, Capacitive 5 Finger Touch and Wacom stylus support.

10.1" IPS (1366 X 768) Wide View Angle LCD, Corning® Gorilla® Glass, Capacitive 5 Finger Touch and Wacom Stylus support.

Wireless

WiFi and Bluetooth

WiFi and Bluetooth, Mobile Broadband

WiFi and Bluetooth, Mobile Broadband

Mobile Broadband

Dell Wireless ™ 5565 mobile broadband card for AT&T (HSPA+), GPS

Dell Wireless ™ 5565 mobile broadband card for AT&T (HSPA+), GPS

Battery

2-cell 30WHr

2-cell 30WHr (swappable)
4-cell 60WHr (swappable)
2-cell 30WHr (swappable)
4-cell 60WHr (swappable)

Docking

Optional Docking support

Optional Docking support

Optional Docking support

Security

Dell Data Protection | Access, Intel Platform Trust Technology, lock slot

Dell Data Protection | Access, Intel Platform Trust Technology, optional hardware TPM 1.2, Noble lock slot

Dell Data Protection | Access, Intel Platform Trust Technology, optional hardware TPM 1.2, Fingerprint Reader, Smart Card Reader, Noble lock slot

Camera

Integrated 720p HD front facing video webcam, 2MP camera and 8.0MP rear camera

Integrated 720p HD front facing video webcam, 2MP camera and 8.0MP rear camera with LED flash

Integrated 720p HD front facing video webcam, 2MP camera and 8.0MP rear camera with LED flash

Ports

Full-size USB 2.0, Full-size SD memory card reader, docking connector, stereo headphone/ microphone combo jack

Full-size USB 2.0, Full-size SD memory card reader, docking connector, stereo headphone/microphone combo jack, micro-USB charging port, mini-HDMI™, mini-SIM (WWAN only)

Full-size USB 2.0, Full-size SD memory card reader, docking connector, stereo headphone/microphone combo jack, micro-USB charging port, mini-HDMI, mini-SIM (WWAN only)

 Dimensions

 274 mm (W), 10.5 mm (H), 176.6 mm (D)

 274 mm (W), 10.5 mm (H), 176.6 mm (D)

 274 mm (W), 13.4 mm (H), 176.6 mm (D)

 Weight

 1.45 lb/658 g

 Starting at 1.45 lb/658 g

 Starting at 1.53 lb/692.4 g