Securely manage your data center
Sorry, this item is not available anymore for purchase online. Please see our recommended replacement product.
Manage multiple servers from one console with the Dell™  KVM 1081AD server console switch, and opt for a Remote Access Key for remote access via any TCP/IP network.
Enjoy easy, tool-free installation using the Dell ReadyRails™ mounting interface.
Virtual media support allows servers to access storage media attached to the KVM, enabling out-of-band file transfers and OS patch deployments.
Remote access is secure and can be disabled by simply unplugging the optional Remote Access Key from one of the KVM's USB ports.
Dell KVM 1081AD server console switch
PowerEdge
Simplify your server management
Maximize your business resources with Dell KVM server console switches which:
Support Virtual Media
Enable multifactor authentication via support for common access cards (CAC)
Provide encrypted remote access when enabled by the optional Remote Access Key
Choose from a number of options to connect to the Dell KVM 1081AD:
Local port's video head directly on the switch
Analog console interface (ACI) connection in a tiered configuration
Avocent DSView® 3 management software compatible with the appropriate plug-in
Optional Remote Access Key plugged into one of the local USB ports
The optional Remote Access Key delivers:
Remote access session through the onboard web interface (OBWI) or RCS software
128-bit SSL, DES, 3DES and AES encryption
IPv4 (DHCP) or IPv6 (DHCPv6 and stateful auto-configuration) access
10/100Mbps network interface
Feature improvements
The Dell KVM 1081AD includes support for high-resolution widescreen video, as well as support for Common Access Card (CAC) capability for smart cards over USB and four USB 2.0 ports.


Performance you need: Improved 16:10 and 4:3 video display, field-upgradable firmware and seamless integration with Dell servers and accessories
Security you depend on: CAC support with encryption for smart cards
Improved productivity you want: At-the-rack access anytime, remote patches and upgrades can be made using Virtual Media and the optional Remote Access Key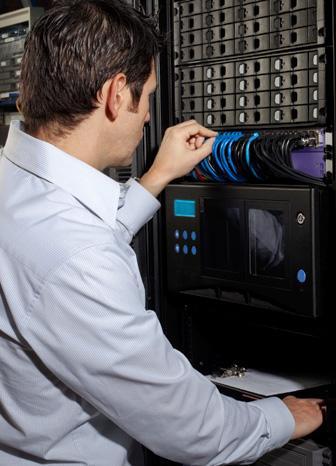 Flexible and Scalable
The Dell KVM 1081AD can grow with your business, helping to manage up to 64 servers from one unified console when tiered with additional Dell 8-port KVM console switches.
Add remote access: You can install software and perform upgrades for your data center remotely with the optional Remote Access Key.
Server interface pods (SIPs): The Dell KVM 1081AD is compatible with the following SIPs: PS/2, USB 1.1, USB 2.0 with Virtual Media support and USB 2.0 with Virtual Media/common access card (CAC) support.
Easy installation: Be ready in seconds. With Dell ReadyRails™ mounting interface you get tool-free installation for the 1U rack space. The KVM can be mounted in the front or rear of the rack and comes with a blanking panel to prevent recirculation of exhaust from for other rack equipment. Can be mounted in 0U rack space as well.
Peace of mind: The Dell KVM 1081AD supports Dell and third-party servers, and includes the technical support and hardware warranty* service you need to stay up and running.
Maximum connectivity
The Dell KVM 1081AD has eight analog rack interface (ARI) ports for connecting to SIPs attached to servers.
Four SIPs (PS/2, USB, USB2 Virtual Media, and USB2 Virtual Media + CAC) are available to address a variety of connectivity needs for servers.
One SIP can replace a bulky keyboard/video/mouse (KVM) cable by converting the signals and driving them up to 50 feet through a single CAT 5 cable without signal degradation. The SIP cable draws power from the server, and it's designed to keep the server working properly even if the Dell KVM connection is broken.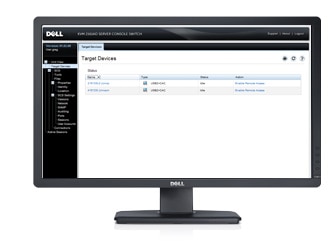 Easy to manage
Manage your data center using the Dell RCS software or the onboard Web interface (OBWI) with the optional Remote Access Key.
RCS software is a cross-platform management application that enables you to view and control the Dell KVM and all attached servers. It provides secure switch-based authentication, data transfers and username/password storage.
The OBWI provides similar management functions as the RCS software. It's launched directly from the switch through a Web browser, and any servers connected to the KVM are automatically detected.
 

The Dell KVM comes ready to use with Dell RCS software and is compatible with Avocent DSView® 3 management software.