Update your network access
Upgrade aging 10/100 access networks with GbE Layer 3 Lite managed PoE+ switches that have 10GbE uplinks, and 4-unit stacking.
Dell Networking N1500 Series Switches
PowerConnect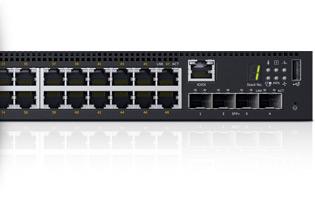 Update your network access
The N1500 switch series offers a power-efficient Gigabit Ethernet (GbE) network-access switching solution with integrated 10GbE uplinks. The N1500 switch series has high-performance capabilities and wire-speed performance, utilizing a non-blocking architecture to handle unexpected traffic loads easily. These switches offer simple management and scalability via a 40Gbps (full-duplex) high-availability stacking architecture that allows management of up to four switches from a single IP address.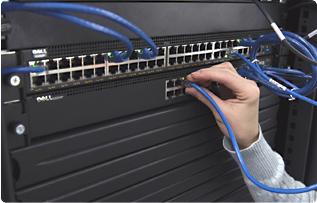 Deliver clean power to network devices with PoE+ support
The Dell EMC Networking N1500 Series has options for up to 48 Power-over-Ethernet Plus (PoE+) ports. You can attach devices with high power requirements (up to 30.8 watts) without running a separate power cable. PoE+ is particularly useful in older buildings where installing power to multiple, widespread locations can be prohibitively expensive.
Designed for efficiency
Built to help keep operating costs down, the N1500 Series can operate at temperatures up to 113°F (45°C) to help reduce cooling costs. Improve your overall efficiency with these great features: 
80 Plus-certified efficient integrated power supply 
Redundant variable-speed cooling fans 
Energy-efficient Ethernet and low-power physical layer (PHYs) to help reduce power to inactive ports and idle links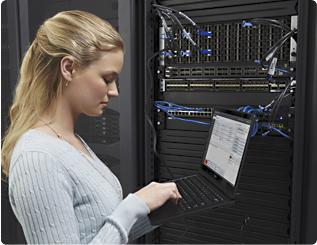 Deploy with confidence at any scale
With high throughput and capacity to handle unexpected workloads, the N1500 Series switches are ideal solutions for fast-growing GbE networks that require high-density aggregation with seamless redundancy and availability. Take advantage of the following features:
Data rates up to 176Gbps (full duplex) and a forwarding rate of up to 164Mpps
Four 10GbE SFP+ ports for high-speed uplinks and a stacking architecture up to four units at 40Gbps
Switch stacks up to 200 1GbE ports that can be managed from a single screen or IP address

Dell EMC PowerSwitch N1524
24 RJ45 10/100/1000Mb auto-sensing ports 
Four integrated 10GbE SFP+ ports
One integrated power supply (40W AC)

Dell EMC PowerSwitch N1524P
24 RJ45 10/100/1000Mb PoE+ auto-sensing ports
Four integrated 10GbE SFP+ ports
One integrated power supply (600W AC)
Dell EMC PowerSwitch N1548
48 RJ45 10/100/1000Mb auto-sensing ports 
Four integrated 10GbE SFP+ ports 
One integrated power supply (100W AC)

Dell EMC PowerSwitch N1548P
48 RJ45 10/100/1000Mb PoE+ auto-sensing ports (optional external power supply needed to provide power to all 48 ports at 30.8 watts) 
Four integrated 10GbE SFP+ ports 
One integrated power supply (600W AC)
Consulting
Dell EMC network consultants provide expert guidance to help you optimize and transform the network environment for the demands of today's multi-cloud infrastructures. Our deep infrastructure and application expertise combined with sophisticated network analysis toolsets address a wide range of network technology and process challenges.
Support
Gain access to ProSupport technical experts who can assist with your most complex networking challenges. The Dell EMC ProSupport Enterprise Suite provides networking support around the clock and around the globe, helping your team maintain a high level of productivity.
Deployment
Leverage the Dell EMC ProDeploy Enterprise Suite to get your network installed and configured.  Our experts can free your IT staff to focus on your core business, minimize downtime and give you the confidence that the job will be done right, the first time.
Education
Dell EMC offers flexible training programs so your staff can build the right skills to successfully manage and utilize your network to its full potential. Through our personalized approach, your staff gets the exact training they need to improve productivity and adoption, decrease downtime, and reduce end-user support calls.


Chassis
Rack Height: 1U
Rack-mounting kit: Y
ReadyRails™ rack mounting system, no tools required: not available

N1524:
Dimensions in inches (H x W x D):
1.7 x 17.3 x 10.1
Dimensions in millimeters (H X W X D):
43.5 x 440.0 x 257.0
Approximate Weight in pounds (without modules): 6.6
Approximate Weight in kilograms (without modules): 3

N1524P:
Dimensions in inches (H x W x D):
1.7 x 17.3 x 15.2
Dimensions in millimeters (H X W X D):
43.5 x 440.0 x 387.0
Approximate Weight in pounds (without modules): 12.8
Approximate Weight in kilograms (without modules): 5.8

N1548:
Dimensions in inches (H x W x D):
1.7 x 17.3 x 10.1
Dimensions in millimeters (H X W X D):
43.5 x 440.0 x 257.0
Approximate Weight in pounds (without modules): 8.8
Approximate Weight in kilograms (without modules): 4

N1548P:
Dimensions in inches (H x W x D):
1.7 x 17.3 x 15.2
Dimensions in millimeters (H X W X D):
43.5 x 440.0 x 387.0
Approximate Weight in pounds (without modules): 15.4
Approximate Weight in kilograms (without modules): 7
Power and Cooling Hardware
Internal hot swappable power supply bays: not available
Hot swappable power supplies (included): not available
Integrated power supply (not removable): standard
External power supply: option available
Power supply redundancy: option available
Removable fans): not available
Redundant fans: standard
Variable speed fans: standard
Air flow: IO to PSU (normal)
Stacking Attributes
Integrated rear mini-SAS stacking ports: not available
User port stacking: Y
Maximum stacking distance (meters): 100
Maximum stacking speed (full-duplex): 40Gbps
Environmental Operating Conditions
Operating Temperature in Celsius: 0° to 45° C
Operating Temperature in Fahrenheit: 32° to 113° F
Storage Temperature in Celsius: -40° to 65° C
Storage Temperature in Fahrenheit: -40° to 149° F
Operating Relative Humidity: 95%
Storage Relative Humidity: 85%
Power Supply Efficiency: 80% or better in all operating modes

N1524:
Power Supply (Watts): 40
Max Thermal Output (BTU/hr): 103.1
Power Consumption Max (Watts): 30.2

N1524P:
Power Supply (Watts): 600
Max Thermal Output (BTU/hr): 2972
Power Consumption Max (Watts): 871

N1548:
Power Supply (Watts): 100
Max Thermal Output (BTU/hr): 152.2
Power Consumption Max (Watts): 44.6

N1548P:
Power Supply (Watts): 600
Max Thermal Output (BTU/hr): 5824.3
Power Consumption Max (Watts): 1704