Outstanding flexibility and performance.
Optimize performance for today's applications with multi-rate, flexible solutions supporting 10/25/40/50/100/400GbE throughput.
Dell EMC PowerSwitch Z-Series Core and Aggregation Switches
Force10
Networking for the future-ready data center
Dell Networking Z-Series of core/aggregation switches provide optimal flexibility, performance, density and power efficiency for your data center. Offering a range of fixed-form-factor switches, the Z-Series is designed to deliver high performance for today's demanding workloads while providing headroom for future data-center demands.
Ultimate flexibility — from density to deployment
Dell Networking Z-Series switches not only simplify manageability, they give you the flexibility to stay ahead of data needs rather than react to them.
Optimized leaf/spine architecture with Z-Series switches supports data centers of virtually any size, with up to over 100,000 servers.
Exceptionally high density with the Z9100-ON providing up to 128 x10/25GbE ports and the Z9332F-ON providing up to 128x100GbE ports in a single switch.
On-demand performance
For mid-sized to enterprise data centers, pay-as-you-grow licensing or multi-rate options can mean the difference between being leading edge or falling behind. Right out of the box, Z-Series switches give you scalable performance on demand.
Multi-rate options including 10, 25, 40, 50, or 100Gb Ethernet ports with the Z9100-ON
Up to 25.6Tbps throughput performance with the Z9332F-ON

Exceptional low latency delivering as low as 400 ns

User-configurable table adjustments for virtualized data-center deployments

Energy and resource efficient
Dell Networking Z-Series offers outstanding performance and is one of the most power-efficient fabric switches on the market today. The Z series switches help reduce energy costs, speed setup and improve the bottom line with:
Up to one-third the power consumption of comparable leading switches
Up to 7x faster deployment over traditional deployment methods
Tool-less enterprise ReadyRailsTM for fast, easy installation
Dell EMC Power Switch Z9100-ON Multi-rate Fabric Switch
This open networking, SDN-ready fixed form factor switch is purpose-built for applications in high-performance data centers and modern computing environments.

Multi-rate switch offering 10/25/40/50/100GbE options
High density with up to 32 ports of 100GbE in 1RU
Choice of leading network operating systems to simplify data center fabric orchestration and automation
Easy on-ramp to SDN for part or all of your production environment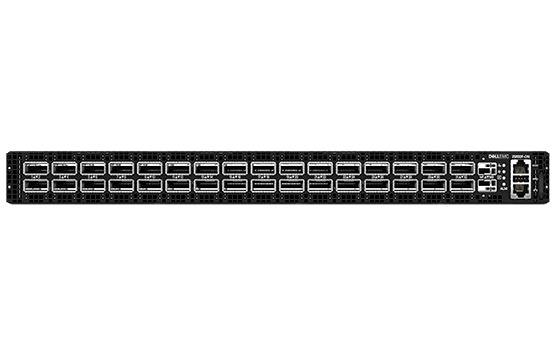 Dell EMC PowerSwitch Z9332F-ON
This unique open networking 400GbE switch was designed to help power up next-generation IP fabrics and help organizations meet the needs for higher density 100GbE IP fabrics as well as a smooth migration path to 400GbE.


1RU high-density 400GbE fabric switch with up to 32 ports of 400GbE or up to 128 ports of 100GbE using breakout cables.
Choice of leading network operating systems to simplify data center fabric orchestration and automation.
Multi-rate capabilities to meet emerging rack connectivity for 10/25/40/50*/100/200GbE ports.
Navigate network complexity with Dell EMC Services
Our global team of network experts understands the complexities of IT ecosystems, including multi-vendor environments. We have the skillset and experience to not only quickly resolve performance issues but also transform your network to meet the demands of your business.
Consulting
Dell EMC network consultants provide expert guidance to help you optimize and transform the network environment for the demands of today's multi-cloud infrastructures. Our deep infrastructure and application expertise combined with sophisticated network analysis toolsets address a wide range of network technology and process challenges.
Deployment
Leverage the Dell EMC ProDeploy Enterprise Suite to get your network installed and configured. Our experts can free your IT staff to focus on your core business, minimize downtime and give you the confidence that the job will be done right, the first time.
Support
Gain access to ProSupport technical experts who can assist with your most complex networking challenges. The Dell EMC ProSupport Enterprise Suite provides networking support around the clock and around the globe, helping your team maintain a high level of productivity.
Education
Dell EMC offers flexible training programs so your staff can build the right skills to successfully manage and utilize your network to its full potential. Through our personalized approach, your staff gets the exact training they need to improve productivity and adoption, decrease downtime, and reduce end-user support calls.
Chassis
Z9100-ON                                                                                                                  
1RU Fixed ports

Z9332F-ON
1RU Fixed ports
Performance
Z9100-ON: 4400 Mpps
Z9332F-ON: 8000Mpps
Routing
Full L2/L3 switching and routing
Environmental Operating Conditions
Operating temperature: 32°F to 113°F (0°C to 45°C)
Operating humidity: 10 to 90% (RH), non-condensing