Ideas need great Workstations
2U rack Workstation ideal for secure remote users or multiple users in a virtualized environment.
Sorry, this item is not available anymore for purchase online. Please see our recommended replacement product.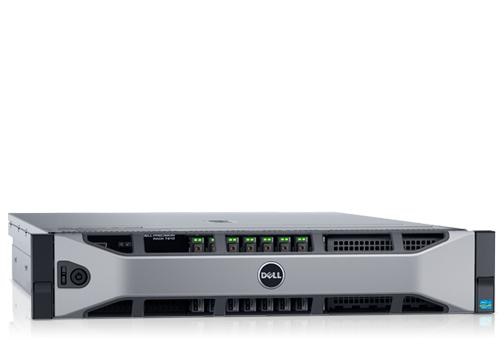 Precision Rack (7910) Workstation
Precision
Operating system
Available with Windows 10 Pro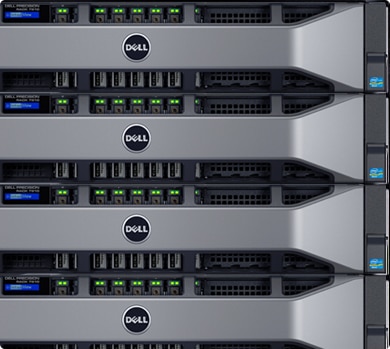 Peak performance and scalability
Featuring the latest Dual Intel® Xeon® processors: Power through the most complex, demanding applications more quickly with a new generation of dual-socket performance with the Intel® Xeon® Processor E5-2600 v4 processor series featuring up to 22 cores per processor.*

Powerful graphics and memory: The latest NVIDIA® Quadro® and AMD FirePro™ graphics deliver the big muscle you need to run the most demanding software applications with up to 675W maximum power. New Quadro and FirePro graphics offer larger dedicated graphics memory for your large data sets. System memory is expandable up to 1TB* using the latest 2400MHz DDR4 ECC memory technology.



High-performance storage:

The Precision Rack 7910 comes with an optional 12 Gb/s RAID Controllers, doubling the I/O speed of our previous generation Workstation. Choose the actively cooled Dell Precision Ultra-Speed Drive Duo and Quad PCIe NVMe SSD storage solutions for the fastest and most reliable way to store your content up to 4X faster than traditional SATA SSD storage.
Discover the Precision Rack 7910
| | |
| --- | --- |
| | Watch our experts guide you through the Precision Rack 7910 |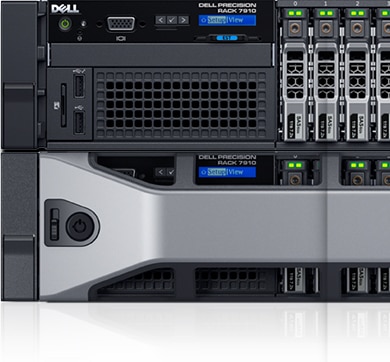 Certified for seamless reliability
ISV (Independent Software Vendor) certification means that the Precision Workstations you purchase are tested to ensure the high-performance applications you rely on every day run smoothly. ISV certification is the result of precise engineering and rigorous testing to optimize performance and reliability to run leading industry applications for engineering, manufacturing, media, entertainment, healthcare, life sciences, oil, gas, economics and financial services. Dell ISV-certified applications cover the most popular independent software applications including:


Dassault Systèmes including CATIA, and SolidWorks
Autodesk Product Design Suite including Inventor® and AutoCAD, 3D CAD, Revit®, 3ds Max®, Maya® and more. 
Adobe Creative Cloud® including Premiere Pro CC and After Effects® CC
PTC including PTC Creo and Pro/ENGINEER Wildfire 4.0
Siemens including Solid Edge, Tecnomatix and NX
Barco
Schlumberger Petrel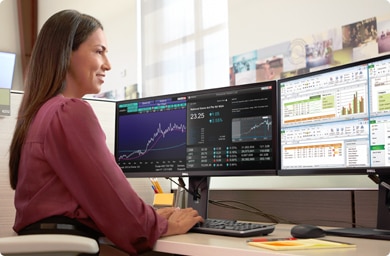 Maximize reliability with Reliable Memory Technology (RMT)
Dell's exclusive, patented Reliable Memory Technology (RMT) helps maximize uptime and ensure that your Workstations work as hard as you do. RMT works in conjunction with error-correcting code (ECC) memory to detect and correct memory errors in real time. RMT makes memory errors virtually nonexistent so that the bad memory is never revisited again and the DIMM can still be used. With a simple system reboot, RMT isolates the defective area in memory and hides it from the OS.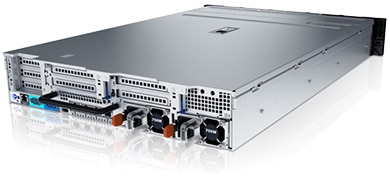 Time-saving features
Traditional drives, solid-state speeds: With optional Intel CAS-W software solutions, you can enable I/O speeds close to that of solid-state drive configurations at the price of traditional drives. Intel CAS-W provides a better user experience, with up to 3.6x higher frame rate in Adobe After Effects® 2015 and up to 70% increased frame rates in AutoCAD® 2015. 

Optional PCIe SATA/SAS RAID controllers: Reduce the time spent loading or saving large data sets with software- or hardware-based RAID controllers for your hard drive, available on all Precision Workstations.

Quick Resource Locator (QRL): Model-specific QR codes located on the system allow you to quickly access detailed how-tos and troubleshoot hardware from your smartphone.
Flexible deployment for 1:1 or 1:many computing
For maximum performance, deploy the Precision Rack 7910 as a 1:1 Workstation solution using the optional Wyse P25 and P45 Zero clients. This solution uses Teradici Tera 2 hardware-based compression and the PCoIP protocol for remote connectivity, providing a superb, responsive Workstation experience.

For virtualized Citrix or VMware environments, you can extend your productivity and security benefits by pairing select NVIDIA Quadro graphics cards for a GPU-pass through that serves up to 4 users, or NVIDIA GRID cards for a truly virtualized graphics approach that serves large number of users in a scalable fashion.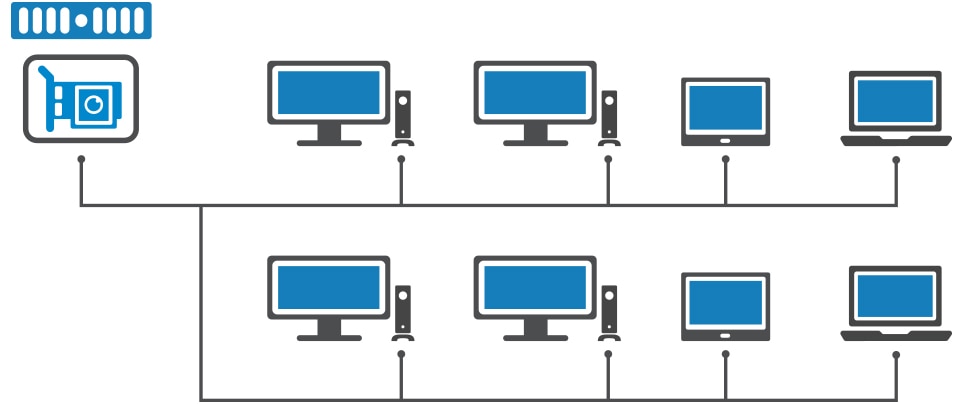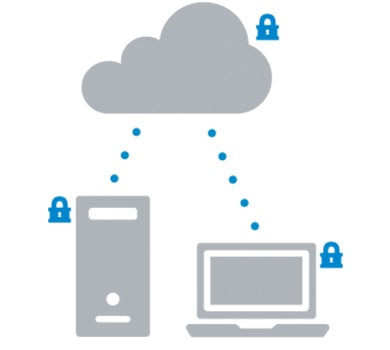 Security is a big part of Precision Workstations performance
Precision™ Workstations feature best-in-class endpoint security solutions that include comprehensive encryption, advanced authentication and leading-edge malware protection from a single source.

DDP | Encryption protects your data across all endpoints, including external media, self-encrypting drives and in public cloud storage.*

DDP | Security Tools (DDP | ST) is an end-to-end security solution included with all Precision, Latitude and OptiPlex systems. DDP | ST offers advanced authentication options to help you keep unauthorized users out of your data and out of your business.

DDP | Protected Workspace takes a new approach to malware prevention. It is designed to protect your data and users from all untrusted content — even advanced persistent threats (APTs) and zero-day exploits.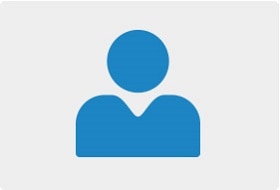 ProSupport Plus
Upgrade to ProSupport Plus – the only complete support that combines proactive resolution, automated prevention and protection for PCs and tablets.
Processor
One or two; Intel® Xeon® processors E5-2600 v3 family with up to eighteen cores* per processor and Intel Advanced Vector Extensions, Intel Trusted Execution Technology, Intel AES New instructions, Optimized Intel Turbo Boost and optional Intel vPro™ technology
Operating System
Windows 10 Pro
Windows 7 Professional (Includes Windows 10 Pro License)
Linux® 7_0 (RHEL)
Linux® 7_2 (RHEL)
FreeDOS
Video Card
Support for up to two double wide PCI Express® x16 Gen 2 or Gen 3 cards up to 675W [some restrictions apply:

High end 3D cards:

NVIDIA® Quadro® K6000
NVIDIA® Quadro® K5200
Nvidia GRID K2(A)

Mid-range 3D cards:

AMD FirePro™ W5100
NVIDIA Quadro K4200
NVIDIA Quadro K2200

Entry 3D cards:

NVIDIA Quadro K620
(VGA graphics connector – part of motherboard IDRAC)

Professional 2D cards:

NVIDIA Quadro NVS 310 (not ISV certified)

GPU GPGPU MCC Compute

One or two NVIDIA Tesla® K20C Computing Processors (GPGPU)

WS virtualization

Workstation virtualization for up to four users via GPU pass-through
Monitor
Dell UltraSharp series - Award-winning high-performance monitors with PremierColor (on select models) and ultrawide viewing, from 21.5"-30". Dell Professional series monitors available from 17"-24".
Warranty
Limited Hardware Warranty*; Standard 3-year On Site Service after Remote Diagnosis*. Optional 3 year Dell ProSupport offers premium support from expert technicians and 24x7 global availability*. 4 & 5 year options*

Configuration Svcs. *

Factory Image load. BIOS Customization. Hardware Customization, Asset Tagging and Reporting

Ports
Front
2 USB 2.0

Rear
2 USB 3.0
Serial
4 RJ45 with either NIC Option
Optical Drive
Slim-line tray load options: DVD-ROM; DVD+/-RW
Slots
Up to seven PCIe Full-length Gen 3 Slots with Two CPUs in 3 riser Cards, max 2 double width x16 Cards
CPU – 3 X x16 (wired as x8) Slots (default) or alternative - 1 X x16 & 1 X x16 (wired as x8) Slots


Dimensions & Weight
HxWxD: 3.41" x 17.0" x 28.37" (29.78" with bezel); 86.8mm x 434.0mm x 720.8mm (756.5mm with bezel)

Deployment services
Our end-to-end deployment services are designed to simplify and accelerate the customization and utilization of your new systems. Dell Deployment Services include everything from order consolidation to coordination of deployment resources.

Client migration and deployment
Dell Managed Deployment services are for customers who need a comprehensive, end -to-end deployment solution. Managed deployments are useful within complex logistical environments, which require a single point of contact.

Installation services
Dell provides streamlined standard installation services so you can easily choose the specific package that quickly gets new systems into the workspace and old systems out.

Microsoft Windows Vista Assessment and Dell Deployment
Dell can help you assess your PC deployment process and recommend ways in which you can improve efficiency, reduce complexity and maximize the return on your IT investment.

Asset Recovery Services offers safe and environmentally appropriate disposal solutions for outdated or end-of-life IT assets. This service includes transportation, flexible logistics, equipment processing, detailed data security and environmental reports at an affordable price.


Dell offers comprehensive training services, which include hardware and software training, as well as PC skills and professional development classes. Our flexible approach allows you to tailor classes to the needs and busy schedules of your employees with instructor-led classrooms or virtual courses, and even self-directed online options. Dell training can help improve system reliability, maximize productivity, and reduce end-user requests and downtime.