Dell's most powerful workstation.
Discover the performance of Dell's most powerful tower workstation. The Dell Precision T7610 is engineered to meet the needs of the toughest workloads.
Sorry, this item is not available anymore for purchase online. Please see our recommended replacement product.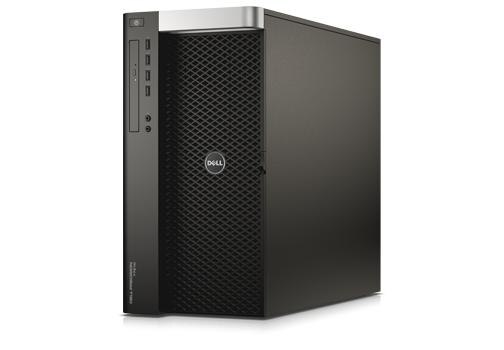 Dell Precision T7610 Workstation
Precision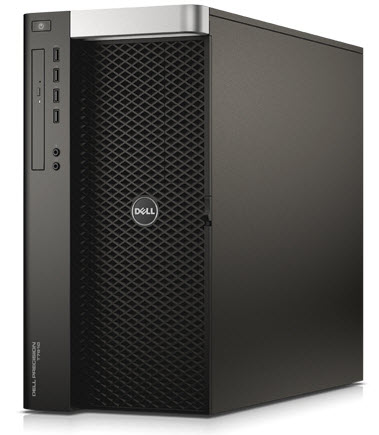 Available with Windows 8 — for a smooth, versatile PC experience.

The highest performance for the biggest jobs

Intel® Xeon® processors: Take on the most demanding jobs. The high-end Dell Precision T7610 Workstation can house up to two high performance Intel® Xeon® Processor E5-2600 v2 options with up to 24 cores (12 per processor).

Super-fast memory: Handle huge data sets with ease with up to 512GB* of 1866MHz ECC memory for blazing-fast performance. 16 DIMM slots (8 per processor) allow for easy upgrades.

Maximum graphics capabilities: Responsive, professional-grade NVIDIA® Quadro® and AMD FirePro™ graphics options keep pace with your most demanding 3D rendering and other graphics-intensive software programs. The Dell Precision T7610 has the power to support up to three high-end graphics cards, including one or two NVIDIA® Tesla GPU compute cards for acceleration of scientific and engineering applications. Choose a high performance Dell monitor and bring your visuals to life.

Flexible storage capacity: Big jobs require big storage, and the Dell Precision T7610 offers the ultimate in expandability with front-accessible space for four 3.5" drives or eight 2.5" drives and high performance SATA, SAS, SSD and RAID storage options. Intel CAS-W storage option enables performance that is near solid state drive speeds at a significantly reduced cost versus a full SSD storage solution.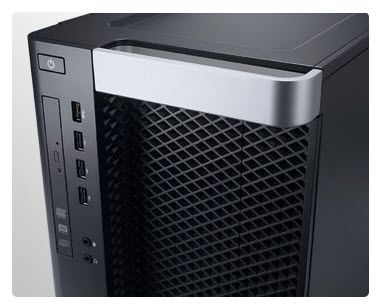 Smart design
Tool-less access: The Dell Precision T7610 allows easy access to key components inside with its clutter-free, well-organized interior.

Externally accessible power supply: Make power supply swaps with minimal hassle through easy external access.

IT-friendly design: Dell Precision tower Workstations offer superior serviceability and strong aluminum front and rear handles, which allow easy deployment and placement of your Dell Precision tower.
Smart control and optimization
Intel® vPro™ technology*: Update once and update everywhere with Dell-unique Intel® vPro™ extensions for remote BIOS management and hard drive wipe.

Dell Precision Optimizer: With system requirements that can quickly change according to application, it can be challenging and time consuming to keep a Workstation running at its peak. The Optimizer removes the time and effort needed to maintain your Workstation, helping you to:


Analyze and model Workstation performance to get a better understanding of system utilization.
Simplify driver and software updates and make sure your system and its components are running at their best.
Boost performance for select applications with automatic tuning of system settings per application.
Reliability
Dell's exclusive, patented Reliable Memory Technology (RMT) Pro helps maximize uptime and ensure that your Workstations work as hard as you do. This new technology eliminates virtually all memory errors so your Workstations can become more reliable over time. RMT Pro works in conjunction with error-correcting code (ECC) memory to detect and isolate memory errors. With a simple system reboot, RMT isolates the defective area in memory and hides it from the OS. You never need to run another memory scan test.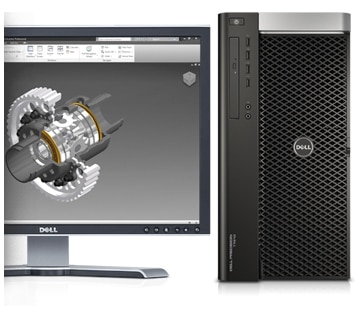 ISV Certified for seamless software performance
Your Dell Precision Workstation has been certified by leading software manufacturers for seamless performance in demanding professional software.

Independent Software Vendor (ISV) certification is your assurance that the Dell Precision Workstations you purchase are capable of running the high-performance applications you rely on every day. ISV certification is the result of precision engineering and rigorous testing to optimize performance and reliability with leading industry applications in a broad range of fields. Popular ISV-certified applications include:


Dassault Systems CATIA
Autodesk® Revit®
Autodesk® Inventor® 3D CAD
PTC Creo
Pro/ENGINEER Wildfire 4.0
Siemens PLM - NX

Dell ProSupport
Choose Dell's premium support service, Dell ProSupport, for 24/7* direct telephone access to advanced-level technicians based in your region. Whether you have one office or hundreds around the world, protect your investments with this simple yet flexible approach.
Processor
One or two; Intel® Xeon® processor E5-2600 v2 family with up to twelve cores and Intel Advanced Vector Extensions, Intel Trusted Execution Technology, Intel AES New instructions, Optimized Intel Turbo Boost and optional Intel vPro™ technology
Operating System
Windows® 8 Pro (64-Bit)
Windows® 7 Ultimate 32-Bit
Windows® 7 Ultimate 64-Bit
Windows® 7 Professional 32-Bit
Windows® 7 Professional 64-Bit
Red Hat® Enterprise Linux® 6.4
Quad channel; up to 512GB 1866MHz ECC RDIMM memory; 16 DIMM slots (8 per processor)
Video Card
Graphics*
Support for up to three* PCI Express® x16 Gen 2 or Gen 3 cards up to 675W (total for graphics (some restrictions apply)):

High End 3D
NVIDIA® Quadro® K6000
NVIDIA® Quadro® K5000

Mid-range 3D
AMD FirePro™ W7000
AMD FirePro™ W5000
NVIDIA Quadro K4000
NVIDIA Quadro K2000

Entry 3D
AMD FirePro V4900
AMD FirePro V3900
NVIDIA Quadro K600

Professional 2D (not ISV certified)
AMD FirePro 2270
NVIDIA Quadro NVS™ 510
NVIDIA Quadro NVS 310

GPU:
One or two NVIDIA Tesla® K20C GPGPU - Supports Nvidia Maximus™ technology.

Hard Drive
Storage Options*
Up to four 3.5" or eight* 2.5" (four in 5.25" bay) internal SATA, SAS or SSD hard drives.

Intel CAS-W – Caching Acceleration Software for Workstations: requires 128GB SSD + standard storage hard drive.

SATA 7200RPM
Up to 3.0TB

SATA 10KRPM
Up to 500GB

SAS 10K RPM
Up to 900GB

SAS 15K RPM
Up to 300GB

SSD
Up to 512GB

PCIe SSD
Up to 350GB





Drive Controllers
Integrated:
LSI 2308 SATA/SAS 6Gb/s controller with host based RAID 0, 1, 10

Optional:
LSI 9271-8i 6Gb/s SATA/SAS PCIe controller (1GB cache) supports hardware RAID 0, 1, 5,10 configurations
Network Controller
Integrated:
Intel 82579 Gigabit Ethernet controller with Remote Wake UP, PXE and Jumbo frames support

Optional:
Broadcom NetXtreme 10/100/1000 Gigabit Ethernet controller (PCIe card)
Intel Ethernet Server Adapter X520-T2 10GbE (PCIe card)

Remote Access
Optional Tera2 dual display PCoIP™ PCIe remote access host card for optional Wyse P25 zero client
Sound Card
Integrated: Realtek ALC269Q High Definition Audio
Optional: Creative™ Sound Blaster™ Recon3D PCIe x1 card
Storage Devices
Slimline options: DVD-ROM; DVD+/-RW
Optional 5.25" device: DVD+/-RW; Blu-ray Disc™ rewritable; 19-in-1 media reader
Ports
Front
3 USB 2.0
USB 3.0

Internal
3 USB 2.0
8 SATA/SAS 6Gb/s
2 SATA 6Gb/s (for optical drive(s))

Rear
3 USB 2.0
3 USB 3.0
2PS2
Serial
2 RJ45
1394a 400 (Optional via add-in Card)
Security
Security Options*
Trusted Platform Module 1.2 (TPM 1.2); Intrusion switch; Setup/BIOS Password; I/O Interface Security; Kensington® lockslot, Padlock ring, lockable power supply; Dell Data Protection | Encryption; Dell Data Protection | Security Tools; Dell Data Protection | Protected Workspace.
Slots
PCIe x16 Gen 3
2 additional PCIex16 Gen 3 (requires second processor Option)
PCIe x16 Gen3 wired x4
PCIe x16 Gen 2 wired x4
PCI 32bit/33MHz (all Full length)
Regulatory
Product Safety, EMC and Environmental Datasheets
Dell Regulatory Compliance Home Page
Dell and the Environment

Environmental and Regulatory

ENERGY STAR® configurations available including 80 PLUS® registered Gold power supplies; EPEAT® registered*; China CECP; GS Mark.Complete listing of declarations and certifications at Dell's regulatory and compliance homepage at dell.com/regulatory_compliance

Service and Support

3-Year Limited Hardware Warranty* and 3-year NBD On-Site Service after Remote Diagnosis*
Optional: Dell ProSupport* is designed to rapidly respond to your business's needs, help protect your investment and sensitive data, and provide enhanced proactive support services to help reduce risk and complexity within your IT environment