Optimized scalability and performance
A versatile server with extra storage capacity and I/O performance. Designed for data-intensive applications.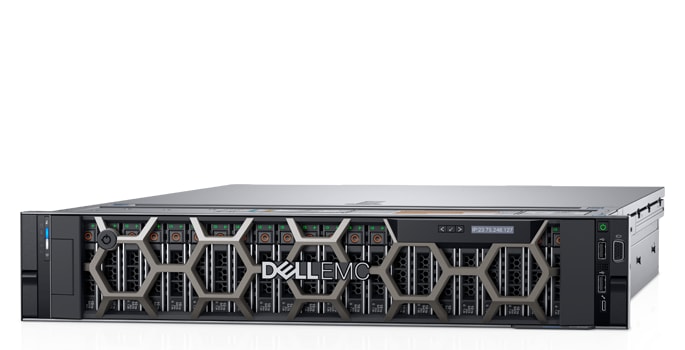 Dell EMC PowerEdge R740xd Rack Server
PowerEdge
Optimize flexibility and density
Benefit from scalable storage performance and data set processing with the PowerEdge R740xd server. This 2U, 2-socket platform brings you scalability and performance to adapt to a variety of applications. Choose up to 24 NVMe drives, or a total of 32 x 2.5" or 18 x 3.5" drives. As you scale your deployments, scale your productivity with embedded intelligence and automation from iDRAC9 and the entire OpenManage portfolio designed to simplify the IT lifecycle from deployment to retirement.

Ideal workloads:
Software-defined storage
Big Data server
HPC
Service providers: data tier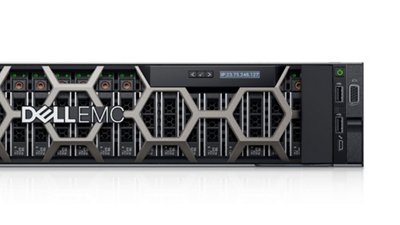 Accomplish IT transformation with Dell EMC PowerEdge servers
Transform your data center for modern applications and operations with the help of the R740xd. Storage performance and flexibility create the perfect balance for software-defined storage or data set processing and analytics.


Simplify deployment and easily scale from 3 to 1000+ nodes for software-defined storage with Dell EMC Ready Node for ScaleIO. 
Maximize storage performance with up to 24 NVMe drives and ensure application performance scales to meet demands.
Drive demanding workloads with 2nd Generation Intel® Xeon® Scalable processors and Intel® Optane™ DC Persistent Memory.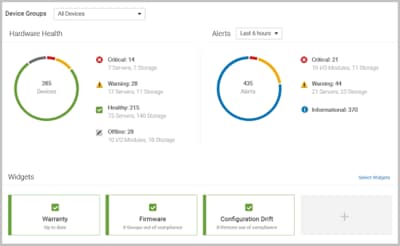 Automate productivity with intelligent, embedded management
Dell EMC automation and intelligent management mean you spend less time on routine maintenance so you can focus on bigger priorities.


Help maximize uptime and reduce the IT effort to resolve issues by up to 72%* with ProSupport Plus and SupportAssist.
Leverage existing management consoles with easy integrations for VMware® vSphere®, Microsoft® System Center and Nagios®.
Help improve productivity with agent-free Dell EMC iDRAC9 for automated, efficient management.
Simplify deployment with Open Manage next-generation console and server profiles to fully configure and prep servers in rapid, scalable fashion.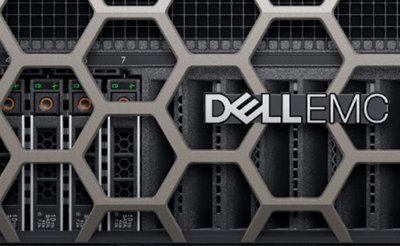 Fortify your data center with comprehensive protection
Dell EMC provides a comprehensive, cyber-resilient architecture with security embedded into every server to protect your data.


Protect server configuration and firmware from malicious changes with new Configuration Lock-down.
Use system erase of local storage to help ensure data privacy when you repurpose or retire servers.
Automate updates that check file dependencies and proper update sequence, before deploying them independently from the OS/hypervisor.
Maintain control of server updates with intelligent, embedded authentication designed to allow only properly signed updates.
Processor
Up to two 2nd Generation Intel® Xeon® Scalable processors with up to 28 cores per processor
Operating System
Canonical® Ubuntu® Server LTS
Citrix® Hypervisor ®
Microsoft® Windows Server® with Hyper-V
Red Hat® Enterprise Linux
SUSE® Linux Enterprise Server
VMware® ESXi®
Accelerators
Up to three 300W or six 150W GPUs
Up to three double-wide FPGAs or four single-wide
FPGAs
GPU and FPGA options available only on 24 x 2.5"
drive chassis. Up to two GPUs are supported on NVMe configurations.
DIMM Speed
Up to 2933MT/s

Memory Type
RDIMM
LRDIMM
NVDIMM
DCPMM (Intel® Optane™ DC persistent memory)

Memory Module Slots
24 DDR4 DIMM slots (12 NVDIMM or 12 DCPMM only)
Supports registered ECC DDR4 DIMMs only

Maximum RAM
RDIMM 1.53TB
LRDIMM 3TB
NVDIMM 192GB
DCPMM 6.14TB (7.68TB with LRDIMM)
Storage
Front Bays
Up to 24 x 2.5" SAS/SSD/NVMe, max 184TB
Up to 12 x 3.5" SAS, max 192TB

Mid Bay
Up to 4 x 3.5" SAS, max 64TB
Up to 4 x 2.5" SAS/SSD, max 30.72TB

Rear Bays
Up to 4 x 2.5" SAS/SSD, max 30.72TB
Up to 2 x 3.5" SAS, max 32TB
Storage Controllers
Internal Controllers:
PERC H330, H730P, H740P, HBA330

External Controllers (RAID):
H840, 12 Gbps SAS HBA

Software RAID:
S140

Internal Boot:
Boot Optimized Storage Subsystem (BOSS):
HWRAID 2 x M.2 SSDs 240GB, 480 GB 

Internal Dual SD Module
Management
Embedded / At-the-Server
iDRAC9
iDRAC RESTful API with Redfish
iDRAC Direct
Quick Sync 2 BLE/wireless module

Consoles
OpenManage Enterprise
OpenManage Power Center

Mobility
OpenManage Mobile

Tools
Dell EMC RACADM CLI
Dell EMC Repository Manager
Dell EMC System Update
Dell EMC Server Update Utility
Dell EMC Update Catalogs
iDRAC Service Module
OpenManage Server Administrator
OpenManage Storage Services

OpenManage Integrations
BMC Truesight
Microsoft® System Center
RedHat® Ansible® Modules
VMware® vCenter™

OpenManage Connections
IBM Tivoli Netcool/OMNIbus
IBM Tivoli® Network Manager IP Edition
Micro Focus Operations Manager I
Nagios® Core
Nagios® XI
Ports
Network Options
4 x 1GbE
2 x 10GbE + 2 x 1bGE
4 x 10GbE
2 x 25GbE

Front Ports
1 x Dedicated iDRAC direct USB
2 x USB 2.0
1 x USB 3.0 (optional)
1 x VGA

Rear Ports
1 x Dedicated iDRAC network port
1 x Serial
2 x USB 3.0
1 x VGA
Slots
PCIe
8 x Gen3 slots (4 x 16)

Video Card
1 x VGA
Bezel
Optional LCD bezel or security bezel
Rack Support
ReadyRails™ sliding rails with optional cable management arm for 4-post racks (optional adapter brackets required for threaded hole racks).
Recommended Support
Choose Dell ProSupport Plus for critical systems or Dell ProSupport for premium hardware and software support for your PowerEdge solution. Consulting and deployment offerings are also available. Contact your Dell representative today for more information. Availability and terms of Dell Services vary by region.