Scalability to maximize performance.
Accelerate enterprise applications with Dell's most powerful server featuring highly scalable processing, memory and internal storage.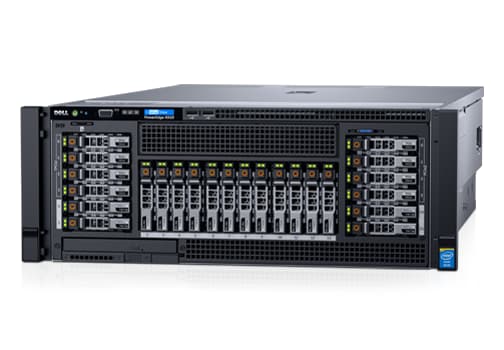 PowerEdge R930 Rack Server
PowerEdge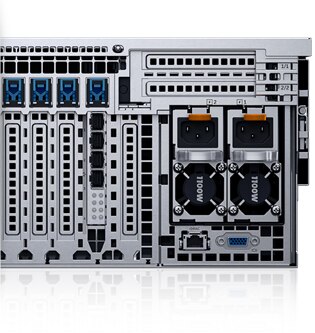 Built for scalability and speed
Maximize the performance of your most demanding enterprise applications, including CRM, ERP, OLTP and in-memory databases. The PowerEdge R930 flexibly scales to optimize transactions and operations and can significantly reduce latency. Leveraging the latest Intel® Xeon® processor E7 v4 product family (up to 24 cores per processor), the 4-socket R930 can scale to meet virtually any challenge.

Utilize all 96 processing cores to access up to 6TB DDR4 memory on 96 DIMMs.

Optimize performance across compute, memory and I/O with up to eight PCIe SSDs.

Protect mission-critical and data-intensive applications with Intel E7 RAS features.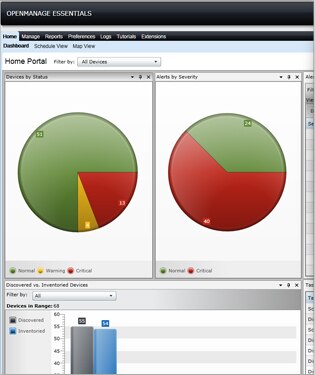 Simplicity through automation
Efficiently manage Dell servers in physical, virtual, local and remote environments with PowerEdge embedded server intelligence --- integrated Dell Remote Access Controller (iDRAC8) with Lifecycle Controller and OpenManage Essentials. OpenManage automates the most frequently performed server management tasks agent-free – including deployment, updates, monitoring and maintenance – regardless of the installed OS or hypervisor.
Reduce setup time by up to 99 percent with zero touch automated deployment.
Cut up to 92 percent of time spent updating servers according to your policies.
Leverage the same OpenManage Integration benefits with your existing VMware®, Microsoft or BMC Software consoles.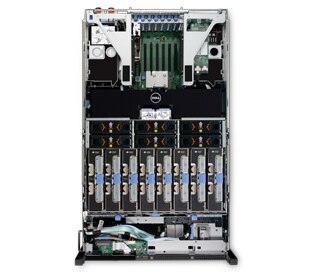 Accelerate applications
Reduce licensing costs using the extensive internal resources of a single R930 to accelerate applications and optimize compute processing. With 96 DIMM slots and 24 hard drives, it can easily adapt to the demands of any workload.
Cost-effectively scale memory using lower cost, smaller DIMMs.
Architect internal storage with SSDs and SAS drives to optimize for specific applications.
Double I/O bandwidth utilizing dual PCI Gen 3 RAID cards.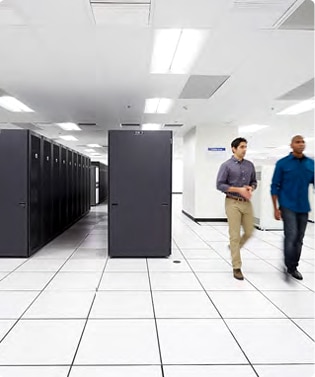 Adapt to virtually any enterprise workload
Specifically designed for the enterprise, the R930 has all the power and capacity required to meet your business needs.
Accelerate your large applications (ERP, CRM, business intelligence) with the capacity to quickly respond to business-growth demands.
Consolidate multiple corporate-wide applications to a single server.
Enable faster access to critical business-application data and shrink customer response times with in-memory database capability.
Efficiently support SAN environments with Dell Fluid Cache for SAN in combination with up to eight Express Flash SSDs.
Migrate from an outdated RISC environment to a more agile future-ready data center.
Dell Solutions
Transform your data center. We can help.
When you buy a Dell server, you get more than just hardware. You get access to IT solutions end to end. From the onboard iDRAC with Lifecycle Controller in each server — to a huge array of complementary technologies, software, and services — we help you develop data center solutions that advance the goals of your business or organization, for now, and for the future.Among an array of innovative technologies, you'll find state-of-the-art solutions for systems management, storage, networking and so much more.
State-of-the-art systems management
You can improve the performance, productivity and availability of your data center resources with our cutting edge portfolio of systems management solutions. Get anytime anywhere mobile access to your hardware, agent-free embedded management, extensive automation, and connections to third-party management solutions you may already use.
Innovative storage solutions
Improve security and performance while you store more data on less hardware across your data center. Our storage server portfolio brings you technologies like our industry-leading deduplication and compression algorithms, our patented high-performance Dell Fluid File System (FluidFS), and advanced, intelligent autotiering.
Future-ready networking
You can optimize and modernize your network infrastructure, and evolve beyond proprietary architectures with our open, standards-based networking solutions, and ready paths to software defined networking (SDN). We've been delivering high-performance, reliable networking solutions for over a decade, and today we power some of the world's most demanding enterprise and Cloud/Web 2.0 environments.
And so much more
Servers, storage and networking solutions are just the tip of the iceberg of technologies we can help you develop, manage and optimize. When you visit our solutions pages, you'll find insights and resources for the following technologies, and many more:
Cloud Computing
Converged Infrastructure
Systems Management
High Performance Computing
Mobile/BYOD Solutions
Networking

Power and Cooling
Security
Storage
Virtualization
Software
And more …
Visit our Solutions site for details, or talk to a Dell expert for one-on-one expertise.
Dell Technologies offers complete end-to-end services
Optimizing the IT lifecycle is vital. We have expert services
*
 for all lifecycle phases that save you time and resources, reduce effort, and improve your IT experience.
ProSupport Enterprise Suite
Gain the freedom to focus on your business transformation with the support expertise and insights Dell Technologies is known for across the globe. Choose the right support based on the criticality of specific systems with available automated predictive analysis, collaborative third-party assistance and service account management.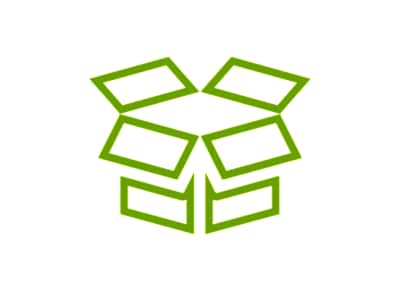 ProDeploy
ProDeploy Enterprise Suite helps you get more out of technology starting on day one. Trust our experts to lead deployments from basic hardware installations through planning, configuration and complex integrations. Our complete suite of deployment services and professional certifications helps you achieve business outcomes today and tomorrow.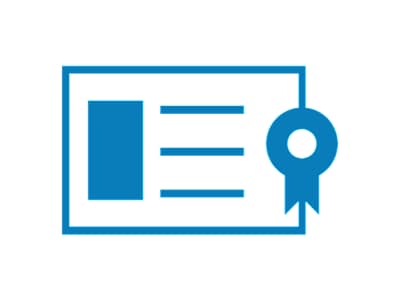 Training & Certification
Education Services offers an expansive suite of training services with multiple delivery methods, including instructor-led, self-paced online and virtual instructor-led training. With comprehensive and flexible training programs, we make it easy to ensure your staff has the skills they need to successfully manage and utilize your new technology to its full potential.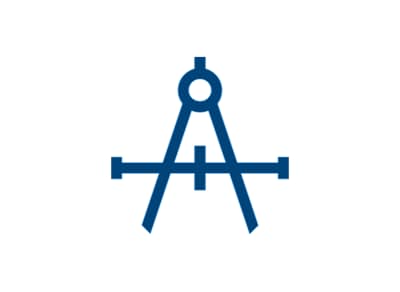 Consulting
Consulting services give expert guidance to help you grow, optimize and transform your IT environment at your own pace and budget. We employ a broad range of certified consultants and engineers, backed by program management teams, who can deliver deep technical expertise. We give you the confidence that your project will be done right and on time.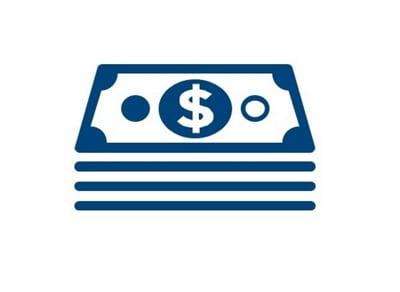 Financing and leasing
Acquiring the latest IT solutions shouldn't be as complicated as running your business. With Dell Financial Services you can finance and purchase in the same place*. It's quick, it's easy and most important, it lets you keep the "flow" in your cash flow.
Processor
Intel® Xeon® Processor E7-8800 Product Family
Intel® Xeon® Processor E7-4800 Product Family
Operating System
Microsoft® Windows Server® 2008 R2
Microsoft Windows Server 2012
Microsoft Windows Server 2012 R2
Microsoft® Windows Server® 2016
Novell® SUSE® Linux Enterprise Server
Red Hat® Enterprise Linux
VMware® ESX®
(96 DIMMS): 8GB/16GB/32GB/64GB/128GB RDIMM, LRDIMM up to 2400 MT/s
Storage
2.5" SATA/SAS SSD, SAS HDD (15K, 10K), nearline SAS HDD (7.2K)
2.5" Dell PowerEdge NVMe Express Flash PCIe SSD
Management
iDRAC8 with Lifecycle Controller
iDRAC8 Express (default)
iDRAC8 Enterprise (upgrade option)
8GB or 16GB vFlash media (upgrade options)
IPMI 2.0 compliant
Dell OpenManage Essentials
Dell OpenManage Mobile
Dell OpenManage Power Center

Dell OpenManage Integrations:
Dell OpenManage Integration Suite for Microsoft System Center
Dell OpenManage Integration for VMware® vCenter

Dell OpenManage Connections:
HP Operations Manager, IBM Tivoli® Netcool®, and CA Network and Systems Management
Dell OpenManage Plug-in for Oracle Database Manager
Slots
Up to 10 PCIe 3.0 slots
1 RAID slot
1 NDC slot
Dimensions & Weight
H: 6.8" (172.6mm)
W: 18.99" (482.4mm)
D: 31.59" (802.3mm) with PSU and bezel
D: 31.01" (787.7mm) with PSU and without bezel
Rack Support
ReadyRails® II, the sliding rail system for the R930, provides tool-less support for 4-post racks with square or unthreaded round mounting holes, including all generations of Dell racks. The sliding rail system also supports tooled mounting in 4-post threaded racks