PowerEdge R940XA - Full Configuration
Accelerazione estrema per le informazioni aziendali utili
Promuovi l'accelerazione dei database per le applicazioni business-critical con un potente server a quattro socket. Sfrutta la scalabilità di capacità con un ampio storage interno.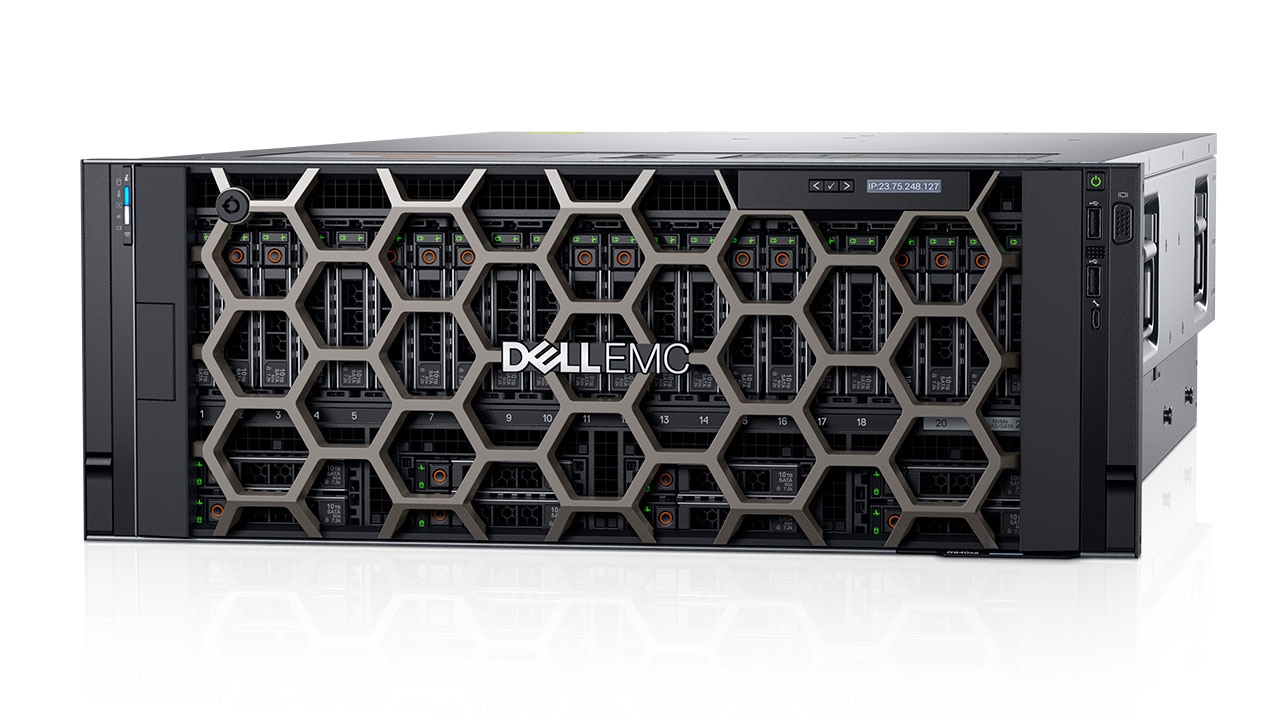 Video: Server rack PowerEdge R940xa 1:33
Configurazioni PowerEdge R940XA - Full Configuration
Embedded Systems Management
Fibre Channel Adapters/Converged Network Adapter
NVMe and PCIe Storage Adapters
GPU/FPGA/Acceleration Cards
IDSDM and VFlash Card Reader
Systems Management Upgrades
Unità ottica
No Internal Optical Drive for 32X Chassis
Incluso nel prezzo
Additional Shipping Box Labels
Data Centre Networking Switch
Dell Networking S3100 Series Switches
Networking promotion - 350 € di sconto
+ 5.461,01 €
+ 5.111,01 €

Dell EMC Networking S4112-ON

Dell Networking S4128

Dell Networking S5212-ON

Dell EMC Networking S5224F-ON

Dell Networking S5248-ON
più
Shipping Material
PowerEdge R940 Shipping Material
Incluso nel prezzo
Engineering/Informational(Multi Select)
Identificazione degli asset del sistema
Base warranty
Basic Next Business Day 36 Months, 36 Mese/i
Incluso nel prezzo
Garanzia
Il termine massimo è di 5 anni
Il termine massimo è di 7 anni
Il termine massimo è di 7 anni
Il termine massimo è di 7 anni
Il termine massimo è di 7 anni
inferiore
Data Protection - Keep Your Components
Diagnosis On-Site Service - OSD
Servizi di installazione
Affidati agli esperti Dell per gestire le pianificazioni, le installazioni, le configurazioni e le complesse integrazioni di hardware di base.
Guida alla scelta
più
Anche incluso in questo sistema
Le opzioni e le selezioni predefinite seguenti sono incluse con l'ordine.
Enterprise Order - EMEA
PowerEdge R940XA - Full Configuration
Prezzo senza IVA, Spedizione gratuita
I prezzi di supporto dipendono dai costi dell'hardware e del sistema operativo
Spedizione entro 32 - 34 giorni lavorativi
Codice ordine emea_r940xa_vi_vp
Caratteristiche

Converti rapidamente i dati approfonditi in risultati aziendali
PowerEdge R940xa accelera le applicazioni per permettere di prendere decisioni in tempo reale. R940xa combina quattro CPU con quattro GPU in un rapporto 1:1 potente per l'accelerazione dei database. Con un totale di 6 TB di memoria e prestazioni a quattro socket, R940xa offre tempi di risposta coerenti e rapidi. Sfrutta la scalabilità locale della capacità per controbilanciare le tariffe cloud in aumento e i rischi di sicurezza. 
Carichi di lavoro ideali:
Applicazioni a uso intensivo delle risorse
Machine learning e intelligenza artificiale
Accelerazione dei database GPU

Sfrutta la scalabilità dinamica delle risorse man mano che i tuoi carichi di lavoro si evolvono
R940xa 4U consente di adattarti in modo flessibile alle mutevoli esigenze aziendali. L'elevata capacità di storage interno ti offre lo spazio di crescita necessario man mano che i database aumentano di dimensioni e presentano costi maggiori.
Aumenta le prestazioni con un totale di quattro processori Intel® Xeon® scalabili di seconda generazione e fino a 112 core di elaborazione
Per accelerare i carichi di lavoro, scegli fino a quattro GPU double-width o fino a quattro FPGA double-width o otto single-width
Indirizza set di dati di grandi dimensioni con un totale di 48 DIMM (24 dei quali possono essere DCPMMs) e fino a 15.36TB di memoria
Sfrutta la scalabilità di capacità con un totale di 32 HDD/SSD da 2,5", incluse fino a quattro unità NVMe
Espanditi rapidamente con un totale di 12 slot PCIe per le connessioni esterne

Semplifica le operazioni IT di tutto il data center
Riduci il tempo e il lavoro necessari per gestire gli ambienti di IT con l'automazione intelligente. 
Automatizza l'efficienza con la gestione unificata del sistema da OpenManage Enterprise, iDRAC9 integrato e SupportAssist
Sfrutta gli investimenti già effettuati nelle console di gestione con OpenManage Integration for VMware vCenter e Microsoft System Center o Connector for Nagios
Semplifica l'installazione utilizzando la configurazione del profilo del server per installare e preparare completamente il server
Risolvi i problemi riducendo il carico di lavoro dell'IT fino al 72% con la tecnologia proattiva e predittiva di ProSupport Plus e SupportAssist.*

Offri una protezione completa del data center e il massimo uptime
Dell EMC offre un'architettura completa, resistente agli attacchi informatici con dati protetti grazie alla sicurezza integrata in ogni server. Le funzioni ad alta disponibilità contribuiscono a semplificare le operazioni continue.
Proteggi la configurazione di server e firmware da modifiche indesiderate, con la funzione di blocco della configurazione
Utilizza la cancellazione a livello di sistema dei dispositivi di storage locale per garantire la riservatezza dei dati quando riconverti o ritiri i server
Assumi il controllo delle console del firmware con l'autenticazione integrata, progettata per consentire solo l'esecuzione degli aggiornamenti firmati in modo corretto.
Aiuta a garantire l'uptime con unità e alimentatori hot-plug
Dell EMC offre servizi completi
Ottimizzare il ciclo di vita dell'IT è di fondamentale importanza. Dell EMC offre servizi approfonditi
*
per tutte le fasi del ciclo di vita, permettendoti di risparmiare tempo, risorse e sforzi e di migliorare l'esperienza di IT.

Consulenza
I servizi di consulenza sono una guida esperta per aiutarti a crescere, ottimizzare e trasformare il tuo ambiente IT con il ritmo e il budget che desideri. Ci appoggiamo a molti consulenti e tecnici certificati, con il supporto di team di gestione dei programmi, in grado di fornire consulenze tecniche approfondite. Dell ti dà la certezza di completare il tuo progetto in modo corretto e tempestivo.

Supporto
Concentrati liberamente sulla trasformazione dell'attività grazie al supporto esperto e alle competenze per cui Dell EMC è conosciuta in tutto il mondo. Scegli il livello di supporto più adatto a te in base alla rilevanza dei sistemi specifici. Hai a disposizione analisi predittiva automatizzata, assistenza collaborativa di terze parti e un Technology Service Manager.

Installazione
ProDeploy Enterprise Suite ti aiuta a sfruttare al massimo la tecnologia fin dal primo giorno di utilizzo. Residency Service fornisce assistenza continua con la transizione per accelerare l'adozione. Affidati ai nostri esperti per gestire le installazioni hardware di base attraverso la pianificazione, la configurazione e le integrazioni complesse. Potrai così raggiungere i risultati aziendali presenti e futuri.

Istruzione
Education Services offre un'ampia suite di servizi di formazione con tutta una serie di metodologie tra cui scegliere: formazione con istruttore di persona, formazione online autonoma e formazione con istruttore virtuale. Grazie a programmi di formazione completi e flessibili, potrai assicurare al tuo staff tutte le competenze necessarie per gestire e utilizzare correttamente e al meglio le nuove tecnologie.


Driver, manuali e supporto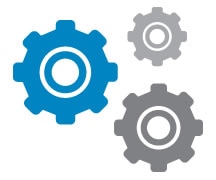 Supporto Dell
Dai driver e i manuali agli strumenti diagnostici e le parti di ricambio, il supporto per i prodotti Dell ti assicura la massima tranquillità.