Smart Value PowerEdge R740XD Server Optimal
Prestazioni e scalabilità ottimizzate
Aumenta la scalabilità e le prestazioni dello storage con una piattaforma 2U a due socket contenente fino a 24 unità NVMe e un totale di 32 unità da 2,5" o 18 unità da 3,5".
September Sale! Save up to 350€
Smart Value PowerEdge R740XD Server Optimal
September Sale! Save up to 350€
Smart Value PowerEdge R740XD Server Optimal
I prezzi per supporto e servizi dipendono dalle selezioni effettuate per hardware e sistema operativo
Spedizione dalla fabbrica entro 6 - 8 giorni lavorativi
Codice ordine per740xd01m
Caratteristiche

Ottimizza la flessibilità e la densità
Con il server PowerEdge R740xd avrai a disposizione prestazioni di storage scalabili e capacità di elaborazione dei data set. Questa piattaforma 2U a due socket offre la scalabilità e le prestazioni necessarie per adattarsi a una vasta gamma di applicazioni. Scegli fino a 24 unità NVMe. In alternativa puoi utilizzare fino a 32 unità da 2,5" oppure 18 da 3,5". Quando scali i deployment, puoi aumentare anche la produttività con le funzionalità di intelligence e automazione integrate di iDRAC9 e l'intera linea di prodotti OpenManage progettata per semplificare il ciclo di vita dell'IT, dall'installazione al ritiro.
Carichi di lavoro ideali:
Storage definito dal software
Server Big Data
HPC
Service provider: livello dati

Accelera la trasformazione dell'IT con i server Dell EMC PowerEdge
Trasforma il tuo data center per applicazioni e operazioni moderne con l'aiuto di R740xd. Le prestazioni e la flessibilità dello storage creano l'equilibrio perfetto per lo storage definito dal software o l'elaborazione e l'analisi di set di dati.
Semplifica il deployment e scala facilmente da 3 a oltre 1.000 nodi per lo storage definito dal software con Dell EMC ScaleIO Ready Node. 
Ottimizza le prestazioni dello storage con un massimo di 24 unità NVMe e assicura la scalabilità delle prestazioni delle applicazioni per soddisfare qualsiasi esigenza.
Espandi le risorse di elaborazione con i processori scalabili Intel® Xeon® di seconda generazione e personalizza le prestazioni in base ai requisiti specifici dei tuoi carichi di lavoro

Automatizza la produttività grazie a una gestione intelligente e integrata
La gestione intelligente e l'automazione di Dell EMC consentono di dedicare meno tempo alla manutenzione ordinaria e di concentrarsi sulle priorità più strategiche.
Ottimizza i tempi di attività e accelera fino al 72%* la risoluzione dei problemi con ProSupport Plus e SupportAssist.
Utilizza le console di gestione esistenti con semplici integrazioni per VMware® vSphere®, Microsoft® System Center e Nagios®.
Migliora la produttività con Dell EMC iDRAC9 senza agente per una gestione automatizzata ed efficiente.
Semplifica l'installazione con la console di nuova generazione OpenManage e i profili dei server per preparare e configurare completamente i server in modo rapido e scalabile.

Rafforza il data center con una protezione completa
Dell EMC offre un'architettura completa, resistente agli attacchi informatici con dati protetti grazie alla sicurezza integrata in ogni server.
Proteggi la configurazione di server e firmware da modifiche indesiderate, con il nuovo blocco della configurazione.
Utilizza la cancellazione a livello di sistema dello storage locale, per garantire la riservatezza dei dati quando riconverti o ritiri i server.
Automatizza gli aggiornamenti per controllare le dipendenze tra i file e confermare che la sequenza di aggiornamento sia appropriata, prima di distribuirli in modo indipendente dal sistema operativo/hypervisor.
Mantieni il controllo degli aggiornamenti del server, con un'autenticazione intelligente e integrata progettata per consentire solo gli aggiornamenti con firme consentite.
Dell EMC offre servizi completi
Ottimizzare il ciclo di vita dell'IT è di fondamentale importanza. Dell EMC offre servizi approfonditi
*
per tutte le fasi del ciclo di vita, permettendoti di risparmiare tempo, risorse e sforzi e di migliorare l'esperienza di IT.

Consulenza
I servizi di consulenza sono una guida esperta per aiutarti a crescere, ottimizzare e trasformare il tuo ambiente IT con il ritmo e il budget che desideri. Ci appoggiamo a molti consulenti e tecnici certificati, con il supporto di team di gestione dei programmi, in grado di fornire consulenze tecniche approfondite. Dell ti dà la certezza di completare il tuo progetto in modo corretto e tempestivo.

Supporto
Concentrati liberamente sulla trasformazione dell'attività grazie al supporto esperto e alle competenze per cui Dell EMC è conosciuta in tutto il mondo. Scegli il livello di supporto più adatto a te in base alla rilevanza dei sistemi specifici. Hai a disposizione analisi predittiva automatizzata, assistenza collaborativa di terze parti e un Technology Service Manager.

Installazione
ProDeploy Enterprise Suite ti aiuta a sfruttare al massimo la tecnologia fin dal primo giorno di utilizzo. Residency Service fornisce assistenza continua con la transizione per accelerare l'adozione. Affidati ai nostri esperti per gestire le installazioni hardware di base attraverso la pianificazione, la configurazione e le integrazioni complesse. Potrai così raggiungere i risultati aziendali presenti e futuri.

Istruzione
Education Services offre un'ampia suite di servizi di formazione con tutta una serie di metodologie tra cui scegliere: formazione con istruttore di persona, formazione online autonoma e formazione con istruttore virtuale. Grazie a programmi di formazione completi e flessibili, potrai assicurare al tuo staff tutte le competenze necessarie per gestire e utilizzare correttamente e al meglio le nuove tecnologie.


Driver, manuali e supporto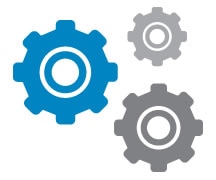 Supporto Dell
Dai driver e i manuali agli strumenti diagnostici e le parti di ricambio, il supporto per i prodotti Dell ti assicura la massima tranquillità.