Meet your precise power needs with a line-interactive UPS portfolio that includes tower and rack-mounted models.
Dell Smart-UPS Line Interactive
Dell
Dell EMC offers complete end-to-end services
Optimizing the IT lifecycle is vital. We have expert services
*
for all lifecycle phases that save you time and resources, reduce effort, and improve your IT experience.
ProSupport Enterprise Suite
Gain the freedom to focus on your business transformation with the support expertise and insights Dell EMC is known for across the globe. Choose the right support based on the criticality of specific systems with available automated predictive analysis, collaborative third-party assistance and service account management.
ProDeploy
ProDeploy Enterprise Suite helps you get more out of technology starting on day one. Trust our experts to lead deployments from basic hardware installations through planning, configuration and complex integrations. Our complete suite of deployment services and professional certifications helps you achieve business outcomes today and tomorrow.
Training & Certification
Education Services offers an expansive suite of training services with multiple delivery methods, including instructor-led, self-paced online and virtual instructor-led training. With comprehensive and flexible training programs, we make it easy to ensure your staff has the skills they need to successfully manage and utilize your new technology to its full potential.
Consulting
Consulting services give expert guidance to help you grow, optimize and transform your IT environment at your own pace and budget. We employ a broad range of certified consultants and engineers, backed by program management teams, who can deliver deep technical expertise. We give you the confidence that your project will be done right and on time.
Financing and leasing
Acquiring the latest IT solutions shouldn't be as complicated as running your business. With Dell Financial Services you can finance and purchase in the same place*. It's quick, it's easy and most important, it lets you keep the "flow" in your cash flow.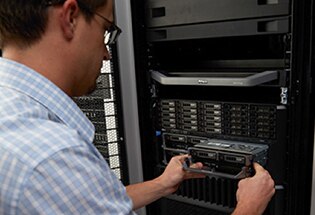 Clean, reliable and efficient
Ensure dependable, efficient IT performance with uninterruptable power supplies (UPS) from Dell.You can address a wide range of power needs — from providing essential protection for servers, storage and networks to meeting the most demanding power requirements — with Dell line-interactive UPS models, which incorporate APC™ designs by Schneider Electric™.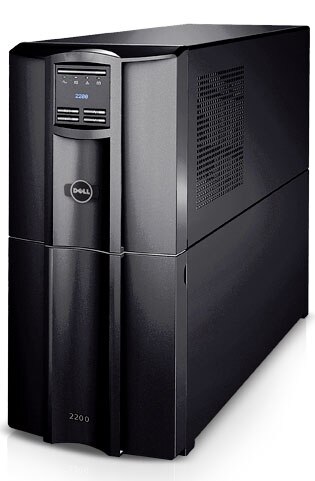 Dell Smart-UPS Line Interactive
Deliver reliable, network-grade power to your servers, storage and network devices. Rack-mount and tower models offer high efficiency at low, medium and high loads.

Key features:
High-efficiency mode: Helps to lower utility and cooling costs
Emergency power off (EPO): Performs remote UPS shut down during an emergency. (1500VA model option)
LCD: Displays detailed and accurate information in real time
Network-grade power: Ensures stable power conditions by filtering noise, regulating voltage automatically and incorporating surge protection
Communication ports: Includes serial and USB ports, and a SmartSlot for network cards
Enhanced battery management: Helps extend battery life with temperature-compensated algorithms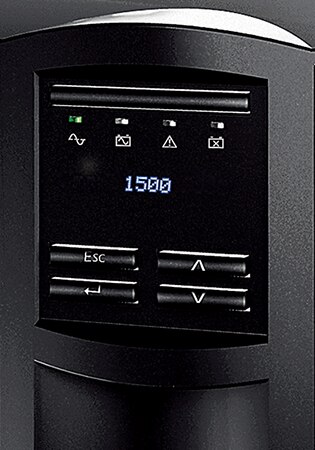 Product features
LCD: Accurately provides real-time status updates with your choice of basic or advanced menus
Power status:
Operating mode and efficiency
Load VA/Watts/Amps
Input/output voltage and frequency
Battery capacity and runtime
Control: UPS and outlet group settings
Configuration:
Language
Power and quality settings
Alarm settings
Test & diagnostics: Initiate battery and runtime tests
Logs: Explanation of last 10 transfers and faults
About menu:
UPS and replacement battery part numbers
Serial numbers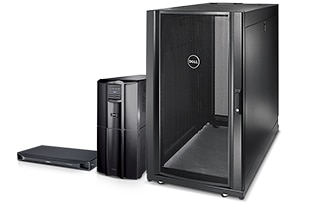 Grow with our portfolio
In addition to Dell Smart-UPS Line-Interactive and Online products, the Data Center Infrastructure (DCI) portfolio offers multiple support options*, rack enclosures and both KVM (keyboard, video, mouse) and KMM (keyboard, monitor, mouse) products. Whether you support a single server or an entire data center, Dell has your infrastructure needs covered.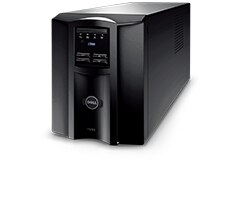 Dell Smart-UPS 1500VA LI Tower UPS
Deliver power efficiently and protect your equipment with a line-interactive UPS featuring:
Tower configuration
1,000W/1,440VA power capacity
Optional emergency power off
Noise filtering and automatic voltage regulation
LCD for local configuration of power settings
Enhanced battery management and removable battery
Serial and USB ports and SmartSlot for optional management cards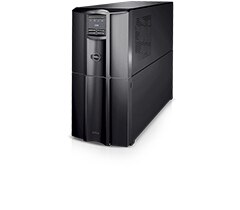 Dell Smart-UPS 2200VA LI Tower UPS
Deliver power efficiently and protect your equipment with a line-interactive UPS featuring:
Tower configuration
1,920W/2,200VA power capacity
Emergency power off
Noise filtering and automatic voltage regulation
LCD for local configuration of power settings
Enhanced battery management and removable battery
Serial and USB ports and SmartSlot for optional management cards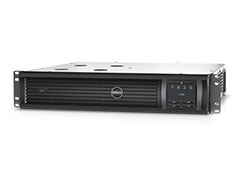 Dell Smart-UPS 1500VA LI Rack UPS
Deliver power efficiently and protect your equipment with a line-interactive UPS featuring:
2U rack-mount configuration
1,000W/1,440VA power capacity
Optional emergency power off
Noise filtering and automatic voltage regulation
LCD for local configuration of power settings
Enhanced battery management and removable battery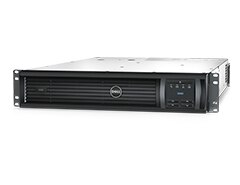 Dell Smart-UPS 3KVA LI Rack UPS
Deliver power efficiently and protect your equipment with a line-interactive UPS featuring:
2U rack-mount configuration
2,700W/3,000VA power capacity
Standard emergency power off
Noise filtering and automatic voltage regulation
LCD for local configuration of power settings
Enhanced battery management and removable battery