Conquistar. Expandir. Dominar.
Lo sentimos, pero ya no es posible adquirir este artículo en el sitio web. Por favor vea nuestro producto de reemplazo recomendado.
La nueva Alienware™ Aurora™ — supera al enemigo con poder de sobreaceleración y expansión; es la computadora de escritorio más actualizada de su clase.


Aumento de frecuencia de fábrica*, procesadores con refrigeración líquida
Gráficos dobles de alto rendimiento y juegos HD 3D opcionales
Chasis diseñado para una fácil actualización y control térmico óptimo
Help and for your Alienware Aurora R3
Alienware Aurora R3 Computadora
Alienware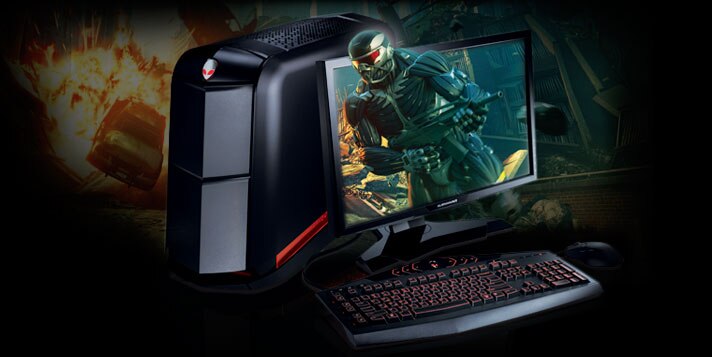 Bring your games to life
Experience superior gaming performance with the ultrapowerful Alienware™ Aurora.

Operating system
Windows® 7 Home Premium.
Factory overclocked* processors with next generation TurboBoost 2.0
Increase your performance (and your bragging rights) with the optional Intel® Core™ i7 2600K processor, unlocked and overclocked* to 4.1GHz.
High-performance, liquid-cooled CPU
Alienware's high-performance CPU liquid cooling delivers up to three metric tons of liquid per minute for every square meter of CPU die!
Dominate with dual-graphics options
Run this space-saving desktop with the latest dual-graphics technologies and your enemies won't know what hit them. AMD CrossFireX™ and NVIDIA® SLI™ graphics options deliver high-frame rates at HD resolutions while maxing out game settings.
Ultraperformance and memory options
With options up to 16GB of memory*, advanced content creation is a breeze. Or select up to 8GB of 1866MHz memory* for lightning-fast data transfer and intense multitasking.
Optional hard drives featuring Serial ATA (SATA) 6Gbps performance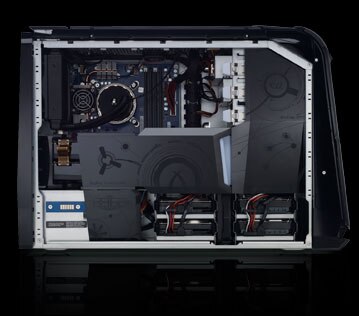 The most upgradable microATX Alienware desktop ever!
Alienware Aurora desktops keep you in the game with key chassis features
Intelligent component layout and cable management system
The layout of the motherboard, power supply, hard drives and optical drives, along with the placement of the system fans, encourage easy user upgrades and optimized airflow for high performance.
Easy upgrades — Look inside the Alienware Aurora and you'll see why it's easy to make this desktop your own. You can access many of the core components without any tools for fast upgrades and hassle-free service. (Or you can just show them off.)
Front panel access — Simply press down on the first louver to connect USB and front audio cables without needing to reach to the back of the chassis. The ports are articulated to reduce front-door snag when cables are connected, so you can avoid unwanted tangling and costly mishaps.
Rear entry — Use the chassis's last louver, toward the rear of the system, as the handle for opening the case for upgrades and service. The rear of the chassis also includes lighting for added convenience when adding or removing cables.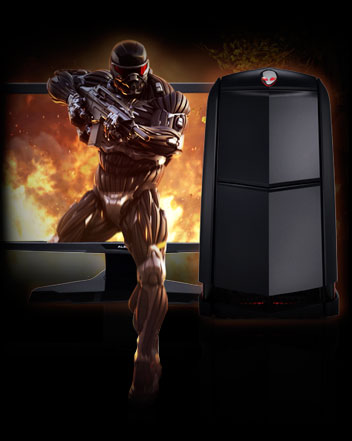 Immersive gaming
State-of-the-art graphics and optional 3D technology combine to create an immersive experience that puts you in the game.
These high-performance graphics options are intended for hardcore HD gaming experiences exceeding 1080p resolution on a single display and in 3D.
Lock and load an optional dual-card configuration and your visual experience can be tripled with up to three HD displays, increasing your field of view and putting you "in the middle of" the virtual world.
Features 7.1 THX-certified sound that enables you to feel fully immersed in the battle. Sound is so realistic you might hear the enemy before you see them.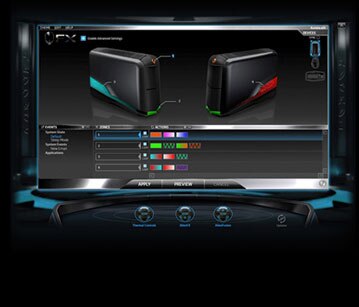 Your command center
Alienware Command Center™ provides intuitive, user-friendly access to exclusive applications, including AlienFX™ lighting effects, Alienware thermal controls and AlienFusion power management. Updates and new releases download directly into Command Center, creating an evolving tool for personalizing your system.

AlienFX™ Lighting — Choose from an array of 20 colors — up to an amazing 160,000 accent lighting color combinations — to customize the effects across four distinct zones.