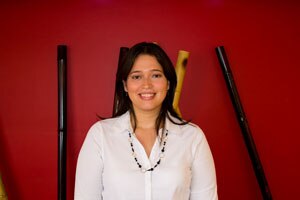 When did you join Dell and what roles have you held in your time here?
I joined Dell back in 2003 as part of the Panama startup team. I started in Americas Transactional Group as a sales representative for the Employee Purchase Program and ramped up to be mentor, quality coach and then sales support manager. In 2006 I moved to Relationship as ISM for the English Caribbean. In 2009, I created the GFS (Global Financial Services) Development team and accepted the challenge to lead our Panama GFS Site in August of 2011.
What responsibilities are included in your current role?
My main responsibility is to be an inspiring leader capable of driving results through my management staff and together enable our 75+ employee base to be a best in class team.
The GFS functions rolling up to me are Collections, Credit, Revenue Services, Non Terms Order Release, Fraud and Accounts Payable.
I also represent Panama in the GFS People Center of Competence global initiative, I'm a core member or the Panama Finance Site Council, I lead the Events Committee of Wise Panama; and I'm a Make a Difference Champion.
How would you describe the Dell culture?
Phenomenal! It is so great that you miss it when you aren't here. Early 2008, I left Dell to pursue an interesting job opportunity outside of Dell, yet shortly after realized I was missing out of the great winning spirit Dell has. It unleashes your potential and enables you to thrive.
What do you think people interested in working here would need to know?
The limit is the sky and opportunities to grow are available through meritocracy. Dell will value your effort and loyalty and will invest in you. In addition, Dell cares about our community, our children, and our planet.
What keeps you here at Dell?
I LOVE what I do. I re-energize myself daily. I feel proud to have the POWER TO DO MORE. I've built enduring relationships that allow synergies and team recognitions are even more rewarding. Our executives do a great job letting us know how they value our contributions.
What positive effects have you seen as a result of Dell's strategy transition?
Dell has assigned enough resources to ensure every employee gets the message. It has been remarkable to hear testimonials of employees around the world sharing how they live our purpose and how they have the power to do more. It makes me feel proud to be part of this great company.
What role have you played in helping your customers grow and thrive?
Regardless of the hat I've worn at Dell, we always have the opportunity to help our customer thrive, whether it is the front end dealing directly with our customers and proposing the right solutions to take care of their needs or in the back-end supporting our internal business partners so they can in turn serve our Dell customers. I believe every Dell employee has a protagonist role in helping our customers, isn't that what our purpose is all about? I've played a key role just by living Dell's purpose!
How does Dell differentiate itself when it comes to being an employer of choice?
The experience of playing a key role on a well thought strategy executed by inspiring leaders who care, trust and empower you.
Describe your Dell experience using 5 words.
Blessing, enlightening, rewarding, gratifying and dynamic.