For NEARLY 50 years,
AMD has driven innovation in high-performance computing, graphics, and visualization technologies ― the building blocks for gaming, immersive platforms, and the datacenter.

DID YOU KNOW AMD…

Is in major gaming consoles, like the Microsoft® Xbox One X, Sony PS4™ Pro, and the upcoming Ataribox

Powers the graphics in the Apple iMac Pro Retina 5K display

Is the only company in the world engineering both high-performance CPU and GPU processors

Is a trusted technology provider for Intel®, Boeing, Samsung and DropBox

Won twice at the prestigious Trusted Reviews Awards 2017:

The reader's choice of "Best Tech 2017 Brand of the Year" for AMD

"PC Component of the Year" for the AMD Ryzen™ processors

New Inspiron 13 7000 2-in-1

Premium form. Powerful performance.
13" 2-in-1 with CinemaStream and CinemaSound.
Packed with high-end features like the latest
AMD Ryzen™ processors and solid-state drive.


THE RYZEN DESKTOP ADVANTAGE - Discover lightning-fast performance with AMD Ryzen™ processors and feel the difference multi-threaded computing makes, whether you're gaming, streaming, editing, or designing. AMD Ryzen™ processors feature AMD SenseMI technology, a series of smart "senses" that work together to learn about your applications and tune performance in the blink of an eye.

THE RYZEN™ MOBILE ADVANTAGE - Combining the award-winning technology from AMD Ryzen™ processors with the revolutionary graphics of the Radeon™ "Vega" architecture 


PREMIUM GRAPHICS AND ENTERTAINMENT Experience beautiful and stunning visuals, including smooth 1080p and 4K streaming of your favorite shows
EFFICIENT COMPUTING Get optimal power and performance throughout your day with a processor capable of up to 38% more battery life than the previous generation11
GAMING ON THE GO IN AN ULTRATHIN Enjoy smooth and playable frame rates in popular eSports titles like League of Legends® and Overwatch™9

Performance that Matters

Get image quality that rivals up to 4K while playing your favorite games, even on a 1080p display, with Virtual Super Resolution.

Eliminate stuttering and tearing with Radeon™ FreeSync technology.

Incredible Visual Experiences

Excellent gaming, whether home or on the go, with Graphics Core Next architecture and support for DirectX® 12 and Vulkan® APIs.

Smooth, fluid video and long battery life for Ultra HD and silky smooth streaming enabled with HEVC Accelerated Decode.

Work Faster Play Longer

advanced power management technologies intelligently deliver power when you need it and conserve it when you don't.

AMD Turbo Core technology boosts performance dynamically, on demand, to provide extra performance when you need it most.

Set your maximum gaming frame rate with Frame Rate Target Control to help save power, and reduce heat and noise.

Return to top of the page
BRING GAMING TO LIFE WITH RADEON™ GRAPHICS.
GAMING READY
Get leading DirectX® 12 and Vulkan® performance for AAA gaming, and high frame-rates for your favorite eSports games and MOBA titles.
SMOOTH GAMING WITH RADEON™ FREESYNC:
Eliminate choppy gameplay and broken frames with fluid, artifact-free performance at virtually any frame rate.
GAME CHANGING SOFTWARE AND FEATURES:*

Take gaming to the next level with Radeon™ Software drivers

Radeon™ Relive: Capture, stream and share your gameplay

Radeon™ Chill: Save power while maintaining ultra-fast gameplay

AMD Link: Access gameplay performance metrics and PC system info on your smartphone or tablet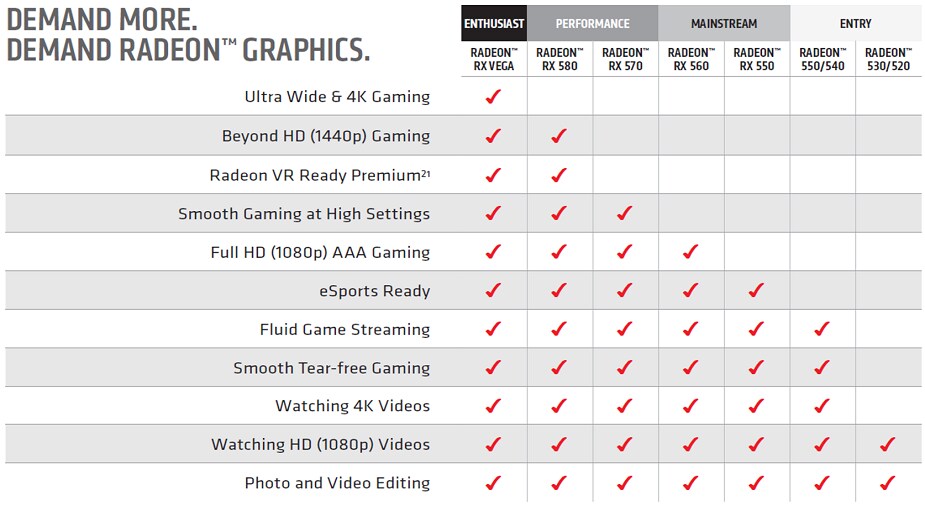 AMD is bringing you best-in-class performance for ultrathin laptops with AMD Ryzen™ Processors with Radeon™ Vega Graphics1, 2. The ultimate laptop processor.

Edit videos, stream in Ultra HD 4K and enjoy popular esports titles. Get best-in-class performance from your laptop with the AMD Ryzen™ Mobile Processor with Radeon™ Vega Graphics – enabling amazing battery life in a sleek form factor.

 

New Inspiron 15 5000 Touch

New Inspiron 13 7000 2-in-1

Real entertainment.
15" laptop with gorgeous views, a sophisticated design and plenty of options.
Featuring AMD Ryzen™ processors with Radeon™ Vega graphics.
 
Premium form. Powerful performance.
13" 2-in-1 with CinemaStream and CinemaSound. Packed with high-end features like the latest AMD Ryzen™ processors and solid-state drive.
 
 

New Inspiron 11 3000 2-in-1

 

New Inspiron 11 3000

Fun, flexible, ready for adventure.
11-inch 2-in-1 with CinemaStream and CinemaSound. Colorful, lightweight
and impressively versatile with four modes to travel with you
anywhere featuring 7th Gen AMD A-Series processors.

Portability meets personality.
Ultra-portable 11" laptop that makes every step on your journey more fun. Featuring AMD processors, plus CinemaStream and CinemaSound.

 
 

New Inspiron 17 5000

Inspiron 15 3000

Real entertainment.
17" laptop designed to perfect family entertainment, with a sophisticated
design and an array of optional features. Featuring AMD Ryzen™ processors with Radeon™ Vega graphics.

What you need. For all you do.
15-inch laptop with essential performance, featuring AMD processors, CinemaStream and CinemaSound .

 
 
Higher Performance. Incredible Technology. Intelligent Ryzen™ Processors Just Got Even Smarter.
Is your processor intelligent? Every AMD Ryzen™ processor is armed with a true neural net to help analyze your computing needs and optimize responsiveness every millisecond. Improved with even higher performance and more advanced features, 2nd Generation AMD Ryzen™ desktop processors provide faster, smoother computing experiences than you thought possible.

New Inspiron 22 3000 All-in-One Desktop

New Inspiron 24 3000 All-in-One Desktop

Family-friendly, front row.
Everything from the brightest cartoons to the darkest dramas shine on this 22-inch Full HD display with narrow bezel border. AMD processors help you get every project finished faster with snappy performance.

Stunning to watch. Easy to use.
24-inch all-in-one desktop delivers seamless streaming for video and chats all in one place with Full HD on a wide-angle IPS display with pop-up webcam. AMD processors help you get every project finished faster with snappy performance. 

 
 

Inspiron 27 7000 All-in-One

Inspiron 24 5000 All-in-One
Lose yourself, and the screen.
Ready for VR with an InfinityEdge display and the rich, deep colors of up to 4K. Powered by the latest AMD multicore Ryzen™ processors and AMD graphics card.
You'll have to pause before this does.
24-inch all-in-one designed for seamless streaming. Featuring an InfinityEdge, SmartByte and the latest AMD Radeon™ graphics card.
Inspiron Gaming Desktop

NEW ALIENWARE AREA-51 THREADRIPPER EDITION

Built for a higher state of gaming.

High-powered processing:
AMD Ryzen™ processors deliver groundbreaking machine intelligence, split-second
responsiveness and powerful
multitasking capabilities for
exceptional gaming experiences.

DESIGN AND CONQUER.

The Alienware Area-51 desktop is re-engineered with Ryzen Threadripper processors, a 2nd gen triad chassis and optional dual Radeon® RX Vega 64 graphics cards.

 
 
Ready for VR: Available with Radeon graphics that are ready for VR with options up to RX580 to allow faster, smoother gameplay, and designed to help you dominate DirectX 12 gaming and virtual reality landscapes. With dual graphics support, you can double down on power and speed for the ultimate gaming performance, and any other graphic-heavy tasks.
Powerhouse performance: The Alienware Area-51 delivers unbeatable performance with AMD Ryzen Threadripper processors. Record, game and stream simultaneously in 4K resolutions with options for 8, 12, and 16 core overclocked CPUs.
Better boot time: Dual-drive storage options include a high-capacity hard drive with up to 2TB HDD, and a responsive solid-state drive with up to 256GB for faster boot and load times so you can get into the game quicker.
More memory: With optional 64GB of quad-channel DDR4 memory, you can create games that go beyond what you thought was possible. So whether you're rendering a 3D model, editing photography, video or sound, know that your only limit is your imagination.