It's time to upgrade your expectations
Ready to upgrade to Windows 10?
Windows 10 and Windows 10 Pro for business offer improved productivity features, universal app capabilities for today's most popular devices, new security features and regular bi-annual updates through Windows as a Service. These new features are designed to give your users greater freedom to innovate with improved security and control across your business. Regular support for Windows 7 ends on Jan 14th 2020, so now is the time to start planning your migration to this innovative new platform for business.
Windows 10 can play a new and vital role in the success of your business. Dell EMC Consulting Services provides a complete range of services to help your organization plan, prove out and deploy Windows 10 quickly and efficiently.
These include:
Free Whiteboard Session
Proof of Concept Service
Windows 10 Pilot Service
Windows 10 Deployment Automation Service
Windows 10 Deployment Management Service
Mobile Productivity Assessment
Windows Security Health Check
Windows as a Service Planning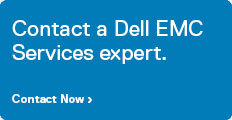 Windows 10 Whiteboard Session

A Dell EMC principle consultant will come in and work with your team to build out a high level design and deployment plan for adopting Windows 10 and taking maximum advantage of all the new features designed to help drive the business forward.

Windows 10 Proof of Concept

A Dell EMC consultant will build and deliver a working Windows 10 Proof of Concept image and automation process used to migrate up to five systems to Windows 10 in one week. This will map out the initial process your team will need to work through for production deployment.

Windows 10 Pilot Deployment

Dell EMC will deliver a pilot ready Windows 10 OS image, automation process, user and hardware readiness, deployment scheduling, tracking, and reporting for a Windows 10 pilot of up to 100 systems.

Windows 10 Deployment Automation Service

With decades of experience, advanced tools and patented methodologies, Dell EMC will automate your Windows 10 deployment process, saving you time and money. Available with a range of features to meet your business needs, including Standard, Advanced and Enterprise levels of support.

Windows 10 Deployment Management Service

Dell EMC is an industry leader with millions of systems deployed, imaged and configured annually. Our experts have the in depth experience to ensure the success of your Windows 10 transition.

Mobile Productivity Assessment

A Dell EMC principle consultant will come in and work with your team to help you design, plan and enable your users to take full advantage of Windows 10 mobile features so they can collaborate and work from virtually anywhere.

Windows Security Health Check

A Dell EMC principle consultant will come in and help you assess immediate threats to your users and understand what additional actions you can take to secure your business. They can also help you implement a range of security solutions that Dell EMC offers to make your environment as safe as possible with up to 99% threat protection.

Windows as a Service Planning

A Dell EMC principle consultant will come in and help your team plan, prepare and train for the continuous bi-annual updates that are part of the new Windows 10 operating system. This is a significant change from the previous 3-5 year cycle for major upgrades. Going forward you will need to dedicate resources to support this new ongoing process. Dell EMC experts can help you prepare for this new challenge.

Universal App Development

Dell EMC principal consultants can work with you to plan and develop custom applications for your business that can be used across devices and platforms. Now your users and customers can access your business and business data using the device of their choice.