What's new with Windows 8.1 for home?
Windows your way

Now it's even easier to personalize your system with Windows 8.1. Set the lock screen to your favorite photo, or turn the lock screen display into a slideshow of your pictures. Pin tiles to your Start screen for quick access to the people, sites, and apps that matter to you, and arrange them the way you want.

Easy connectivity
Open up a whole world of options and experiences so you can connect instantly. Sign in to any of your PCs running Windows 8.1 with your Microsoft account and you'll see your own background, display preferences and settings right away.
Your Microsoft account is the email address and password that you use to sign in to Outlook.com, Xbox, Windows Phone, or other Microsoft products.
Versatile navigation

Windows 8.1 is perfect for PCs with a mouse
and keyboard. But if you've chosen a system
with 10-finger capacitive touch, Windows 8.1
ensures maximum performance as you tap,
swipe, pinch and stretch your way around the 
web with a multi-touch display with impressive
responsiveness.
Mail made easy

The updated mail app and Outlook.com give you an amazingly powerful and personal mail experience. It's easy to handle multiple email accounts all in one place.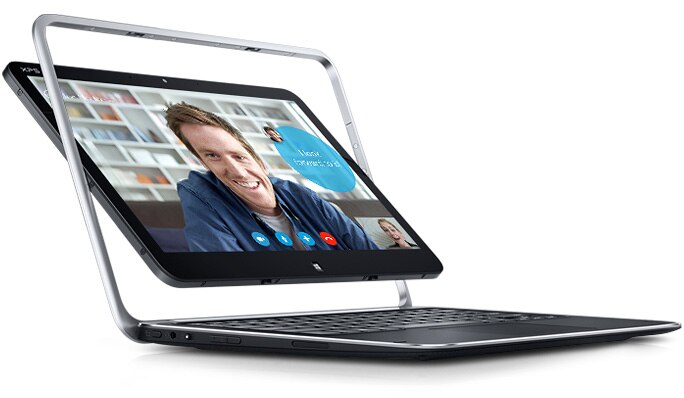 Cool communication
Email is great, but nothing beats Skype
*
when you want to catch up with your best friend, see your kids while you're on the road, or reconnect with far-away family. All you need is a webcam and microphone on your Dell PC, along with a high-speed internet connection, and you're all set.
Windows shopping

The beautifully redesigned Windows Store makes it easy to access apps to complete your Windows 8.1 experience with great new features. Open the Store right from your Start screen to browse and download apps for cooking, photos, sports, news and more.
Desktop features


Quick access to the Start button, now on the taskbar, lets you get started right away. Choose from a new, broad color palette for your Start screen, including animated options, or skip the start screen all together and boot directly to your desktop or apps screen.
To go straight to desktop mode when you start your device:
1. While in desktop mode, using your mouse, right click on the taskbar and select properties. (If you have a touch screen, press the Windows Logo for several seconds). This will open the "Taskbar and Navigation Properties" dialog box.
2. Select the "Navigation" tab.
3. Under the Start Screen section, select "Go to desktop instead of start when I sign in".
4. Select "Apply".
Windows 8.1 Update


Windows 8.1 is a free operating system update that offers new ways to personalize your PC with great new apps and services. Learn how to upgrade in three easy steps. Visit //support.dell.com/support/topics/global.aspx/support/kcs/document?docid=625361 for more detailed instructions on how to upgrade your Windows 8 system to Windows 8.1. Driver updates may also be required.

1. Open the Windows Store and select the "Update to Windows 8.1" tile. If a notification to "Update to Windows 8.1" is displayed, you can select the "Go to the Store" button.
2. From the Windows 8.1 product page, select "Download." The download and installation of Windows 8.1 may take up to 1-2 hours, but you can continue using your PC while downloading. If asked to take any actions, follow the on-screen instructions.
3. When prompted to reboot your PC, select the "Restart now" button or wait for Windows to automatically restart. After Windows restarts, follow any on-screen instructions, and then sign-in to Windows 8.1.


Services

One-stop support: Dell services are here to help you with your software and hardware needs throughout the life of your Dell products so you can focus on doing more with your digital life. We can assist in setting up your new computer and connected devices, or work with you to resolve technology issues that may arise. Our support team can also help you set up your free Windows 8.1 update, from backup and installation to customization. It's easy to contact us around the clock via phone, email or chat.

Premium Phone Support: Dell Premium Phone Support offers 24x7 advanced phone support for hardware and software issues (including support for 3rd party software). You can count on us for a great experience and rapid support for your Insprion and XPS laptops and desktops or Windows-based tablets.

Learn more ›