Leapfrog your IT infrastructure with Dell
Flexible migration solutions for simple to complex workloads.
Deadline of the decade


Your entire IT infrastructure may be at risk. On July 14, 2015, Microsoft will be ending support for Windows Server 2003. This means: 
No updates will be developed or released for Windows Server 2003 after July 14, 2015.
The lack of support could result in lost business or dramatically increase the cost of doing business in the form of high transaction fees and penalties.
Virtualized and physical instances of Windows Server 2003 will also be vulnerable with no safe haven.
What is your plan?


Migrating your enterprise puts significant strain on your IT resources. It can be a complex project, taking on average 200–300 days. With fewer than 250 business days to the deadline, time is of the essence. Are you sufficiently prepared to meet the challenge? 
 
What is the Dell solution?
There are many different ways to approach migration. At Dell, we are committed to helping you find the unique solution that complements the workloads you are running. This is your opportunity to better meet your future business needs.
 
Dell Migration Services
To help you make this transformation as seamless as possible, leverage our skilled solutions architects, automated tools analysis and end-to-end management. Our solution comprises of
Datacentre transformation methodology
Global Application packaging factory (Compatibility testing and remediation)
Dell Server Refresh
Start now to rethink and redesign your IT infrastructure and benefit greatly from the many generational improvements in hardware performance and manageability. You can achieve more, operate efficiently and ensure business continuity with secure, reliable access to your critical resources with the innovative technologies of the next-generation Dell PowerEdge portfolio.
Dell Migration Software
Dell Software is at the forefront in helping customers successfully move off Windows Server 2003 with enabling technologies and best practices to effectively address each phase of migration planning and execution.
Dell's end-to-end Windows Server OS modernization solution leverages proven methodologies to provide you with a smooth, streamlined migration that minimizes risks to key workloads and applications.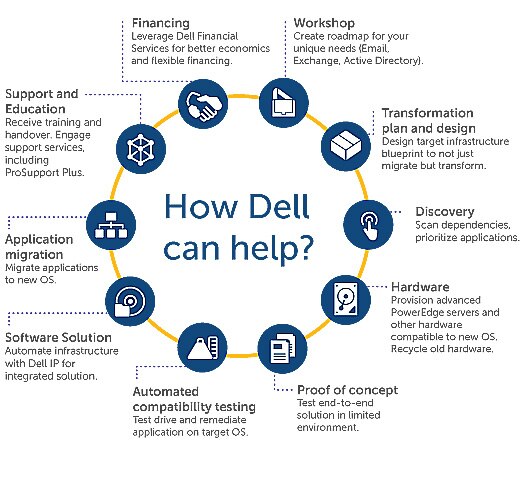 Contact us to schedule a half-day complimentary whiteboard session where a Dell subject matter expert will collaborate with your IT teams to come up with a conceptual strategy that outlines your migration from 2003.