We're excited for you to
join us virtually
at Dell's upcoming press and analyst event hosted by Dell Software Group President John Swainson on Wednesday, April 24. At the event, you'll hear from John, other senior Dell executives, and Dell customers and Partners about the latest end-to-end solutions and capabilities, including key updates from the Dell Software Group and Dell Services.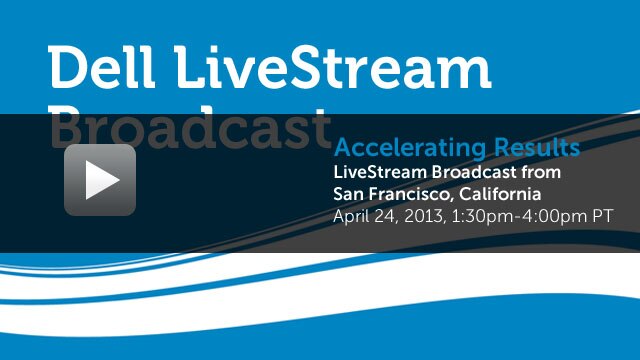 Event Agenda

(
Pacific Standard Time
)
| | |
| --- | --- |
| 1:30 PM | Welcome with John Swainson and Team |
| 2:30 PM | Convergence and the Cloud (Breakout Discussion) |
| 3:00 PM | Overcoming the Evolving Security Threats (Breakout Discussion) |
| 3:30 PM | Embracing Consumerization and BYOD (Breakout Discussion) |
News from Dell
Press Releases
Multimedia
Dell ProSupport Plus: Going to the Ends of the Earth
(Video)
23 Apr 2013
youtube.com/DellServices
With a dedicated technical account manager and Dell's elite ProSupport engineers at your fingertips, you'll have the freedom to adopt complex technologies with confidence, knowing Dell has the expertise and insight to help accelerate your growth.
---
Conversation with John Swainson, President of Dell's Software Group
(Video)
2 Oct 2012

youtube.com/DellVlog
We invite you to listen to John as he provides perspective on the following:
Quest fit within Dell's Software strategy
Synergies between Quest portfolio and existing Dell solutions
Platform nature of Quest acquisition and what that means
Blog Posts
Wimbledon, Jungle Book and ProSupport Plus
24 Apr 2013

dell.com/community
Today we thrilled to launch ProSupport Plus, our first truly proactive support service. Once again I am reminded of a Kipling quote, this one from The Jungle Book, the inspiration for the 1967 Walt Disney animated classic. The main character in Jungle Book is a boy named Mowgli who was raised by wolves and befriends a panther named Bagheera. When asked how things work in the jungle, Bagheera responds to Mowgli, "What is the law of the jungle? Strike first…"
---
Dell Software Enhances Endpoint Security Enabling Efficiency and Productivity

24 Apr 2013
dell.com/community
Some of the costliest security breaches in recent years have been a result of systems not being kept up-to-date with the latest security patches, or from employees finding 'work arounds' from locked down desktop environments. Systems management solutions can provide IT organizations with a scalable, cost efficient way to significantly reduce the possibility of a breach, while helping delivering a consistent and secure user environment.
---
Update: "The Enterprization" of an award-winning cloud service?
24 Apr 2013

dell.com/community
The "consumerization" of IT is a very well-recognized trend showing how consumer technologies are migrating into and influencing enterprise IT environments… but, have you heard of "Enterprization"? Enterprization is what happens when you take a top selling, award-winning cloud service, used by over 4 million BYOXers, and layer in the security and manageability features that enterprise IT requires.
Wimbledon, Jungle Book and ProSupport Plus
---
Ensuring your next step in BYOD is the right one with Dell Mobility Solutions
24 Apr 2013

dell.com/community
Today, we announced Dell's new family of mobility solutions, which are designed to help companies adopt BYOD in a way that best suits their organizational needs, regardless of their individual requirements, or where they are on their BYOD implementation. Dell Mobility Solutions will make it easier to extend and manage mobile access, increase the security of data that is accessed remotely, broaden network access to better support BYOD, and improve the experience of users as they access business applications from a variety of mobile devices
---
Dell's Migration Manager Solutions are no Cookie Cutter Tools

24 Apr 2013

dell.com/community
There's no such thing as a "cookie cutter" migration ─ every migration project presents its own unique set of challenges. That being said, the newest release of Dell's Migration Manager for Exchange offers a solution that works for every Exchange 2000/2003 to Exchange 2013/Office 365 migration, whether it's on-premise to on-premise, on-premise to cloud, or on-premise to hybrid. Our proprietary technology allows customers to migrate seamlessly ─ in just one step ─ while maintaining true coexistence with ZeroIMPACT to users.
---
Toad Business Intelligence Suite | Self Service BI Solution
24 Apr 2013

dell.com/community
Today, the Information Management team at Dell Software continues to pave the way for self-service BI with the launch of Toad Business Intelligence Suite 2.0. This latest version enables organizations of all sizes to more easily access and extract meaningful information from heterogeneous data sources while providing enhanced visualization and optimized data integration for improved collaboration and analysis.
---
Align IT and Business Intelligence Objectives
18 Apr 2013

dell.com/community
Today's Big Data landscape reminds me of the Wild West—lots of promise, chaos and confusion. It's an amazing opportunity, if you have a plan and can shoot straight. The challenge with Big Data is that too many folks are firing scattershot, which further fuels the hype cycle frenzy and distorts reality.
---
Information Management | Software for Better Business Decisions
17 Apr 2013
dell.com/community
We're defining a new set of vendor- and data-agnostic tools to help companies derive better business outcomes, increase revenue and widen their competitive edge. Our goal is to remove the roadblocks preventing companies from gaining more intelligence, not just about their business—but also their customers and their behaviors—in order to make more intelligent business decisions.
---
Recent Quest Executive Blogs
dell.com/community
Read more about Dell Software solutions from Dell Quest.
| | |
| --- | --- |
| | Accelerating Results on Flickr |




Click image above for full photoset
April 24th Keynote Presentation