Automate your IT operations, scale your resources and gain agility with the Dell SUSE Cloud Solution, Powered by OpenStack.
Work with one trusted advisor that offers a totally integrated — totally supported Dell SUSE OpenStack private cloud — without ever locking you into a single-vendor solution. Incorporate your existing investments, and apply cloud capabilities incrementally.
The complete Dell SUSE Cloud Solution — which includes automated deployment, a certified reference architecture, lifecycle support and expert consultants — helps you improve the speed and accuracy of your IT service delivery:

Simplified deployment:

Accelerate configuration and deployment of your entire OpenStack software stack with Dell Crowbar.

Certified reference architecture:

Rely on a reference architecture that targets common IT challenges. This prescriptive enterprise-cloud architecture is based on:
Certified Dell servers (PowerEdge C and R Series), storage and networking platforms.
Multiple hypervisors concurrently (KVM, Xen, ESX, Hyper-V).
Cloud-ready applications, with SUSE Studio
SUSE Manager, which enables you to centrally provision, manage and monitor Linux virtual servers
Global support:

Stay up and running with 24/7 global support from Dell and SUSE during every phase of the solution lifecycle.

Expert consultants:

Consult with Dell-certified specialists to design and optimize your solution (optionally available).
Choose an OpenStack cloud platform to create service-centric IT that accelerates your business responsiveness now and in the future. To get started with your Dell SUSE cloud solution,
contact a Dell representative
.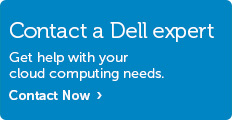 Reference guides, brochures, white papers