Achieve optimal data management
Redefining the economics of enterprise storage
Get a storage solution that's state-of-the-art, easy to deploy and use, and saves you money. We help you store more data on less hardware, protect your data from downtime and disaster, and improve productivity across your organization. And our storage solutions scale easily according to your schedule and business needs.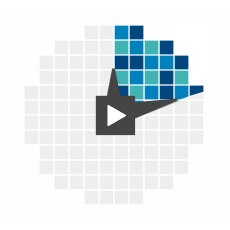 We can help you implement the right data center and virtualization strategies for your workloads in order to achieve faster response times and lower your total cost of ownership (TCO). Our flexible modern architectures span a broad portfolio — from storage to networking to servers to software and beyond. This breadth of technology delivers a key advantage over siloed vendors who only work inside a single domain.
Our end-to-end storage portfolio offers the optimal solution for your specific needs. From performance-optimized flash technologies and ultra-dense storage enclosures, to software defined storage (SDS) solutions — and anything in between — we help you design the solution that's perfect for your organization's needs.
Modern storage architectures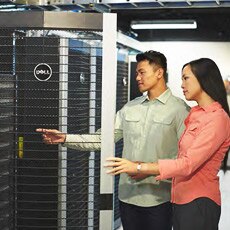 We designed our storage solutions from the ground up — for virtualized environments. Our modern storage architectures are scalable and uncoupled from the limitations of any legacy architecture. Whether you are expanding your existing SAN and NAS infrastructure, or deploying SDS solutions, we can help you choose the best approach for your data center.
Dell Storage SC, PS and MD Series storage platforms support FC and iSCSI networking with a variety of performance and capacity options. Our flexible software-defined solutions and industry-leading DAS products allow you to quickly add storage in a cost-effective manner.
Learn about a
storage solution optimized for your environment
.
Optimizing workloads to reduce TCO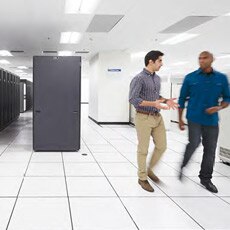 We can help you lower your total cost of ownership (TCO) by allowing you to tailor your storage solution according to your workload requirements. Get performance optimized solutions for your mission critical applications, and support your everyday workloads like virtual desktop infrastructure (VDI) with our price- and performance- optimized solutions. Our automated tiering and load-balancing technologies allow you to match your data to the appropriate storage type based on usage and even makes it possible to get performance-optimized flash at the price of spinning disks. Our storage solutions range from entry-level attached storage and SANs to enterprise unified solutions and each offers a range of drive options and software features to easily optimize cost, price and performance.
Contact a Dell representative
to help optimize your data center workloads.
Innovative software optimizes performance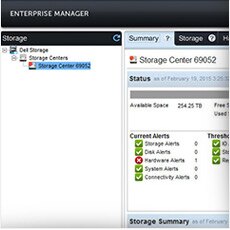 Our storage portfolio offers innovative tools for managing storage, protecting data and optimizing application performance. Our embedded system intelligence saves administrators' time by automating processes and reporting. And our world-class virtualization support, as well as our pervasive integration with software environments such as VMware, Microsoft, and Oracle, removes complexities and provides data protection. Reduce the time it takes to restore data by shrinking your volumes with deduplication and compression, and cut capacity requirements with thin provisioning snapshots and replication.
Optimize performance with technologies such as our load-balancing algorithms, automated tiering and sophisticated monitoring. Regain capacity in your data center with storage intelligence that compresses data up to 93 percent.* Furthermore, Dell Support can help you resolve issues faster and without disruption to your business.
End-to-end Services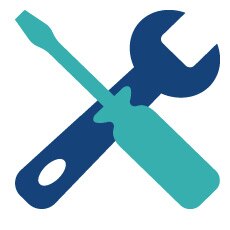 As a proven leader in servers, storage and networking, Dell Enterprise Solutions and Services deliver innovation at any scale. We offer a wide range of professional services to simplify assessment, design and implementation of your storage systems. We also offer services to help you manage and maintain your IT environment, as well as services that assist with your transition from platform to platform.
Dell Support Services help increase productivity while reducing the burden on IT administrators. Dell Storage PS- and MD-Series customers benefit from Dell ProSupport Plus, while SC-Series customers can receive Dell Copilot Support, which has received a 94 percent customer-satisfaction rating seven years in a row**.
Learn how
Dell ProSupport
can simplify storage management for you.
---
∗ Source: Dell internal testing, August, 2015. Best case results for Microsoft SQL application data. Customer results may vary depending on application and configuration.
∗∗ Results based on internal Dell analysis of online and telephone customer satisfaction surveys, FY 2009-2015.