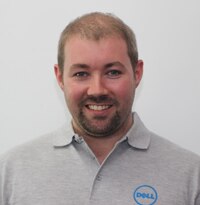 When did you join Dell and what roles have you held in your time here?
I joined Dell in Ireland in 2004 working as a Technical Support agent. In 2005, I relocated to Scotland to begin a new Dell site based in Glasgow and I also changed careers to become a Technical Supervisor. About a year later, I took on a new challenge in People Management and Leadership. In 2010, I expanded on my success as a People Manager and now lead teams in the Enterprise Servers Business. I have recently embarked on my latest career development opportunity as an Implementation Project Manager for our EMEA business. This role allows me to broaden my skills in key areas to me and most importantly continue to learn.
What keeps you here at Dell?
The constant ability to learn and grow with Dell. My friends and colleagues. Being a valued member of the team.
What responsibilities are included in your current role?
My current role requires a strong customer centric approach applied across every strategic decision and action I undertake. My role involves working side by side with our EMEA Services teams on Implementation of a wide variety of projects. The core aim of each is to continue to provide our customers with the highest possible experience.
How would you describe the Dell culture?
Dell's culture is fast paced but also very rewarding. Dell has great ambition to succeed as a company and is a great place to grow and thrive. If you are hardworking and committed to customers then Dell is a perfect place for you.
What do you think people interested in working here would need to know?
Through hard work, customer focus and teamwork you can achieve your career goals.
What are some projects that you have recently been involved with and some of your career highlights at Dell?
Relocating with Dell from Ireland to Scotland, I am now married to a Scottish wife and we have 3 lovely children. I recently worked on deploying Dells new CRM tool for the UK, Ireland and Indian sites. This task required travel to India for 2 weeks where I got to experience their rich culture and history.
What role have you played in helping your customers grow and thrive?
My previous responsibilities include leading Dells support teams to provide the best possible service to every Dell Customer. Ensuring that our customers' needs are met and that my staff have the tools they need to provide the highest possible customer experience with each interaction.
What positive effects have you seen as a result of Dell's strategy transition?
All departments in Dell are working alongside each other to breakdown silos and pull together as One company with One customer focused approach.
How does Dell differentiate itself when it comes to being an employer of choice?
I believe Dell differentiates itself by constantly reviewing and acting on all feedback both Internal and External. Dell truly values this feedback and uses it to constantly improve and develop.
Describe your Dell experience using 5 words.
Rewarding, Interesting, Fun, Challenging & Valued