Don't just play. Game.





Dell Gaming machines are engineered with sharper graphics and faster processors for superior visual gameplay that's intense at every level

 
Feature & Design
---
Dell Game Ready
Dell Gaming Devices are created with Sharp Graphics, powerful processors and intuitive design that gamers want.

The Dell Game Ready Badge is only awarded to machine engineered for the specific, demanding needs of gamers who hunger for the next level for their obsession. 

---
Alienware | We're Game



We're not escaping reality. We're redefining it. One passion unite us all: Getting lost in the game. Whether we're going in solo or with a team, online or off, amassing points or conquering worlds, we answer every challenge the same way.

For those who truly love to game, every mission and new achievement is drive n by the desire to be immersed in the action. Getting further into the game, and making every experience more real, is our priority. Experience the power and array of our gaming laptops, desktop and gear-created to feed your obsession.


---
Shop Alienware Laptops
 
 
 

Alienware 13

Alienware's first 13-inch VR gaming laptop.
Featuring up to 7th Gen Intel® Quad Core™ H-Class processor and NVIDIA Geforce® GTX 10-Series graphics.

Alienware 15

The perfect balance of power and portability come together in the new Alienware 15 gaming laptop. Engineered with incredible, all new NVIDIA 10-series graphics and overclocked processors to tilt the game in your favor.

Alienware 17

Alienware's most powerful 17-inch gaming laptop is designed for the most immersive VR and now has option for the revolutionary Tobii eye tracking, bringing you deeper in the game then ever before.

Shop Now

 

Shop Now

 
 

Shop Now

 
---
 

Shop Game Ready Laptops



Where playing stops and gaming begins.

15" laptop ideals for gamers. Featuring life-like NVIDIA® GeForce® graphics, and advanced thermal cooling design and a powerful processor for superior gaming performance.



Shop Now

 
---
Shop Game Ready Desktops



The XPS Tower and XPS Tower Special Edition are desktop built to grow with you.

With big power, advanced graphics and a tool-less chassis for easy expandability.



Shop Now

 
 
---
Shop Alienware Desktops and Consoles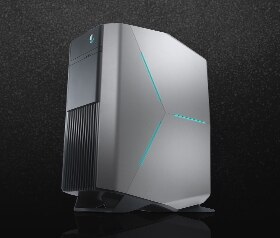 New Alienware Aurora

The new Alienware Aurora is available with the latest Intel® processors and NVIDIA® Geforce® graphics. Get deeper in to the game then ever before.
Shop Now
---
VR Ready Systems

 
 
 
 

Alienware 13


With the addition of the NVIDIA GeForce® GTX 1060 and the latest generation of Intel® processors, the Alienware 13 is capable of producing high-end VR experiences.
 

Alienware 15


With the addition of the NVIDIA 10-Series graphics and the latest generation of Intel® processors, the Alienware 15 is capable of producing high-end NVR experiences.
 

Alienware 17


Powered by NVIDIA® VRWorks technology, a new level of presence is achieved by bringing physically realistic visuals, sound, touch interactions, and simulated environments to virtual reality. And with NVIDIA® GeForce® 10-Series graphics, the Alienware 17 goes beyond what's expected.

Shop Now

 

Shop Now

 
 

Shop Now

 
 
 
 
 
 

New Alienware Aurora


The new Alienware Aurora us available with the latest Intel® processors and NVIDIA® GeForce® graphics. Get deeper into the game then ever before.
 
 

Shop Now