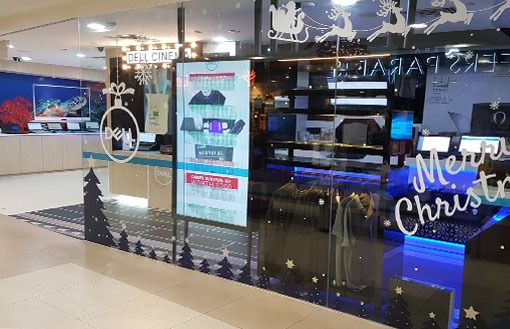 Dell Direct Store
Plaza Singapura
68 Orchard Road
#04-19
Singapore 238839
Operation hours : Mon – Sun 10am to 10pm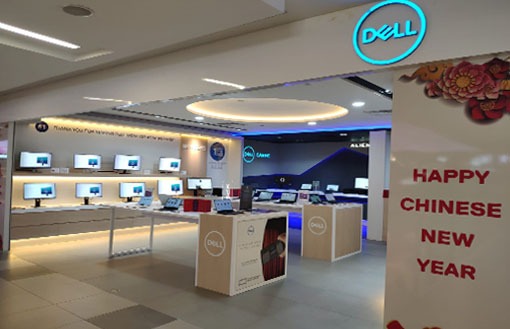 NEX

23 Serangoon Central
#02-53/54
Singapore 556083
Operation hours : Mon – Sun 10am to 10pm

Dell Authorised Resellers
Best Denki Bedok Mall

 


    Bedok Mall #B1-01/43/44 S467360 


Best Denki Bishan Junction 8

 

    9 Bishan Place, Level 03-02, Junction 8 Shopping Centre


Best Denki

City Square Mall

    180 Kitchener Road, #B2-01/04, City Square Mall, Singapore 208539


Best Denki Clementi Mall

    3155 Commonwealth West Avenue, #04-46/47/48/49 Clementi Mall, Singapore 129588


Best Denki

Great World City

    1 Kim Seng Promenade, Level 02-33B/ D, Great World City, Singapore 237994


Best Denki Hillion Mall

    17 Petir Road, #B1-65/66 Hillion Mall, Singapore 678270


Best Denki

IMM

    2 Jurong East Street 21, Level 03-33 to 47, IMM Building, Singapore 609601


Best Denki

Ngee Ann City

    391 Orchard Road, Level 05-01/05, Ngee Ann City Podium, Singapore 238872


Best Denki

Parkway Parade

    80 Marine Parade Road, Level 03-29, Parkway Parade Complex


Best Denki

Vivo City

    1 HarbourFront Walk, Level 02-07, Vivo City, Singapore 098585


Best Denki

Waterway Point

    83 Punggol Central, #B1-24 (East Wing), Waterway Point, Singapore 828761


Challenger Bugis Junction (Level 3) 

    200 Victoria Street, #03-10E Bugis Junction, Singapore 188021


Challenger Bugis Junction Flagship (Level B1)

    201 Victoria Street, #B1-26 Bugis Junction, Singapore 188021


Challenger

Causeway Point

    1 Woodlands Square, #04-07 Causeway Point Singapore 738099


Challenger Changi City Point

    5 Changi Business Park Central 1, # 01-56/59 Changi City Point, Singapore 486038


Challenger

Clementi

    3156 Commonwealth West Avenue, #04-56 The Clementi Mall, Singapore 129588


Challenger

East Point Mall

    3 Simei Street 6, #B1-08 Eastpoint Mall, Singapore 528833


Challenger IMM

    2 Jurong East St 21 #02-42 IMM Building Singapore 609601


Challenger JEM

    50 Jurong Gateway Road #04-01 JEM Singapore 608549


Challenger Jurong Point

    63 Jurong West Central 3 #B1-94/95/96 Jurong Point Singapore 648886


Challenger Lot One 

    22 Choa Chu Kang Ave 4, #03-05/06/07/08/08A Lot One, Singapore 689812


Challenger NEX

    23 Serangoon Central #04-33/34 nex Singapore 556083


Challenger North Point

    930 Yishun Avenue 2, #03-09/10 Northpoint Shopping Centre, 769098


Challenger Parkway Parade 

    80 Marine Parade Rd #04-01 Parkway Parade Singapore 449269


Challenger Plaza Singapura

    68 Orchard Road, #04-12/12A, Plaza Singapura, Singapore 238839


Challenger Tampines 1 

    10 Tampines Central 1 #04-24/25 Tampines 1 Singapore 529536


Challenger Tampines Mall 

    4 Tampines Central 5, #03-23, Tampines Mall, Singapore 529510


Challenger VivoCity 

    1 HarbourFront Walk, #02-34/35, Vivo City, Singapore 098585


Courts AMK

    Blk 730 Ang Mo Kio Ave 6 Singapore 560730


Courts Bukit Timah 

    205 Upper Bukit Timah Road Singapore 588181


Courts Causeway Point 

    1 Woodlands Square, #04-19/20, Causeway Point, Singapore 738099


Courts Clementi

    451 Clementi Ave 3, #01-309, Singapore 120451


Courts JEM

    50 Jurong Gateway Road, #04-30/31/32 Singapore 608549


Courts Jurong Point 

   1 Jurong West Central 2, #02-05/10 Jurong Point, Singapore 648886


Courts Lot One     21 Choa Chu Kang Ave 4, #03-01 Lot One, Singapore 689812
Courts Mega Store

    50 Tampines North Drive 2. Singapore 528766


Courts NEX 

    23 Serangoon Central, #02-49/50 Nex @ Serangoon, Singapore 556083


Courts Orchard 

    228 Orchard Road Singapore 238853


Courts Tampines Mall 

    4 Tampines Central 5, #03-25, Tampines Mall, Singapore 529510


Courts TIONG BAHRU PLAZA 

    302 Tiong Bahru Plaza, #02-117/118 Tiong Bahru Plaza, Singapore 168732


Courts Toa Payoh 

    460 Toa Payoh Lorong 6 Singapore 310460


Dell Exclusive Store 

    68 Orchard Rd #04-19 Plaza Singapura Singapore 238839


Gain City Ang Mo Kio

    8 Ang Mo Kio Industrial Park 2 (S) 569500


Gain City Marina Square

    6 Raffles Boulevard #03-100/107, Marina Square (S)039594


Gain City Sungei Kadut 

    71 Sungei Kadut Drive, Singapore 729577


Gain City Tampines 1

    10 Tampines Central 1 #B1-09/10/18 Singapore 529536


Gamepro Bugis 

    200 Victoria Street, #03-24A Bugis Junction, Singapore 188021


Gamepro Marina Square

    6 Raffles Boulevard #02-237/247, Marina Square (S)039594


Mohamed Mustafa & Samsuddin Co Pte Ltd 

    Mustafa Centre , 145 Syed Alwi Road Singapore 207704

Atrix
    1 Rochor Canal Rd, Sim Lim Square #01-45 , S188504

Atrix
    1 Rochor Canal Rd, Sim Lim Square #03-84 , S188504

Atrix
    1 Rochor Canal Rd, Sim Lim Square #04-60a , S188504

Atrix
    1 Rochor Canal Rd, Sim Lim Square #04-60b , S188504

Atrix
    1 Rochor Canal Rd, Sim Lim Square #04-60c , S188504

Dynacore
    1 Rochor Canal Rd, Sim Lim Square #05-76/77 , S188504
Q: Can I order a custom-configured Dell computer at Dell authorised retailers?
A: @Notebook, Addon & Newstead offer custom configured as well pre-configured computers and monitors. However Dell products at Courts are only pre-configured as per specifically listed.
Q: Are products at Dell authorised retailers different from products Dell offers online?
A: Yes, Dell computers available at Dell authorised retailers are pre-configured and are exclusively sold at the stores. All other Dell products are available on
www.Dell.com.sg
.
Q: What kind of warranty is included on Dell products purchased through Dell authorised retailers ?
A: All Dell products come with a 1-year limited warranty, except for the Dell Monitor, which comes with 3-year limited warranty.
Q: Is there a warranty registration process for Dell products purchased at Dell authorised retailers ?
A: Yes. All instructions for product registration will be included in the box along with your Dell product. Registering your Dell product will help Dell to serve you more quickly, should you need technical support during the first year of ownership.
Q: Are extended warranties available?
A: Dell offers various types of extended warranty. Customer can purchase the extended warranty through our Online store or call the Dell toll-free number 1800 394 7413.
Q: Who can I contact if I need technical support?
A: Dell will provide technical support during the first year. Dell's technical support contact can be found here.