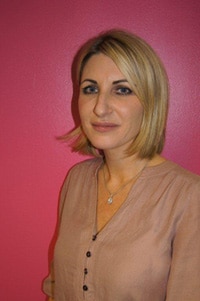 When did you join Dell and what roles have you held in your time here?
I joined Dell in 1999 and have held a number of sales leadership positions across both the CSMB and PLE business. I currently hold the position of General Manager and Executive Director of Preferred Accounts UK.
What responsibilities are included in your current role?
In my current role, I am responsible for leading a team of 100+ sales professionals executing on the transformation of our Large Enterprise go-to-market strategy.
How would you describe the Dell culture?
I would describe it as an engaging, supportive, and energized environment in which open, direct and trusted relationships are fostered both internally and externally.
What do you think people interested in working here need to know?
That Dell is a great customer-centric company that consistently has the employees' best interests at heart. A company that recognizes talent and constantly strives to support and develop its people.
What keeps you here at Dell?
The positive, authentic leadership environment, the teams I work with, the consistent support over the last decade and the open environment.
What positive effects have you seen as a result of Dell's strategy transition?
We have acquired and cultivated new capabilities and rounded out our portfolio in a consistent and concerted effort to be the total solutions provider to our customers.
What role have you played in helping your customers grow and thrive?
Coaching the sales teams using "Creating Customer Value" methodology to enable them to thoroughly understand the customers' business, the pains the customer is experiencing which in turn affords Dell the opportunity to tailor the right solution for the customer, enabling the customer all the way.
How does Dell differentiate itself when it comes to being an employer of choice?
Dell cares about its customers and its employees. Dell is in the business of helping customers and employees succeed and creating continuous customer and employee value.
Describe your Dell experience using 5 words.
An exceptionally exciting enjoyable journey