Help Me Choose: Cyberlink Power Media Player
PowerDirector 17 & PhotoDirector 10


The most cost-effective solution for aspiring creators. It includes both the award-winning PowerDirector & PhotoDirector, offering the most complete, value for money video and photo editing solution for users of all levels. With round-trip editing support between both applications, you can work seamlessly on video and photo projects in a highly efficient creative environment.
Customizable Design Tools

 ENHANCED

To create professional videos you need to be in complete control. PowerDirector gives you great customizable tools that allow you to edit, adjust and add effects to videos with complete control.


Nested Video Editing

 NEW

Add and edit multiple projects in the same video project for more efficient editing and effortless creativity.


Video Pre-cut

 NEW

Pre-cut long clips into short, reusable segments that you can use repeatedly throughout multiple projects.


Best Matched Profile

 NEW

Select the video profile that best suits your video based on the source clips. It makes producing high-quality videos a breeze.


Chroma Key Editing

 ENHANCED

Now you can perform Hollywood-style green screen editing thanks to an improved Chroma key engine and multi-key color sampling.


Dynamic Video Collages & MultiCam Editing

 ENHANCED

The intuitive MultiCam Designer allows you to synchronize and switch between footage shot from different cameras.

Choose to produce a single video, or use Video Collage Designer to create a stunning, totally customizable collage complete with animated openings and endings. Use one of our existing templates, or create your own to save and reuse on different projects.




Content-aware Editing

 ENHANCED

Remove, duplicate, or move objects or people within photos simply by brushing over them. PhotoDirector instantly fills spaces using an intelligent algorithm that blends perfectly with the surrounding background.


Express Layer Templates

 ENHANCED

Express Layer Templates contain all the layer components that make up complex images. They're not only an easy way to put together stunning images, but also help to show how layers combine to produce photographic effects.




Creativity Powered by AI

 NEW

We've trained our AI Style Engine to analyze images in detail and identify different aspects of each shot. It then intelligently applies brushstrokes that make your shots look like they were designed and painted by a master artist.




Incredible Multi-exposure Shots



Easily extract a series of photos from a video clip and turn them into incredibly creative multi-exposure images with just a single click.




Vibrant Motion Stills™



Motion Stills are an amazingly creative twist on standard photographs. Brush over sections of a video clip to retain movement in that area only. Other parts appear frozen in time!




One-click Photo Presets & Lens Correction



Use One-click Photo Presets to create impressive photos with HDR, black & white and split tone as well specifically designed presets for portraits & landscapes. Intelligently fix image perspective to make objects appear flat on the horizon with One-Click Keystone Correction.




50GB Cloud Storage

 UNIQUE

Store and backup your system files online. PowerDirector & PhotoDirector comes with a huge 50GB CyberLink Cloud storage absolutely free!

CyberLink Media Player with PowerDVD 19 – ULTRA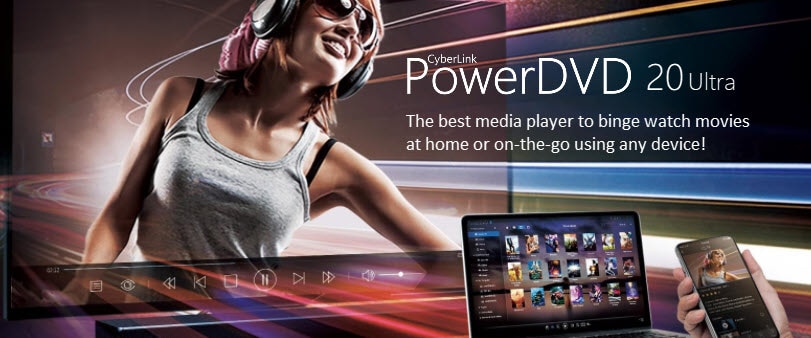 CyberLink Media Player plays more than just DVD and Blu-ray discs. It is an all-round multimedia player for downloads, movies, videos, audio, photos, VR 360˚ content, and even YouTube or Vimeo. Enjoy all your favorite movies and premium videos in better-than-original quality in your home theater with support for popular media casting devices, plus an unrivaled amount of file formats and codecs. For those who like to be on the cutting-edge of
entertainment
CyberLink Media Player 19 supports 8K video playback and also delivers the most immersive 360˚ VR experience possible with new spatial audio technology.
Extreme Video & Audio Quality



Enjoy all your favorite movies and videos in Ultra HD 4K, HDR & now 8K. Plus see & hear the difference better-than-original quality makes, all from the comfort of your home theater.

Play & Cast Your Favorite Media

Wirelessly cast whatever your heart desires on the latest 4K UHD HDR TV and multi-channel sound system without any quality loss. Even upscale your old DVDs, Blu-ray discs and media files so that you can watch them the way they were made to be enjoyed.
Cutting Edge VR & Online Playback

Explore a world of deeply immersive 360º videos on your own, or from YouTube & Vimeo, on the latest Oculus, HTC and Windows Mixed Reality headsets. Plus, enjoy YouTube streaming in Better-than-Original quality.

Superior Entertainment

NEW 8K VIDEO SUPPORT



The next wave in ultra-high definition entertainment is here with 8K video. CyberLink Media Player brings the latest in high-resolution video technology right into your living room to ensure you can enjoy the ultimate entertainment experience in Ultra HD 4K, HDR & now 8K on your big screen TV.
Better-than-Original Quality Audio & Video Playback

TrueTheater Color, Lighting & HDR Now for 4K Video



CyberLink's unique TrueTheater audio-visual enhancement technology is exclusive tech that instantly upgrades the quality of all videos, including Blu-ray, HD and 360º content you watch so that you can truly enjoy them on your home theater system. It can even make Ultra HD 4K video look even better!
The Ultimate Cinema-grade Sound at Home

CyberLink Media Player lets you get the most out of your home audio setup with support for master-quality sound technology from the leaders in professional digital audio—Dolby and DTS. Enjoy the acoustic difference of specialized multichannel audio and lossless audio formats such as FLAC and DSD.
Enjoy Incredible HDR Video 

HDR (High -dynamic-range) video delivers deeper blacks, brighter whites, and greater color depth compared to regular video. With CyberLink Media Player, you can enjoy this next level in entertainment quality with our TrueTheater HDR enhancements & expanded GPU support for HDR video playback that removes the need to run in Windows Exclusive Mode.


Play And Cast Almost Anything 

HEIC Support



Enjoy the Ultra HD videos shot on your GoPro, or iPhone photos in full quality as soon as you get home, even if you're running Windows 10. CyberLink Media Player ensures playback for a wide range of file types and formats, including HEVC/H.265 video & HEIC image files, without the need to install any extra plugins.
Pin Videos to Watch Offline

Enhanced



You don't even need the internet to watch your favorite YouTube clips. Just choose the quality of the video you wish to pin, then you can watch it offline or on the road. And never miss a moment of your favorite YouTube Live streams with this minimalist viewing mode.



Watch 360º Video From Every Angle

Watch 360º video from every angle simultaneously, even without a headset, and never miss a moment. The Tri-view interface is perfect if you're watching 360º videos on a smaller screen.



360˚ VR Video with Spatial Audio NEW

Experience the most immersive 360º VR video experience with spatial audio. Whether you're watching on your PC or with a headset, you can now experience audio that flows around you in a genuinely 360º world.


VR Mode for Popular Headsets

Immerse yourself in VR with support for Oculus Rift and HTC Vive headsets in CyberLink Media Player, making it the best 4k video player for next-generation multimedia entertainment.