Dell's smallest, most powerful commercial desktop – the OptiPlex Micro - enabled with Intel Unite® Solution improves collaboration and meeting productivity by transforming existing conference rooms into smart, secure and connected meeting spaces.
Wireless, Secure Collaboration

Whether team members are seated around a table or calling in from half a world away, the OptiPlex Micro PC with Intel® Core™ vPro™ processor and Intel Unite® solution delivers simple, instant and secure collaboration and meeting capabilities through wireless connectivity. No dongles or adapters and no time wasted. Start meetings faster, hand off control more easily, and collaborate with confidence, knowing presentation data is secure and participant access is tightly managed through powerful Dell and Intel® technologies. Onsite and remote employees can see the same content displayed in a room, transition between presenters, make annotations and transfer files instantly. Supported by the world's most secure and manageable commercial PC and backed by award-winning Dell ProSupport Plus.



Meetings Start Fast and Stay on Track
With this innovative combination – a Dell OptiPlex micro-PC with an Intel Core vPro processor in the meeting space and Intel Unite® app on each client device – team members can get busy quickly and keep focused.
Cut the cords – With Intel Unite® solution, participants can instantly connect to projectors, interactive whiteboards or other displays, or all parties can view presentations on their individual devices. The daily dongle scramble is a thing of the past.
Share and share alike – Meeting participants can switch presenters in an instant, while split screen view allows 2-4 presenters to wirelessly present their screens side-by-side.
Everyone's on the same page – Distribute, review, and amend files together in real time. Transfer those updated files to all participants on the same business network so that everyone has the most recent copy
The Elements of the OptiPlex Micro PC with Intel Unite® solution are Simple
For smart meeting spaces – An OptiPlex micro-PC with the latest Intel® Core™ vPro™ processor provides leading-edge security and performance as well as innovative wireless capabilities. This micro-PC serves as the hub device.
For all participants on the same business network – Intel Unite® app runs on each client device, enabling attendees to connect and receive content in real time, regardless of location.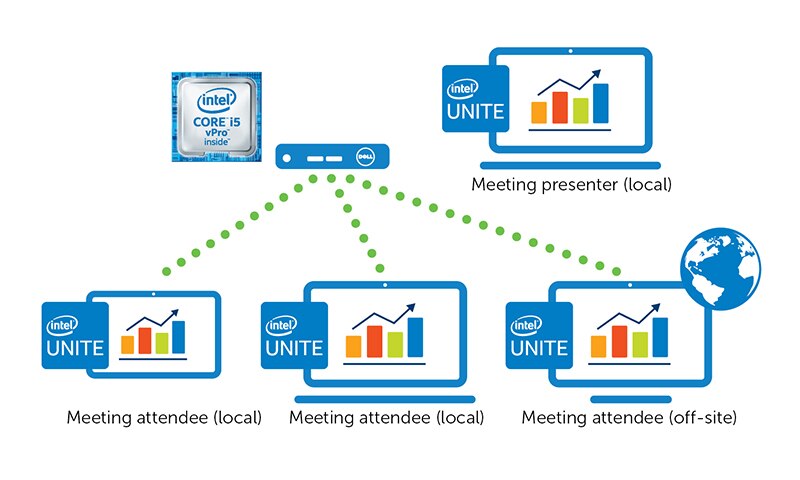 Make IT Easier to Manage
If Intel® vPro™ platform is already part of the existing infrastructure, then Intel Unite® solution should be a breeze to integrate. Make greater use of current IT monitoring and control capabilities to help reduce costs and improve manageability.
Manage remotely – Use Intel Unite® solution's admin portal, along with the full capabilities of Intel vPro platform, to manage conference room mini-PCs from any location: everything from basic upkeep and patching to remote repairs.
Keep meetings secure – To join the meeting, participants are required to enter a rotating PIN code. Outside guests can be granted access with as many (or few) network permissions as are chosen to be allowed.
Safeguard sensitive data – Using Intel Unite® solution, meetings are protected with the enterprise-grade security of 256-bit Secure Sockets Layer (SSL) data encryption.What happens in smarter meetings stays in smarter meetings.

Start Small and Scale Smart
Start with a single standalone OptiPlex Micro PC with Intel Unite® solution deployment for proof-of-concept and then scale up as needed to multiple, server-controlled smart conference rooms. And via plug-ins, this solution is designed to be compatible with new capabilities in the future, such as
In-room controls – Manage lighting, speakerphones, cameras, A/C, and other environmental settings.
Multiple OS support – Intel Unite® solution currently supports newer Windows and Mac OS X operating systems with plans for Android, Google Chrome and other operating systems in future releases.
Other conferencing solutions – Enjoy a unified meeting experience as Intel Unite® solution accommodates Microsoft Skype for Business and other solutions
Create a New, Innovative Conference Room
Add purposefully-built accessories to modernize conference rooms and optimize collaboration in meetings.
| | |
| --- | --- |
|     | Dell OptiPlex Micro VESA Mount – Mount the system on a wall or under a surface with an adapter bracket to manage power cables with ease. |
|   | Dell 4350 Projector – Bring brilliant presentations to life featuring full HD (1920 x 1080) resolution, flexible wireless connectivity and remote management for seamless collaboration. |
|   | Dell E5515H Monitor –55" display designed for use in conference rooms with Full HD resolution, high brightness and exceptional clarity. |
| | Dell 70 Conference Room Monitor – C7016H - Stunning 70-inch monitor elevates office collaboration, featuring a wide viewing angle, sharp text and consistent color. |
|   | Dell Premium Keyed Lock – Cut-resistant steel cable provides protection against theft with T-bar locking mechanism. |
|   | Dell Wireless Keyboard and Mouse-KM636 - Compact, slim-line keyboard with chiclet keys and a comfortable optical mouse. |