Help Me Choose: Intel® Processor
• The processor is the engine behind your computer processing critical information and instructions
• The speed at which your system runs programs, loads pages and downloads files depends in part on the processor. Bandwidth, clock speed and the number of cores in the processor all help determine processor performance.


What is the difference among Intel® 8th, 7th and 6th Generation Core™ processor?

The Intel Core processor family spans several generations of processor upgrades. There are 3 basic family generations of note. Usually the greater the number, the later the generation. For example, 8th gen is newer than 7th gen and 6th gen. These correspond to improvements in process technology and features to allow for more sophisticated applications such as virtual reality, gaming and office productivity.


What is the difference among Intel® Core™ i3, Intel® Core™ i5 and Intel® Core™ i7 processor?

The Intel Core processor family contains Intel's most feature rich, highest-performance processors for business and consumers. There are three levels of Intel Core processors represented by i3, i5 and i7. The difference between these levels is features (or amount of a particular feature such as amount of cache) present in the processor. The Intel Core i7 processor is the most feature rich, the Intel Core i3 processor the least.


What is an 8th Gen Intel® Core™ processor with Radeon™ RX Vega M graphics?

The quad core 8th Gen Intel® Core™ processor with Radeon™ RX Vega M graphics has 4GB of dedicated High Bandwidth Memory for graphics. This is Intel's first processor ever packaged with discrete graphics for the next level of processing and performance designed for small, thin and light computers. Great performance is now available in an impossibly thin 2-in-1 design with the XPS 15 2-in-1. So whether creating, editing or viewing 4K content, mega tasking while playing your favorite game, the 8th Gen Intel® Core™ mobile processor with Radeon™ RX Vega M graphics delivers balanced performance to experience what's coming next at home or on the go.


What about Security?

The 8th Generation Intel® Core™ processor has built-in security that adds a layer of protection to make password logins, browsing, and online payments safe and simple. Don't gamble on old computers with your data, reduce worry with automatic protection.
With an 8th Gen Intel Core processor in a new computer has precise facial, voice, and fingerprint recognition. You can log on with just a look, your voice, or your finger print – it's rock-solid security, hassle-free, and saves time.
• Lower the risk of identity and credit card theft with fingerprint recognition
• Quick, secure checkout with a swipe of a finger makes online shopping a cinch.


Strong security against identity theft and fraud

An automatic second layer of protection built in to your new computer's hardware gives you peace of mind to help keep your information safe without slowing you down.


Store passwords, personal information, and auto-fill information with one master password that is protected by security built in to the computer.

• Simple and carefree browsing without the hassle of remembering passwords
Dell PCs powered by an Intel® Core™ processors are designed for creative professionals and enthusiasts (photo, movie, design) help cut costs and increase efficiency by taking advantage of intelligent performance and unique hardware-assisted security and manageability features.


Intel® Core™ i7
 
Intel® Core™ i7 Processors


Equipped with Intel® Turbo Boost Technology 2.0
Smooth streaming and HD entertainment enable immersive full screen 4K and 360 experiences
Lightning speed data transfers of Thunderbolt™ 3 


Intel® Core™ i5 
Intel® Core™ i5 Processors


Intel® Turbo Boost Technology 2.0
Longer-lasting battery life and faster re-charging
Full-screen 4K and 360 viewing
Lightning fast start-up times

 
Intel® Core™ i3
Intel® Core™ i3 Processors


Amazing battery life and smooth streaming
Brilliant HD entertainment with, full-screen 4K and 360 viewing
Powerful performance and seamless computing at home and on-the-go
Impeccable visuals, immersive entertainment and effortless multitasking

 
Intel Pentium® dual core processor


Dual core processors are ideal for multitasking and everyday computing

 
Intel Celeron® M processor


This low-cost option is great for basic business and personal productivity applications
Intel Generations Highlights

8th Gen Intel® Core™ Processor:
Introducing Intel's new 8th Generation Intel® Core™ processor, designed to help you and your computer keep pace with the digital world. A new computer with an 8th Gen Intel® Core™ processor delivers a big jump in performance compared to the previous generation, allowing you to get things done fast and easy. 
Instant gratification: Enjoy fast, easy, enjoyable completion of tasks.


Browse fast.
Move swiftly between countless programs and windows; multi-task easily.
Be ready with the processing power needed to run the latest apps.
Rapidly sync content across devices.
Up to 10 hours of battery life. Enjoy up to a whole work day of freedom from a clunky power cord and outlet.

7th Gen Intel® Core™ Processor:
Delivering real-life productivity, creativity, and big-screen entertainment like never before.

Ultra-HD content.
360-degree video.
Virtual Reality (VR).
More power and battery life.

6th Gen Intel® Core™ Processor: Built to outperform.

Blazing fast startups.
Natural interaction through touch, voice and facial recognition.
Amazing responsiveness lets you rocket between apps and browsing.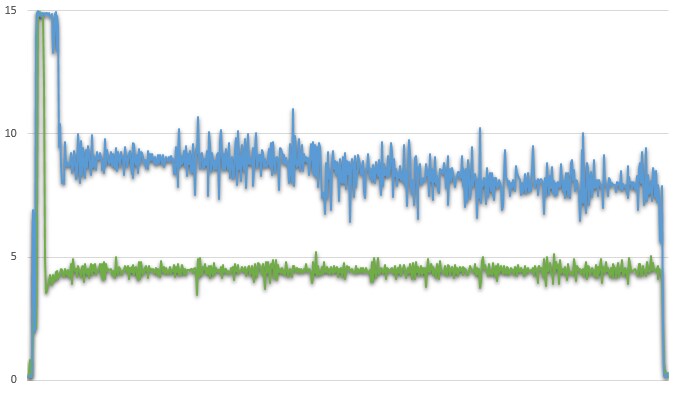 Legend – green line: XPS 13 2-in-1 without Dynamic Power Mode @ 4.5W
        Blue line: XPS 13 2-in-1 with Dynamic Power Mode @ 9W


No fans, no feet, no noise, no heat
Intel's new 7th Generation 4.5W processor architecture enables a sleek, fan less design, thinner form factor and silent laptop experience for the XPS 13 2-in-1.


– Dynamic power mode: Engineered by Dell, Dynamic Power Mode delivers extra processing power when you need it, while intelligently monitoring and managing system temperatures. Pushing the processor to up to 9W, delivers up to 10% more performance than previous generation XPS 13*.
– How it works: Dynamic Power Mode allows the system to run at higher performance for bursts of time. The period of extra performance depends on workload and ambient temperature. As long as the system doesn't get too warm, the system always run at highest performance.
– We manage the increased power by balancing the amount and duration of the power boost while monitoring the internal and external surface temperatures of the system to ensure the XPS 13 2-in-1 keeps its cool while tackling your most challenging tasks. A great analogy for this can be found in how automobiles use turbo chargers to increase power on smaller, more efficient engines to increase power output when needed and being more fuel efficient under normal driving conditions.