Help Me Choose: Graphics Card
•A graphics card is internal hardware dedicated solely to helping the workstation process images and data related to generating images.
•After the processor, the graphics card is probably the hardware component that has the most impact on mobile workstation performance.
A graphics card is hardware dedicated solely to helping the workstation render graphics. After the processor, the graphics card is probably the hardware component that has the most impact on mobile workstation performance.

Unlike laptops designed for typical business use, Dell Precision™ mobile workstations come standard with discrete graphics cards that support professional 3D OpenGL® and DirectX® graphics. They also meet or exceed the minimum graphics requirements for most leading workstation-class applications.

Be sure to check the minimum and recommended graphics card requirements for the workstation application or applications that will be run on this workstation.
The system you are configuring may or may not include all of the options listed here.
Workstation usage
Primary focus
Recommended cards
 AMD
NVIDIA®
Engineering
Mechanical CAD (MCAD)
W5130M
M2000M 
Computer-aided Engineering/Computational Fluid Dynamics (CFD)
W7170M
M4000M
 
Electronic Design and Automation (EDA)
W5170M
M1000M
Architecture, Engineering and Design (AEC)
W5170M
M2000M
Mechanical Computer-aided Manufacturing (MCAM)
W5170M
M2000M
Media and Entertainment
2D and 3D Character Creation, Animation and Rendering
W7170M
M3000M
Game Development
W7170M
M3000M
Film and Video Editing, Multimedia DVD/Blu-ray Authoring
W5170M
M2000M
Broadcast and Post Production
W7170M
M3000M
Image Editing and Prepress Page Design
W5170M
M1000M
Professional Audio Production
W5130M
M1000M
Exploration and Scientific
Geosciences (Petroleum Exploration and Management)
W7170M
M5000M
Geographic Information Systems
W7170M
M2000M
Medical Imaging and Analysis
W7170M
M4000M
Visual Simulation
W7170M
M5000M
Testing
W5170M
M1000M
Economic and Financial Modeling
Financial Modeling/Derivative Pricing (SciFinance — SciComp)
W7170M
M5000M
Trading Station
W7170M
M3000M
Software Development
Intel® Parallel studio or Intel Compiler
W5130M
M1000M
Eclipse (Java) (Linux)
W5130M

M1000M
Precision 7510 & 7710 Graphics Modes

Default System BIOS setting is 'Enable Switchable Graphics'
Switchable Graphics is when the Precision system uses the Intel graphics on the CPU and the dedicated FirePro or Quadro GPU based on the workload to provide maximum performance and while maximizing battery life.
–FirePro drivers with AMD Endoro™ or Quadro drivers with Nvidia® Optimus™ manage GPU performance based on active applications
Precision workstations can be set to enable or disable Switchable Graphics is system BIOS
–In system BIOS check or uncheck 'Enable Switchable Graphics'
When disabled, the FirePro or Quadro GPU is driving video ports. Useful when AC powered or to insure maximum graphics performance at all times
| | |
| --- | --- |
| AMD Eyefinity technology |   |
See more. Do more.
AMD Eyefinity technology enables you to run up to five simultaneous displays with a single graphics card. By expanding your field of view across multiple high-resolution monitors, you can see more detail than ever, helping to increase your workflow productivity. You can manage multitasking more efficiently, and view more data, applications, and images at once.
In order to connect more than two displays, additional adapters or dongles may be required depending on the specific connectivity options available on your monitors.
Connectivity Requirements:
A maximum of 2 legacy monitors (VGA, DVI or HDMI) can be enabled simultaneously, provided that each monitor is connected either directly or via a "passive" DisplayPort™ adapter/dongle. "Passive" adapters/dongles will NOT support more than 2 legacy monitors.
To enable support for more than 2 monitors, "active" DisplayPort™ adapters/dongles are required (or monitors with direct DisplayPort™ connectivity must be used).
Approved "active" adapters have no general connectivity restrictions with AMD Eyefinity technology.See the AMD Eyefinity site for more information: http://support.amd.com/us/eyefinity/Pages/eyefinity-dongles.aspx 

DisplayPort 1.2 support Multi-Stream Topologies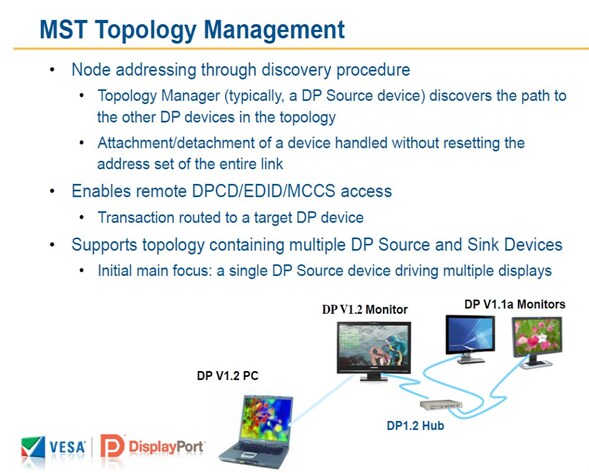 Dell Dock Features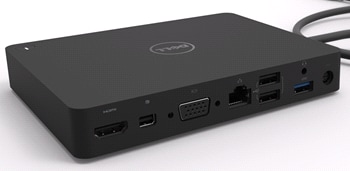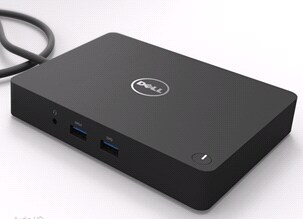 Dell Dock Display Overview


Dell Dock is supported by systems with Thunderbolt and DisplayPort alternate mode
| | |
| --- | --- |
| DisplayPort over USB Type-C  | Icon indicates DisplayPort Alternate mode supported by system (non TBT)  |
| Thunderbolt over USB Type-C |  Icon indicates Thunderbolt supported by system. |

From one to three display ports are supported
Two types of cables may be used: Passive or Universal
    Passive cables enabled dual displays at FHD or WUXGA or three displays at SXGA
    Universal cable enabled dual displays at WQXGA or three displays at FHD or WUXGA

Dell Thunderbolt Dock Features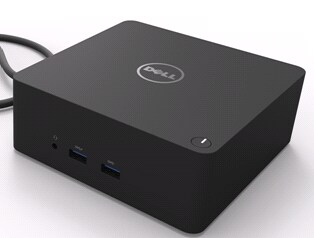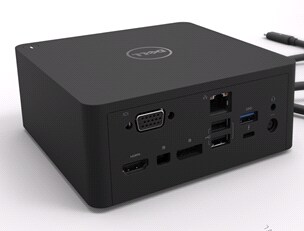 Dell Thunderbolt Dock Display Overview

Dell Thunderbolt Dock is supported by systems with Thunderbolt Type-C at full display resolutions.Systems with DisplayPort over Type-C support lower resolutions


Dell Dock is supported systems with Thunderbolt and DisplayPort alternate mode
| | |
| --- | --- |
| Thunderbolt over USB Type-C  |  Icon indicates Thunderbolt supported by system. |
| DisplayPort over USB Type-C  |  Icon indicates DisplayPort Alternate mode supported by system(non TBT) |

From one to four display ports are supported
Dual 4K @ 60Hz displays are supported with a Universal or Thunderbolt cable

3510 Monitor Support – undocked and with Dell Docks


| | | | | |
| --- | --- | --- | --- | --- |
| Undocked  | Docked (Simple E-Port)  | Docked (E-Port Plus) | Dell Dock  | Dell Thunderbolt Dock  |
| Maximum Number of Displays = 3  |  Maximum Number of Displays = 3 | Maximum Number of Displays =3 | Maximum Number of Displays = 3 | Maximum Number of Displays =3 |
| Two external monitors + LCD | Three from system and dock ports: | Three from system and dock ports: | Three from system and dock ports: | Three from system and dock ports: |
| • LCD (HD/FHD) | •DP | •1st DP or 1st DVI | •VGA | •DP |
| •VGA 1920x1200 |  •DVI | •2nd DP or 2nd DVI | •mDP (max. 3840x2160@30Hz) | •HDMI 3840x2160@30Hz |
| •HDMI 1920x1080 | •VGA | •VGA | •HDMI 1.4 (max. 3840x2160@30Hz) | •mDP |
| - | - | - | - | •VGA |
| -  | - | - | - | •Type-C |
5510 Monitor Support – undocked and with Dell Docks

| | | | | |
| --- | --- | --- | --- | --- |
| Undocked  | Docked (Simple E-Port) | Docked (E-Port Plus)  | Dell Dock  | Dell Thunderbolt Dock |
| Maximum Number of Displays = 3  | not supported | not supported | Maximum Number of Displays = 3 |  Maximum Number of Displays =3 |
| Two external monitors + LCD  | - | - | Three from system and dock ports: | Three from system and dock ports: |
| LCD (HD/FHD)  | - | - | •VGA (always driven) | •DP |
| mDP  | - | - | •mDP (max. 3840x2160@30Hz) | •HDMI 3840x2160@30Hz |
| HDMI 1.4 (max. 3840x2160@30Hz)  | - | - | •HDMI 1.4 (max. 3840x2160@30Hz) | •mDP |
| Type-C  | - | - | - | •VGA |
| - | - | - | - | •Type-C |

7510 & 7710 Monitor Support – undocked and Dell Docks

Switchable Graphics Enabled


| | | | | |
| --- | --- | --- | --- | --- |
| Undocked | Docked (Simple E-Port) | Docked (E-Port Plus) | Dell Dock  | Dell Thunderbolt Dock |
| Maximum Displays = 3  | Maximum Displays = 6  | Maximum Displays =6 | Maximum Displays = 3 | Maximum Displays = 3 |
| Two external monitors + LCD  | Three from system and three from dock ports:  | Three from system and three from dock ports: | Three from system and dock ports: | Three from system and dock ports: |
| •LCD (FHD/UltraHD) | •DP | •1st DP or 1st DVI | •VGA (always driven) | •DP |
| •mDP (max. 3840x2160@60Hz) | •DVI | •2nd DP or 2nd DVI | •mDP | •Dock HDMI 3840x2160@30Hz |
| •HDMI 1.4 (max. 3840x2160@30Hz)  | •VGA | •VGA | •HDMI 1.4 (max. 3840x2160@30Hz) | •mDP |
| •Type-C (max. 3840x2160@60Hz) | -  | - | - | •VGA |
| Note: mDP is disabled when HDMI and Type-C are enabled  | - | - | - | •Type-C |

7510 & 7710 Monitor Support – undocked and Dell Docks

Switchable Graphics Disabled


| | | | | |
| --- | --- | --- | --- | --- |
| Undocked  | Docked (Simple E-Port)  | Docked (E-Port Plus)  | Dell Dock  | Dell Thunderbolt Dock |
| Maximum Displays = 3  | Maximum Displays = 6  | Maximum Displays =6  | Maximum Displays = 6(AMD) /4(Nvidia) | Maximum Displays = 6(AMD) /4(Nvidia) |
| Two external monitors + LCD  | Six from system and dock ports:  | Three from system and dock ports:  | 6 or 4 from system and dock ports:  | 6 or 4 from system and dock ports: |
| •LCD (FHD/UltraHD) | •DP |  •LCD (FHD/UltraHD) | •VGA (always driven)  | •DP & mDP |
| •mDP (max. 3840x2160@60Hz) | •DVI |  •Type-C | •mDP  | •HDMI 1.4 |
| •HDMI 1.4 (max. 3840x2160@30Hz) | •VGA | •HDMI 1.4 OR mDP  | •HDMI 1.4 (max. 3840x2160@30Hz)  | •VGA (always driven) |
| •Type-C (max. 3840x2160@60Hz) |  - | Three from E-dock ports enabled  | -  | •Type-C |
| Note: mDP is disabled when HDMI and Type-C are enabled  |  - |  •1st DP or 1st DVI | -  | - |
| - |  - |  •2nd DP or 2nd DVI |  - | - |
| - |  - |  •Dock_VGA |  - | - |

Max resolutions for video ports unless noted:

VGA max. 1920x1200@60Hz
DVI max 1920x1200@60Hz
DP max. 3840x2160@60Hz
mDP max. 3840x2160@60Hz
HDMI 1.4 (max. 3840x2160@60Hz)
60Hz supported with Universal cable
Type-C (max. 3840x2160@60Hz)
NVIDIA Quadro M5000M
NVIDIA Quadro KM4000M
NVIDIA Quadro M3000M
AMD FirePro W7170M
AMD FirePro W5170M
NVIDIA Quadro M2000M
NVIDIA Quadro M1000M
AMD FirePro W5130M
Availability by Model
7710
7710
7710
7710
7710
7510
7510
7510
5510
3510
DirectX®
12
12
12
12
12
12
12
12
OpenGL
4.5
4.5
4.5
4.4
4.4
4.5
4.5
4.4
OpenCL
-
-
-
1.2
1.2
-
-
1.2
Graphics Memory

*

8GB GDDR5 Dedicated
4GB GDDR5 Dedicated
4GB GDDR5 Dedicated
4GB GDDR5 Dedicated
2GB GDDR5 Dedicated
4GB GDDR5 Dedicated
2GB GDDR5 Dedicated
2GB GDDR5 Dedicated
Memory Interface width
256-bit
256-bit
256-bit
256-bit
128-bit
128-bit
128-bit
128-bit
Memory Bandwidth
160 GBps
160 GBps
160 GBps
160 GBps
64 GBps
80 GBps
72 GBps
64 GBps
Quadro Compute
Cores / FirePro
Stream Processors
1536cores
1280 cores
1024 cores
32 compute Units, 2048 shaders, 8 Render buffers
10 compute Units, 640 shaders, 4 Render buffers
640 cores
512 cores
8 compute Units, 512 shaders, 4 Render buffers
Display Support
VGA, HDMI, Display Port
VGA, HDMI, Display Port
VGA, HDMI, Display Port
VGA, HDMI, Display Port
VGA, HDMI, Display Port
VGA, HDMI, Display Port
VGA, HDMI, Display Port
VGA, HDMI, Display Port
DVI via Optional E-port
DVI via Optional E-port
DVI via Optional E-port
DVI via Optional E-port
DVI via Optional E-port
DVI via Optional E-port
DVI via Optional E-port
DVI via Optional E-port
Max VGA Resolution
1920x1200
1920x1200
1920x1200
2048x1536
1920x1200
1920x1200
1920x1200
1920x1200
32bit color
32bit color
32bit color
32bit color
32bit color
32bit color
32bit color
32bit color
Max Display Port Resolution
3840x2160
3840x2160
3840x2160
3840x2160
3840x2160
3840x2160
3840x2160
2560x1600
32bit color
32bit color
32bit color
32bit color
32bit color
32bit color
32bit color
32bit color
Max DVI Resolution (Requires optional dock)
1920x1200
1920x1200
1920x1200
1920x1200
1920x1200
1920x1200
1920x1200
1920x1200
32bit color
32bit color
32bit color
32bit color
32bit color
32bit color
32bit color
32bit color
SPEC ViewPerf 12 Composite
46
42
35
40
13.5
22
15
13
Compute Performance (as specified)
3.2 TF
2.6 TF
1.9 TF
3.0 TF
1.18 TF
1.5 TF
1.1 TF
.95 TF