Premier provides your organization with a customized, secure online toolset for purchasing, reporting and product support, all backed by a dedicated account team.
Explore Products
Obtain detailed information on products and solutions so you can explore your options and decide what's best for your organization
Customize Purchasing
Shop a customizable site that enforces your organization's preferred products and services while maintaining purchasing consistency
Streamline Ordering
Simplify the purchase process to reduce errors often associated with manual orders while improving delivery time and controlling costs
Track and Manage
Manage users with ease, plus control and track orders, access invoices and download account history, all with robust reporting
Ready to get started?
Contact your Dell Account Team to create your personalized Premier Page today.
Your unique Premier site offers a customized and dedicated interface tailored to your organization's specific technology needs and standards. Your personalized site puts thousands of products at your fingertips, all with Dell's e-business expertise to help maximize your efficiency.
Your Products, Your IT Standards
Easily control system, software, and peripheral standards to help minimize your deployment, training, and support costs.
Customizable User Access and Authorization

From product choices and buying authorization to payment and shipping options, you control access to Dell content and functionality for each of your Premier users.
Decision-critical Product and Solutions Information

The details you need to choose the right products and services:
Secure, 24/7 accessibility
Customized information, controlled access
Your products at your price
In-depth reporting capabilities
Award-winning online technical support
Shorter order cycles and fewer errors
Easy to learn, use and implement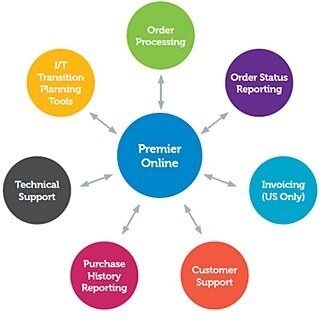 Help, when and where you need it

Whether you need support for your Premier Page or just want more information on the various features Premier has to offer, the Premier Help Desk is here to assist you.
Click here for more information
.