Over 40,000 deployments worldwide.
Load balancing Exchange is extremely easy with LoadMaster, a Microsoft certified and customer tested solution for delivering highly available and resilient Exchange services. To simplify deployment, KEMP LoadMaster includes load balancing templates that are preconfigured with tested and optimized settings for Exchange applications and services. 

 
 
  

Client Access Server (CAS)
Outlook Web App
Exchange Admin Center (EAC)
Outlook Anywhere
Offline Address Book (OAB)
Exchange ActiveSync (EAS)
Exchange Web Services (EWS)
Autodiscover service
Mailbox Replication Proxy Service
Outlook clients
IMAP
SMTP

 

Layer 4 and Layer 7 Load Balancing and Cookie Persistence
SSL Offload/SSL Acceleration
Application Acceleration: HTTP Caching, Compression & IPS Security
WAF - Web Application Firewall
Global Server Load Balancing
Edge Security Pack (Microsoft TMG Replacement)
Application Health Checking
Adaptive (Server Resource) Load Balancing
Content Switching 
URL ReWrite
 

 
 
 

SAP
Moodle
Epic
VMware Horizon Suite
Virtual Desktop Infrastructure
CRM Systems
Apache Server
Oracle E-Business Suite
Oracle WebLogic
IBM Websphere
Mobile Device Management
Unified Communications
Intranet Applications

 
 

Azure Hybrid Cloud
DirectAccess
Exchange 2010 / 2013 / 2016
Lync 2010 / 2013 / Skype for Business
Remote Desktop Services
SharePoint
Dynamics
Office Web Apps
Azure-Hosted Workloads
ADFS
IIS
Custom .Net Applications
Since 2000 and with over 26,000 deployments worldwide, KEMP load balancers have been helping customers secure, scale and optimize their application delivery infrastructure. Here is what makes KEMP stand out:

Platform Ubiquity
KEMP LoadMaster can be deployed on more platforms than any other ADC vendor, making it easy for you to deploy wherever and however you want, whether it's physical appliances, virtual, cloud or software – optimized for select Dell server platforms.

| | | | |
| --- | --- | --- | --- |
|   |   |   |   |
| Hardware | Virtual | Cloud | Bare Metal |
KEMP load balancers are optimized and certified for Microsoft workloads.


Easy to use application templates and deployment guides are available for most Microsoft workloads including Exchange, Lync, Skype for Business, SharePoint, ADFS, RDS as well as other Enterprise ERP applications from Oracle and SAP. KEMP's technical support staff have many years of experience configuring and supporting load balancing for Microsoft applications.

According to a recent support survey, KEMP has a 97% customer satisfaction rate.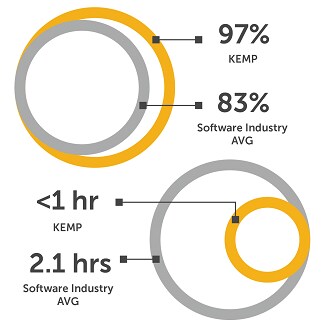 KEMP Technical Support Compared to Software Industry Averages
Courtesy of ZenDesk
More Bang for Your Buck!
Unlike the majority of competitive offerings all KEMP load balancers include the following as standard features:
Compression/Caching

IPv6

Intrusion Prevention / Detection (IPS/IDS)

Edge Security Pack (ESP) (KEMP's Microsoft TMG replacement)

Web Application Firewall (WAF) Engine*
Software Focused
KEMP pioneered the use of virtual load balancers and continues to lead the way with broad hypervisor support as well as new and unique cloud products for VMware vCloud Air, Microsoft Azure and AWS. KEMP also provides the industry's only software load balancers for bare metal enabling customers to use common HP, Dell, Cisco, Fujitsu and Oracle servers as high performance ADCs.

Easy to Try
KEMP offers free no obligation trials of all products. We believe in our products and getting them into your hands to try. Contact Dell and try a hardware, virtual, cloud or bare metal load balancer.

*Included on all products except for the LM-2400, LM-2600 and the LM-3000.
 



 
 
 

Building a scalable
platform with
Microsoft Lync & KEMP.

Headache-free
load balancing
 & no client downtime.

Infinite Campus gets
a lesson in scalability
 with KEMP load balancers.

KEMP load balancers
help Hill Dickinson
ensure email uptime.

KEMP helps Austin Bank
avoid growing pains by
providing high availability.