Adapt to any workload with modular solutions.
Help reduce costs and automate operations with modular solutions that integrate servers, storage, networking and management into single solutions. Modular infrastructure and hyper-converged solutions from Dell EMC allow you to tailor infrastructure to your workloads. 
Take advantage of one of the broadest, most flexible workload-optimized portfolio of modular solutions, designed to scale traditional and modern applications with common, standards-based architectures and simplified management. You can harness the power of Dell EMC solutions for the modular data center — from our award winning modular platforms and unified management to hyper-converged solutions optimized for your workloads.


PowerEdge FX — revolutionary architecture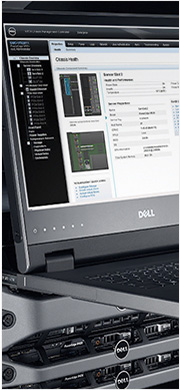 Engineered for simplicity to unite your infrastructure at a workload level,
Dell EMC PowerEdge FX architecture
enables you to precisely tailor, quickly deploy and easily manage your infrastructure. Start small with your software-defined modular infrastructure but scale quickly and easily with compute, storage and I/O modules that combine in a compact 2U chassis that provides 50 percent more server-side storage than comparable 2U platforms
*
.
Solve for virtually any workload with PowerEdge FX. You can provide highly-available web services or dedicated hosting, and run private clouds or highly-virtualized environments with a modular platform that provides among the highest-density and processing power, per rack U, in the industry.
PowerEdge VRTX, a data center at your desk side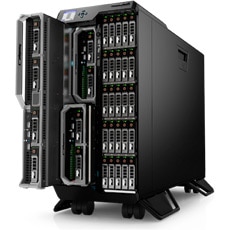 The first modular infrastructure platform designed specifically for remote and small offices, PowerEdge VRTX uses 75 percent less floor space
*
than legacy solutions while integrating servers, storage, networking and management in a single, compact chassis. Deploy VRTX with up to four server nodes, complete with high-capacity, low-latency shared storage. View multiple locations with a single, unified, full-featured management console.
PowerEdge VRTX delivers the power your critical applications need — when they need it — with a 26 percent lower TCO
*
compared to tower servers and external storage, and up to 65 percent better performance
*
.
Read why PowerEdge VRTX was named
2014 Technology of the Year by InfoWorld
.

InfoWorld's 2014 Technology of the Year Award Winners -- article

Dell EMC M1000e modular blade data center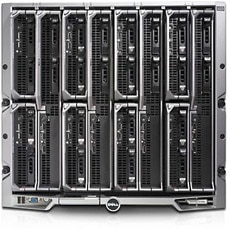 Reduce the cost and complexity of blade deployment and management in enterprise data centers with the outstanding efficiency and performance per watt of the
PowerEdge M1000e blade enclosure
. The M1000e supports full- half- and quarter-height blades and achieves 60 percent greater density than 1U rack servers by incorporating the latest power, cooling, I/O and management technologies into a highly available dense package.
Choose excellent price/performance in a great virtualization platform. You can support future blade technologies and benefit from outstanding efficiency with the flexible, scalable M1000e.
Unified management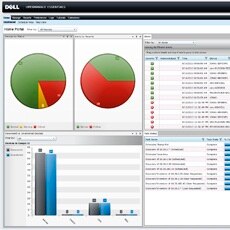 Dell EMC OpenManage streamlines the management of modular infrastructure with innovative enterprise systems management tools. Simplify administration while still providing bandwidth to build and manage entire data centers by replacing multiple enterprise-level systems management tools with a single, complete, modular management platform.
Manage at the server, chassis or rack level depending on the management style that suits your environment. Deploy and provision servers faster and automate daily operations with the agent-free integrated Dell EMC  Remote Access Controller (iDRAC) with Lifecycle Controller and the Dell EMC Chassis Management controller (CMC).
Contact a Dell EMC expert
to learn more about the Dell OpenManage portfolio
.

Hyper-Converged Solutions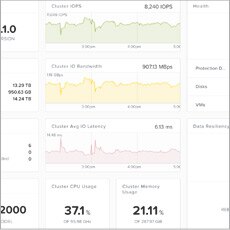 Get applications up and running faster, accelerate performance and simplify management with Dell EMC Hyper-Converged Solutions, which include pre-integrated applications, hypervisors and operating systems. Build a software-defined data center in less than 15 minutes with Dell EMC solutions powered by Nutanix. And deploy applications faster, scale more easily, manage infrastructure with fewer touch points and improve workload delivery with Dell EMC and VMware EVO: RAIL.
Take advantage of open, interoperable, optimized solutions that have been certified by Dell application partners. However, Dell is the only source you need to support your Dell EMC Engineered Solutions.
Learn more about our
portfolio of workload solutions
.
---
Performance based on "Oracle RAC performance: Dell PowerEdge FX2 with Fluid Cache for SAN vs. competing cache solution", a January 2015 Principled Technologies report commissioned by Dell comparing a Dell PowerEdge FX2 and HP ProLiant DL380p. Actual performance will vary based on configuration, usage and manufacturing variability. Reduced cost based on Dell internal analysis using U.S. list pricing taken from dell.com and hp.com in October 2014, and a performance gain of 3.7 x more NOPM.